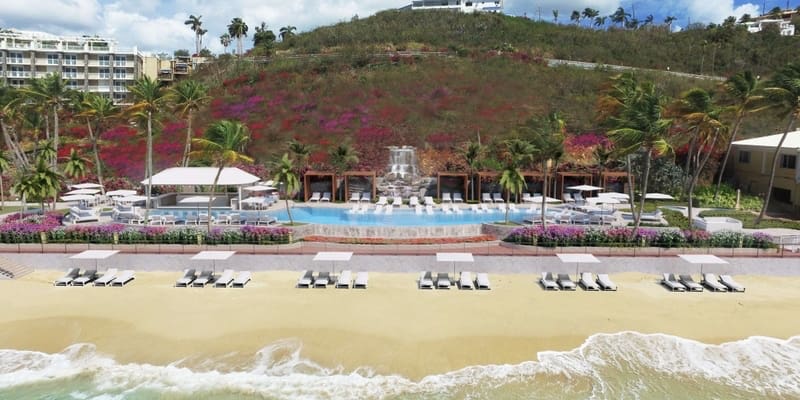 A unanimous vote of approval from the Economic Development Authority board put the owners of the Frenchman's Reef Resort one step closer to being able to use room taxes to reimburse a portion of reconstruction and upgrades to Noni Beach, a luxury Autograph Collection hotel that EDA officials said would be the first of its kind in the territory.
The EDA convened publicly in October to consider the request from DiamondRock Frenchman's Owner, Inc., doing business as Frenchman's Reef Marriott Resort and Spa and the new Noni Beach, that asked to use 50 percent of the designated hotel occupancy tax to reimburse a portion of the upgrades for a period of up to 30 years. The board's approval came on Friday after meeting in executive session, which officials said allowed the board to "discuss financial and other confidential information regarding negotiations with a prospective beneficiary for investment incentive benefits."
The hotel occupancy tax is required by law to be collected from guests and paid to the government. The law provides for 6.25 percent of the room revenues to be used to support the hotel project financing, which would be placed in a special fund to reimburse the approved portion of the project cost, amounting to $136.3 million, according to EDA's Chief Executive Officer Wayne Biggs Jr.
With the board's approval, the terms of a final agreement must be negotiated, then transmitted to the governor for approval before being ratified by the Senate.
According to the draft agreement, DiamondRock Frenchman's Owner, Inc. is required in return to pay an annual fee to the EDA of either 1.5 percent of the projected debt service payable that year, or $100,000 per project, whichever is less. The company is also required to include as a part of its self-funded marketing plan a component to promote the territory, which must be approved by the Tourism commissioner prior to the opening of the resort.
According to the request, the upgraded resort will be part of the Autograph Collection, a group of independent upscale luxury hotels within the Marriott International Portfolio.
"These properties are independently owned and operated under the Autograph Collection name," Biggs told the Source on Tuesday. "Noni Beach, formerly known as 'Morning Star Marriott Beach Resort,' will be the first Autograph Collection hotel in the U.S. Virgin Islands."