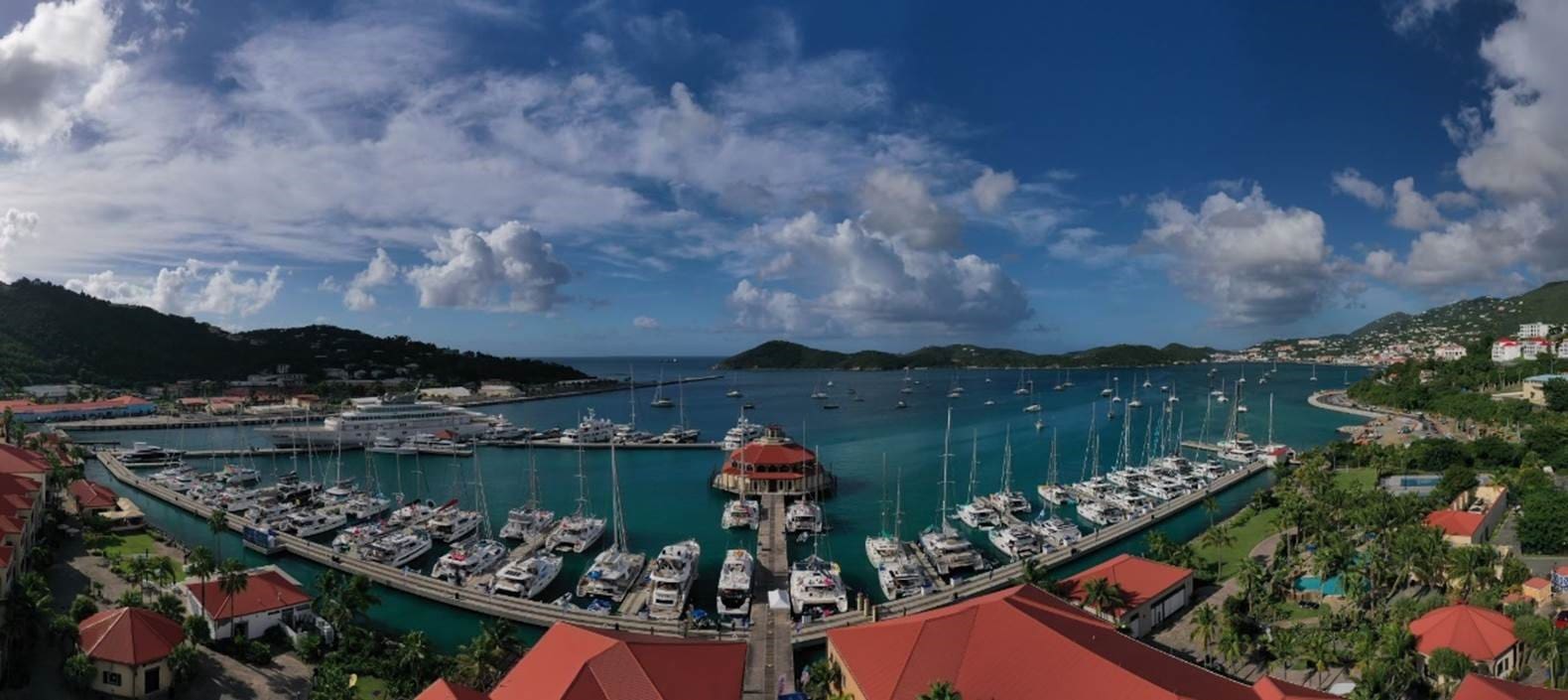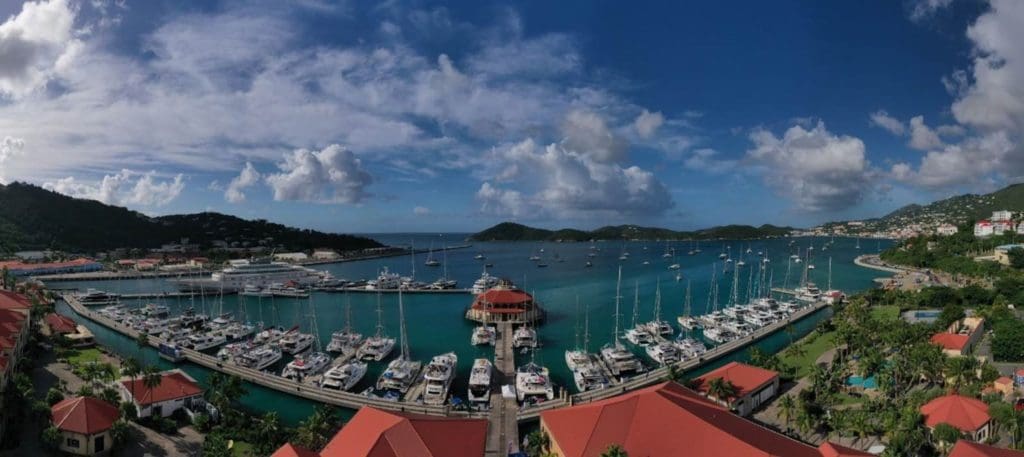 The U.S. Virgin Islands yacht charter industry is open for business. Nearly 60 multihulls, monohulls and motor yachts lined the docks at IGY's Yacht Haven Grande for the season-opening, USVI Charter Yacht Show, held Nov. 12 to 15, hosted by the Virgin Islands Professional Charter Association (VIPCA) and having rigorous COVID-19 Safety Protocols in place.
Over 100 charter brokers from the Caribbean, the U.S. and Europe attended the Show's new virtual platform, which included live seminars, crew interviews, and real-time yacht tours, and nearly 50 charter brokers attended in person. Since the majority of the USVI's charter yachts accommodate no more than six to eight passengers of family or friends, have only 2 to 3 crew, and feature an itinerary that boasts ample time at sea and in secluded anchorages, this segment of the territory's marine tourism sector is well-positioned to provide safe vacation options for visitors in times of the COVID-19 pandemic.
"It was our pleasure to support this year's U.S. Virgin Islands Charter Yacht Show. The resilience of this industry has allowed for tourism to flourish despite these challenging times. The marine industry is a very important sector to our overall tourism product, and we look forward to marketing the charter yachting sector along with all other marine businesses throughout the territory.
We hope that attendees, both in person and virtually, enjoyed this year's event and recognize the endless opportunities this destination offers mariners. As we continue to navigate the challenges presented by the pandemic, we are encouraged by the interest we've seen in the U.S. Virgin Islands by this important community," says Joseph B. Boschulte, Commissioner of Tourism.
For the latest COVID-19 information on traveling to the U.S. Virgin Islands, visit: www.usvitravelportal.com. For vessels, visit www.vipca.org/covid-19-updates-for-vessels/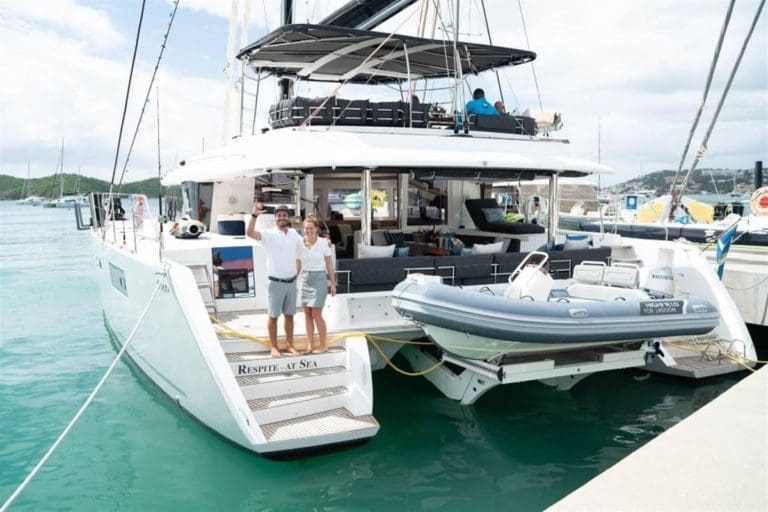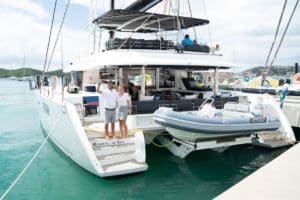 The top chef in the Crew Culinary Competition, a perennial show highlight, was Denise Melton aboard the Fountaine Pajot 60 Blue Pepper. One of over a half dozen small bites prepared by Melton included Caribbean-sourced watermelon topped with goat cheese and a drizzle of Grand Marnier-flavored balsamic reduction. "When you vacation on land, you can dine out at different restaurants. On a charter, we are the restaurant. That's why everything from the guest's preference sheet pre-charter to letting them know the daily menu while on charter is very important to me and the entire charter experience."
USVI Charter Yacht Industry Charts a Course for the Future
Looking ahead, despite global challenges, the U.S. Virgin Islands is looking at a tremendously promising charter season with industry professionals planning to continue the present boom in four key ways.
First, the promotion of a USVI-exclusive charter itinerary with the discovery of all three major U.S. Virgin Islands. A USVI Charter could start by exploring the un-explored bays on St. Thomas' north coast, moving onto the exquisite protected national park's bays on St. John with the option of nightlife ashore at Cruz Bay or floating restaurants including Lime Out Tacos Bar before taking a morning sail with a comfortable ride on a beam reach to discover St. Croix's rich Caribbean history, world-class diving, magnificent hiking trails and National Geographic-rated beaches.
Second, through the U.S. Customs and Border Protection Ruling issued to VIPCA that now enables member yachts to offer charters to Puerto Rico's offshore islands of Culebra, Culebrita and Vieques, expanding itinerary offerings for USVI-based yachts.
Third, by developing marine infrastructure to support the industry both on sea and onshore. Case in point, VIPCA has partnered with the Department of Planning & Natural Resources, Division of Coastal Zone Management for an Economic Development Authority grant to install 200-moorings in various bays of the U.S. Virgin Islands. The moorings will reduce anchoring near ecologically important coral reefs and seagrasses, as well as organize the bays to appeal for transient vessels.
Fourth and finally, by providing workforce training opportunities to bring more VI captains into the industry through VIPCA's Marine Apprentice 'on the water' 5-week scholarship program with fiscal sponsorship provided through the Community Foundation of the Virgin Islands' (CFVI) Marine Rebuild Fund. This was the Marine Apprenticeships third year with the graduation of its twenty-fifth student with STCW basic training. More than half of the students have been recruited into yacht crew jobs and are currently working towards achieving 365 days sea time before being awarded continued sponsorship for their USCG 100-ton Captains licenses.
Mark Your Calendar for 2020
The next USVI Charter Yacht Show will take place November 7-10, 2021. For more information, visit: www.vipca.org
SIDEBAR: 2020 USVI Charter Yacht Show Competition Winners
Best in Show (66-foot-plus):
1st Place: MY Elite
Runner Up: MY Valere
Best in Show (56- to 65-foot):
1st Place: SY Allure
Runner Up: SY Respite at Sea
Best in Show (Up to 55-foot)
1st Place: SY Scuba Doo 50
Runner Up: SY Southern Charm
Best Crew
1st Place: SY Respite at Sea
Runner Up: SY Rapscallion
Crew Culinary Competition Awards
Entrees
1st Place: SY Blue Pepper
2nd Place: MY Elite
3rd Place: SY Allure
Dessert
1st Place: MY Elite
2nd Place: SY Blue Pepper
3rd Place: SY Respite at Sea
Crew Cocktail Competition Awards
Grey Goose Vodka Cocktails
1st Place: SY Sea Esta
Runner Up: SY Euphoria
Captain Morgan Rum Cocktails
1st Place: MY Elite
Runner Up: MY Runaway
Most Creative Cocktails
1st Place: SY Blue Pepper
Runner Up: SY Stop Work Order Charters