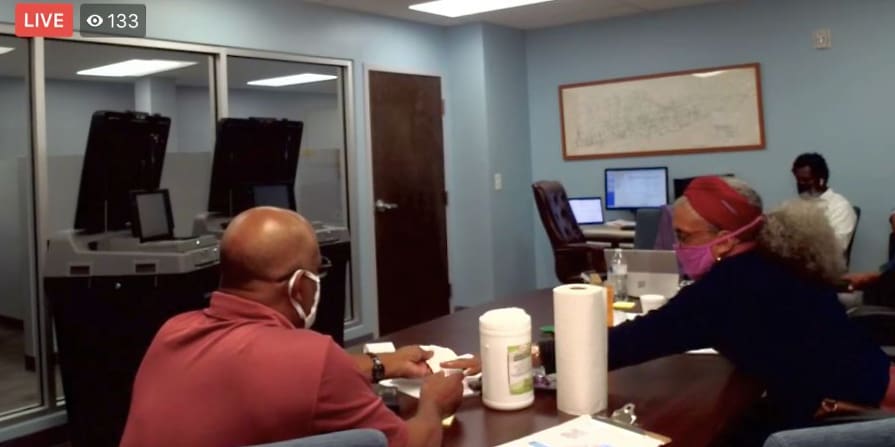 The U.S. Virgin Islands' general election results came in later than usual on Tuesday because of long lines at the St. Croix Educational Complex, which closed at 8:15 p.m.
The latest numbers posted showed incumbents Sen. Donna Frett-Gregory was the highest vote-getter among Senate candidates on St. Thomas-St. John, and Sen. Kurt Vialet in that position on St. Croix.
Elections officials said voter turnout was higher than usual, only slightly less than in a gubernatorial election year. According to Elections, out of 53,341 registered voters territorywide, 20,486, or 38.4 percent, came out.
St. Thomas
Early voting numbers had Frett-Gregory coming in first around 7:30 p.m., with 2,231 votes and Sen. Janelle Sarauw in second with 2,109. That changed around 10 p.m., when Sarauw pulled into a 25-point lead with 4,248 votes to Frett-Gregory's 4,223, and yet again at 11 p.m. when Frett-Gregory jumped back to first with 6,454 votes and Sarauw with 6,357 unofficially.
Two of the district's Democratic incumbents, Sens. Athneil "Bobby" Thomas and Stedmann Hodge Jr., appeared to have lost their seats, according to unofficial numbers, coming in eighth and ninth, respectively.
Following Frett-Gregory and Sarauw were newcomers Milton Potter with 6,036 votes, Alma Francis-Heyliger with 5,386 and Carla Joseph with 5,342, along with incumbents Marvin Blyden with 5,254 and Dwayne DeGraff with 4,692 votes.
Asked about conducting a successful Senate campaign in a year when traditional activities such as fundraisers and door-to-door canvassing were made difficult by COVID guidelines, Frett-Gregory said her record in the 33rd Legislature stood for itself.
"It was hard work that our team put in and working along with my colleagues I was able to get 30 bills passed, and I will continue on that track in the 34th Legislature, working to tackle those issues that are most important to the people of the Virgin Islands," she said. "I'm humbled by the confidence the voters have put in me, and I want them to know I will continue to fight on their behalf."
Coming in, Frett-Gregory said her focus will be on education reform, economic development and resolving the issues surrounding the Government Employees' Retirement System.
Speaking after the unofficial results were posted, Sarauw shared her thoughts on being successful working within an institution "filled with men," and as the only independent candidate within a Democratic majority.
"I remained committed to the issues, I'm very issue-oriented and brought a different perspective to the table," she said while thanking the voters on St. Thomas-St. John for their confidence in her ability to continue leading.
"I listened a lot, was willing to learn and was committed to presenting the facts while standing by accountability and transparency, and I will continue that in the 34th Legislature."
Speaking while campaigning at the polls on Tuesday, newcomer Potter said he plans to take a collaborative approach to resolve issues affecting the territory that he said have become "more acute" over the past few decades.
"We do have some big problems in the territory, but they seem to all be converging at the same time," Potter said. "We need talented people who have the capacity to work together and roll up their sleeves to do the hard work. No one person can just go in there and make a change. It's going to take all of us working together."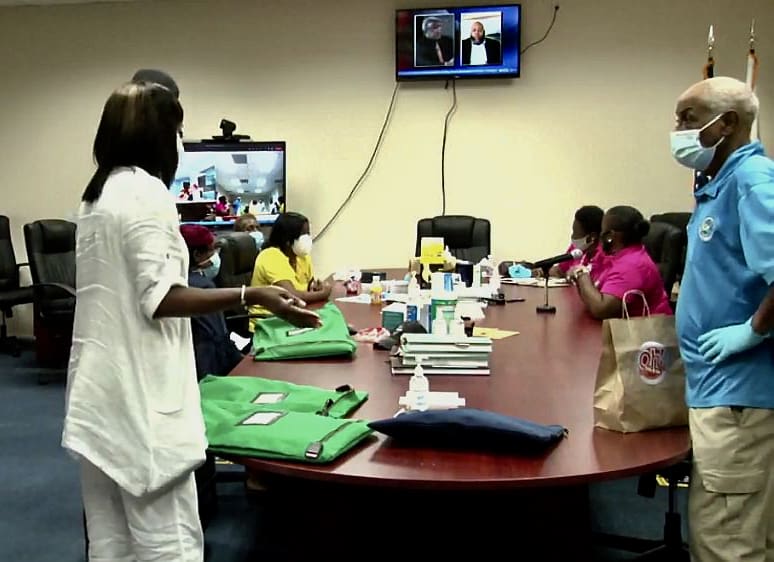 St. Croix
On St. Croix, Vialet, a Democratic incumbent, pulled out ahead early, maintaining at one point a more than 700-vote lead over the second-place winner, Genevieve Whitaker. Vialet ended the evening with 4,421 votes, with Whitaker following at 3,580. This is the third election in which Vialet has come out on top, and speaking after the unofficial results were released, he thanked St. Croix for giving him another chance to serve.
"No matter how many times you run or how many times you win, it is always such an exciting feeling when the voters give you their stamp of approval and say they have faith in you to represent the people of the Virgin Islands," Vialet said.
During the time of "shelter at home," there have been more residents tuning into the televised legislative hearings, giving them a better idea of who is putting in the time on the floor, he said.
For Whitaker, the focus of this election season has been on mixing social media with grassroots campaigning and doing what she could to reach as many people with "little resources."
"A lot of work has really been put in, we have really been pounding the pavement and talking to people about really getting back to where we want to be as a community," she said. "And that starts with transparency."
Asked how she felt about the win, Whitaker said, "incredible."
"It has been an incredible journey, and I thank the people of St. Croix for their love and their belief in my work," she said.
Following Vialet and Whitaker were Sens. Novelle Francis Jr. with 3,468 votes and Javan James Sr. with 3,454, then newcomers Samuel "Sam" Carrion with 3,178 votes and Franklin D. Johnson with 3,167 votes. Democratic incumbent Sen. Kenneth Gittens rounded out in seventh with 2,983 votes.
According to the unofficial results, Senate incumbents Oakland Benta and Allison DeGazon lost their seats, coming in eighth and ninth, respectively. Former Sen Alicia Hansen, seeking to return to the Legislature, came up short in the final, unofficial returns, placing 10th.
Speaking after the results were posted, Carrion said he was "honored" not only to represent the territory's Hispanic community on the Senate floor but millennials and "St. Croix in general."
"I feel good, excited, I feel great, I really do," he said. "I'm honored and humbled and privileged to have been elected, and I look forward to working with my colleagues and representing St. Croix."
Senator-At-Large
With no challenger this year, incumbent Sen. Steven Payne Sr. reclaimed his seat with 9,449 votes.
Speaking after the unofficial results were released, Payne said his campaign focused on "pounding the pavement" and making appearances in both districts, instead of just St. Thomas-St. John. Tuesday, Payne said he started campaigning early on St. Croix first, before moving onto St. John and rounding out on St. Thomas.
"I am definitely a team player and I look forward to what's coming up in the next couple of weeks," he said. "It's been a long journey, it's been a long day, but it was worth it, and I look forward to continuing to push for the people. To the people of the Virgin Islands, I want to say thank you, thank you, and I look forward to serving in the 34th Legislature."
Others winners included:
– Board of Education At-Large: Angel L. Bolques Jr. with 8,277 votes;
– Board of Education, St. Croix: Emmanuella Perez-Cassius with 2,650 votes and Shawna K. Richards with 2,495 votes;
– Board of Education, St. Thomas-St. John: Kyza A. Callwood with 5,331 votes and Nandi Sékou with 5,275 votes;
– Board of Elections, St. Croix: Lisa Harris-Moorhead with 2,814 votes, Liliana Belardo-Oneal with 2,476 votes, Glenn Webster with 1,829 votes and Epiphane "Joe" Joseph with 1,439 votes;
– Board of Elections, St. John: Alecia M. Wells with 4,964 votes; and
– Board of Elections, St. Thomas-St. John: Lydia A. Hendricks with 5,588 votes and Arturo Watlington Jr. with 4,130 votes.
A referendum for the Senate to enact legislation convening a constitutional convention received 8,320 votes in favor and 3,225 against.
According to Elections Supervisor Caroline Fawkes, 1,078 absentee ballots were mailed out on St. Thomas-St. John and 770 – or 67 percent – have been returned. On St. Croix, 675 absentee ballots were mailed out and so far, 490 – or 62 percent – have been returned. The Joint Board of Elections will begin counting the remaining ballots at 3:30 p.m. on Wednesday.