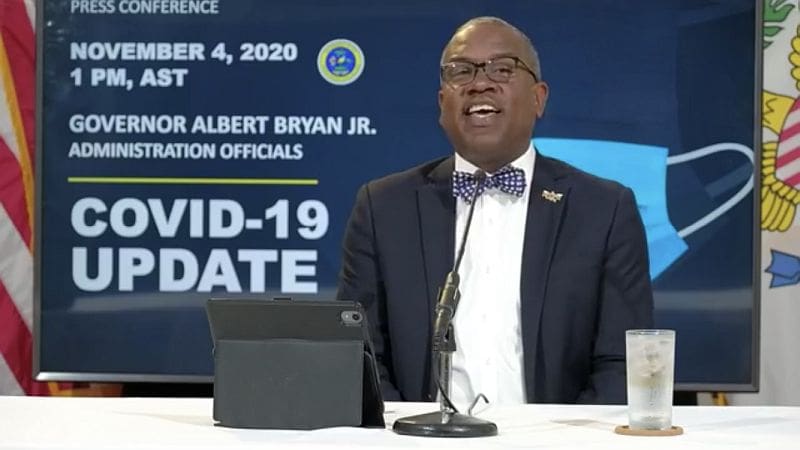 As the territory hits its eighth month of COVID-19, the government is looking at ways to "provide safe social outlets for young people," which includes opening bars and nightclubs – with restrictions – starting on Nov. 9.
At his weekly press briefing on Wednesday, Gov. Albert Bryan Jr. said the territory is "now at the point where in our response we are working toward establishing a new normal."
"It is necessary for us to find a way to live with the presence of this contagious and deadly virus that is all around us," he said. "We are now looking at sports and nighttime entertainment and will be putting protocols in place on a case-by-case basis to return social and leisure activities to some sort of normalcy."
Bryan said he has met twice with local bar and nightclub owners and will be putting in place an initial set of restrictions that will be monitored for their effectiveness in containing or stopping the spread of the virus. Meanwhile, limits on mass gatherings and other requirements laid out in the latest executive order are still in effect, and Bryan said there will be a $1,000 fine levied for each participant and a $5,000 fine in effect for each organizer if violations are found.
Going over the latest COVID numbers, Bryan noted that a portion of the territory's 35 active cases can be attributed to a cargo vessel that had six COVID-positive passengers aboard and warned visitors about the importance of adhering to local guidelines. For locals, Bryan said, boating is permissible, but still has to be done safely, which includes wearing a mask when it makes sense to do so. Rafting, or multiple boats tied up together, is still prohibited under the current executive order, and penalties for violators include a $10,000 fine per incident and possible confiscation of the vessel.
"We want to work with the boating community, but we need you to work with us," Bryan said, adding that the territory has also rolled out extra peace officers at the ports who are able to detain visitors or travelers betwee islands who are not following protocols.
With the holidays on the horizon, Bryan said families should be cautious when getting together, as more vulnerable populations, such as the elderly, could be exposed. With the uptick of COVID cases on the mainland, the governor also urged against unnecessary travel, saying that colder weather in the U.S. could also pose a threat.
As of Wednesday evening, there were 33 active cases territory-wide. Overall, 24,934 residents have been tested, and of that amount, 23,516 cases were negative, while 1,388 were positive. There have been 23 deaths recorded, including two in the past week. St. Croix's Gov. Juan F. Luis Hospital on St. Croix continues to have no COVID patients, while Schneider Regional Medical Center has two.