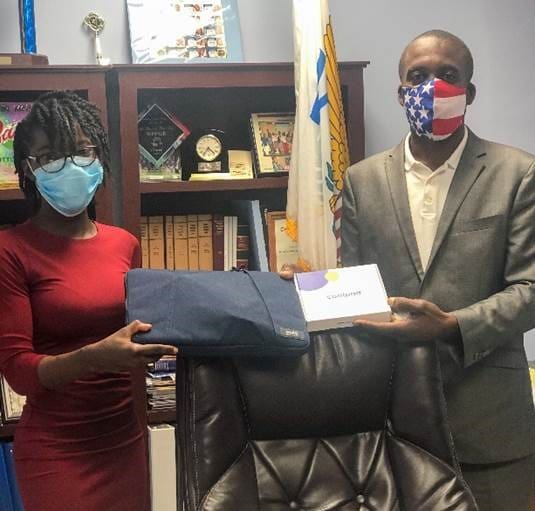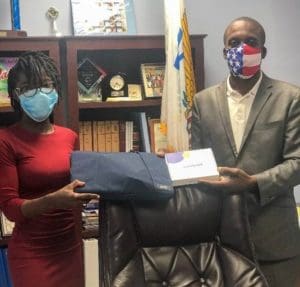 On Sept. 23, Senator Marvin A. Blyden concluded his first summer essay contest in the St. Thomas-St. John District. Drishti Taswani, Lyric Vacharat, Maike Caracciolo, Akima Richardson, Destiny Finn, Widmerline Jeune, Lianet Guzman, Alexia Lewis, Rhea Khan and Anthony Mills all wrote essays discussing the impact COVID-19 has had on their lives and how they intend to stay positive despite uncertainty. They all received a laptop and personal Mi-Fi device for their efforts.
The Solutions for the Future essay contest was held because Sen. Blyden recognizes the dire technological needs of many of the community's students. "The switch to virtual learning in response to the COVID-19 pandemic has highlighted disparities in access to technology amongst families in the territory," the Democratic senator said. "If we fail to address the needs of those students who do not have the tools needed for distance learning, our entire society will pay the price for decades to come."
The Solution for the Future contest was a departure from the senator's usual scholarship program, which is funded by the annual recognition banquet each spring. This year, the COVID-19 pandemic forced the cancellation of the event and inspired him to look for other ways to assist the territory's students. Donations from Startime Technology Inc. and Eric Castro of Grade-All Construction funded the purchase of 10 laptops and Mi-Fi devices with one year's worth of paid service.
"I want to congratulate all the students on writing such excellent essays. I commend them for their tenacity and positivity during such uncertain times, and I wish them all well this school year," said Blyden.
"Additionally, I would like to thank Star Time Technology and Grade-All Construction for stepping forward as good corporate citizens and giving back to our youth. It is a type of solidarity and community-mindedness that will enable us to come through this crisis and emerge stronger on the other side," said the senator.
Sen. Blyden invites the community to email his office at mblyden@legvi.org, leave messages at his office at 693-3567, or send a message to his Facebook page for more information about his efforts.