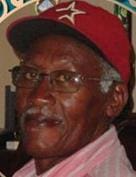 Fernando Cameron, also known as "Camo," died in Lake Mary, Fla., on Sept. 8, at the age of 81.
Funeral services will be held from 10 a.m. to noon, Monday, Sept. 28, at Turnbull's Funeral Home and Crematory Services. Interment will be in Tortola, British Virgin Islands.
He is survived by wife, Mariet Cameron; children: Alric, Stephanie, Jalani and Jabradli Cameron, and Morsha, Merick and Kemo Smith; daughter-in-law, Rosalie Cameron; grandchildren: Alyssa, Ryan, Abigail, Jesua, Jalania, Jaleel and Jalen Cameron, and Shakeem, Raheem, Talesha, K'zaria, K'mori, Meriq M'Kyda, Jcori, Jordan and Deondre Smith; great-grandchildren: Jayden Cameron and Dream Smith; brothers:  Alchardio and Romeo Cameron; sisters: Erica Donovan, Helen Phillip, Alpha Robinson, Angelica Smith, Wisteria Donovan, Jennifer Bertie and Stephony Francis; mother-in-law, Adena Brathwaite; sisters-in-law: Karen and Utah Cameron; Jacqui Thomas, Juliet Brathwaite, Yvette Maduro and Bernadette Brathwaite; brothers-in-law: Leonardo and Godfrey Donovan and Haldean Bastian, and Malvern and Myron Brathwaite.
Due to the COVID-19 pandemic, the family respectfully requests that all attendees adhere to social distancing guidelines and all other safety rules.