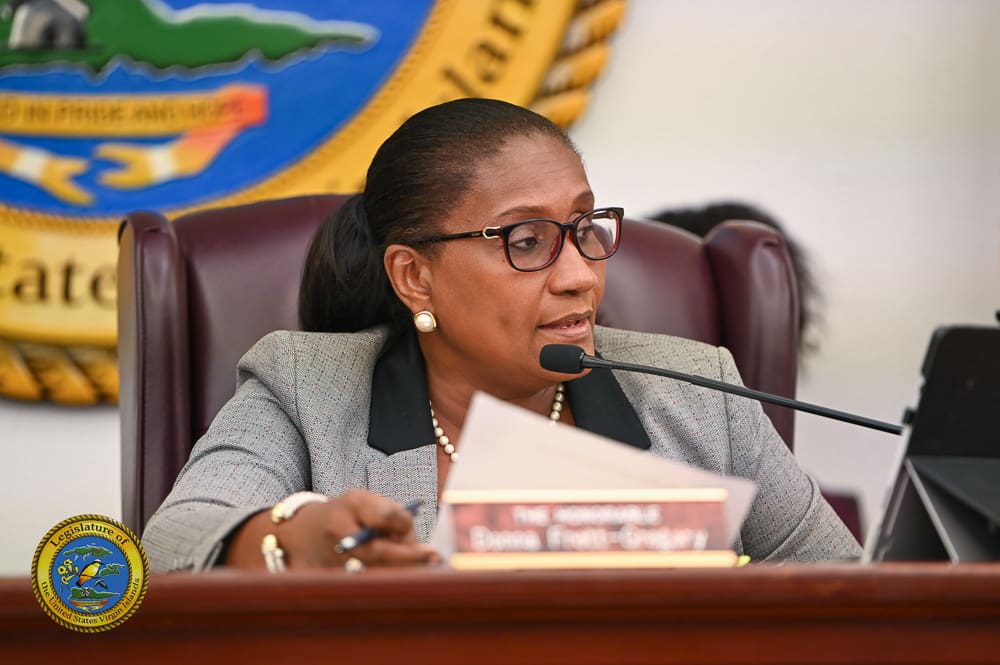 Options for distance learning may stick around long after the pandemic ends if legislation advanced Wednesday by the Senate Committee on Education and Workforce Development becomes law. The bill, proposed by Sen. Donna Frett-Gregory, calls for the V.I. Board of Education to construct a distance learning policy for courses taken online, primarily by high school students.
"If there is a course a high school student would like to take, but it is not offered at that particular high school, they can do that on an online platform and get credit for the course. That is something that is not in place right now," said St. Croix Superintendent Carlos McGregor.
Education Commissioner Racquel Berry-Benjamin said her department "should have modernized its operations to include distance learning some years ago," but has lacked funding and resources to transform current school operations.
"The COVID-19 pandemic has provided the needed financial resources and shift in thinking of the Virgin Islands community necessary to build and implement distance learning," Berry-Benjamin said.
The percentage of high school students in public school districts who take distance learning courses has risen since 2002, Berry-Benjamin said. While 30 percent of students had taken the courses in 2002, by 2010 53 percent of high schoolers had taken some form of an online class.
"The results of the latest study are expected to reveal an increase from the 2010 numbers, especially with reoccurring budget cuts and the current COVID-19 pandemic," Berry-Benjamin said.
But it isn't just the ongoing health crisis that has brought distance learning to the forefront of education. The national teacher shortage that plagues the mainland United States has also impacted the territory.
Because of the shortage of qualified educators, Berry-Benjamin said, "The department has a request for proposal to solicit distance learning instruction for students from providers in hard-to-fill areas … using such [online] platforms, contracted teachers will be required to teach live daily and adopt the districts' approved curriculum."
Some of the courses from which Berry-Benjamin said the department has requested proposals are world languages, mathematics, science and advanced placement courses.
Frett-Gregory said the implementation of a distance learning policy, "will allow students to fulfill graduation requirements and elective courses," and could be relied on in the case of a natural disaster which "many times make[s] in-classroom learning difficult."
"This legislation is not only for responding to COVID-19 or the aftermath of hurricanes. This is in fact another step towards education reform," Frett-Gregory said. "Distance learning doesn't only mean finding an alternative for face-to-face instruction during an emergency. It means giving students greater flexibility in scheduling and assisting under-served students."
Berry-Benjamin was a strong proponent of the measure and said its implementation is necessary for students to be successful in a newly cultivated, tech-savvy society.
Berry-Benjamin also said she is an advocate for increased technology use within the department, as it could reduce expenditures and increase participation.
"Gone are the days of having to physically meet in person for every meeting. With the increase in technology today, we are now seeing that the amount of time and money expended on some in-person meetings in the past could have been more productive and budget-friendly if they were conducted using tele- or video-conferencing technology widely available today," Berry-Benjamin said.
Separately, Bill No. 33-0344, which would allow the Department of Education to hire various licensed professionals for the teaching of career and technical courses, was held in committee for further discussion.
Sens. Frett-Gregory, Kurt Vialet, Allison DeGazon, Kenneth Gittens, Stedmann Hodge Jr., Steven Payne Sr., and Janelle Sarauw were present for the Education hearing.