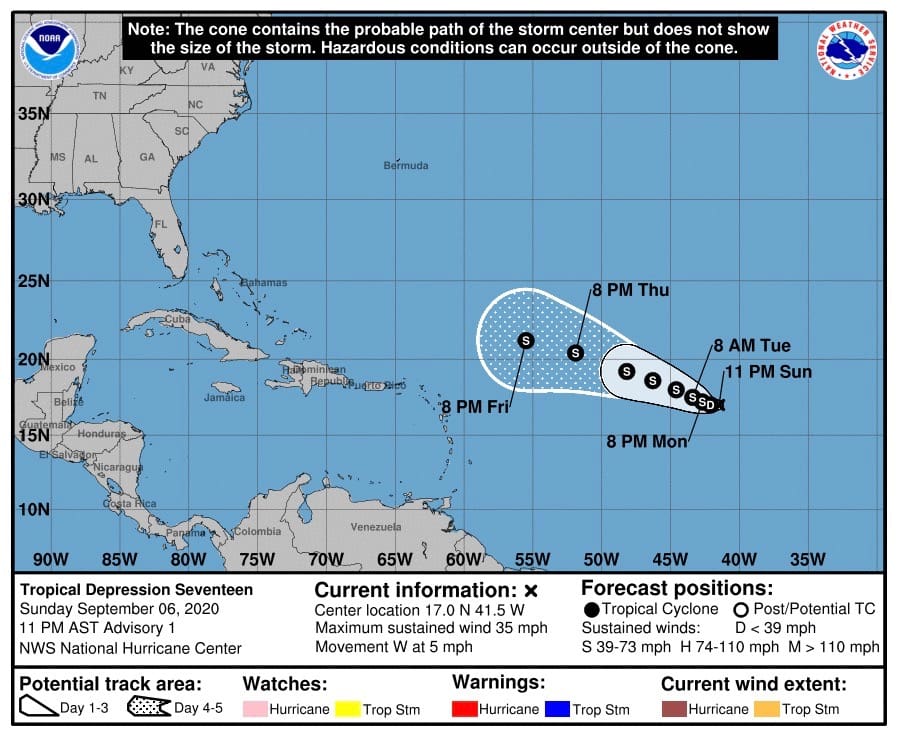 The National Hurricane Center upgraded a mid-Atlantic tropical wave to Tropical Depression 17, and said it likely will become a tropical storm Monday.
On its projected track, the weather system is expected to give the U.S. Virgin Islands a wife berth, passing more than 600 miles east-northeast of the territory on Friday night as a tropical storm with top winds of 50 miles per hour.
The NHC announced the upgrade in its 11 p.m. Sunday report.
The center is presently monitoring four active tropical weather systems. Tropical Depression Seventeen is located more than 1,500 miles east of the Virgin Islands, near 17 degrees north, 41.5 degrees west. The depression is moving to the west at five miles per hour with top winds of 35 miles per hour.
Other active systems under watch as the busiest month of the hurricane season gets underway are:
– A tropical wave over the central Caribbean Sea south of Jamaica and extending northward across the island is producing limited shower and thunderstorm activity. Upper-level winds are forecast to remain unfavorable for development for the next several days while the system moves westward, and tropical cyclone formation is not expected. The system is on track for the Yucatan Peninsula.
– A trough of low pressure located just to the southeast of Bermuda is producing disorganized cloudiness and showers. Some slow development of this system is possible during the next several days while it moves west-northwestward.
– Showers and thunderstorms continue to steadily increase and are showing signs of organization in association with a low pressure system located just west of Senegal. Environmental conditions are conducive for development, and a tropical depression is expected to form within the next day or so while the system moves generally westward over the far eastern tropical Atlantic.