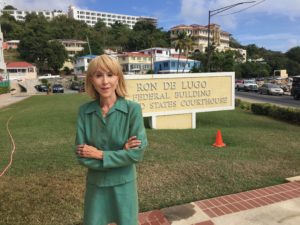 Federal and local Virgin Islands law enforcement officers, together with members of the Virgin Islands U.S. Attorney's Office, have been selected to receive a national award for a drug enforcement task force investigation, U.S. Attorney Gretchen Shappert announced Monday.
The territory was singled out for the Organized Crime Drug Enforcement Task Force award for its Operation PY Beto Kilo.
"This national OCDETF Award is an acknowledgement of the tremendous work of law enforcement and the U.S. Attorney's Office to dismantle and disrupt transnational drug organizations," Shappert said. "Together, we are apprehending the major drug dealers, the money-launderers and the gun smugglers who threaten our way of life in the territory."
Shappert said this was "just the start."
Law enforcement agencies honored for their involvement were: Drug Enforcement Administration, U.S. Marshals Service, Homeland Security Investigations, U.S. Customs and Border Protection, U.S. Coast Guard, Transportation Security Administration, Bureau of Alcohol, Tobacco, Firearms and Explosive, U.S. Air Force, V.I. National Guard, V.I. Police Department and Virgin Islands U.S. Attorney's Office.
The PY Beto Kilo investigation focused on a sophisticated and structured drug trafficking organization that transported cocaine from Columbia through Venezuela on fishing vessels across the Caribbean Sea to an area 60 to 80 miles south of St. Croix. Shappert said the drug trafficking organization was led by Jose Hodge on St. Croix, Omy Gutierrez-Calderon in Puerto Rico and Sergio Quinones-Davila in Florida. It operated with a high level of sophistication utilizing Venezuelan fishing fleets with established transportation routes to conduct midsea transfers. The organization sent decoy vessels ahead of the cocaine vessels. The cocaine vessels were equipped with a mechanism to sink the cocaine if a vessel were detected by law enforcement. Members of the organization communicated at sea using satellite telephones, Blackberries and Pin to Pin messaging. These sophisticated communications systems allowed the organization to engage in large-scale drug trafficking undetected for a number of years, Shappert said.
Transporters from St. Croix and Puerto Rico traveled in go-fast boats and met vessels at pre-determined GPS coordinates to conduct midsea transfers of cocaine. Members of the organization then transported the drugs to St. Croix and later transshipped them to Puerto Rico. A small quantity of drugs was distributed on St. Croix.
The investigation, led by the DEA on St. Croix, with assistance from other law enforcement agencies, identified 17 members of the organization: two in South America, three on St. Croix, 10 on Puerto Rico and two in Florida. The investigation also revealed that the organization smuggled approximately 50 to 100 kilograms of cocaine per shipment every few months. The cocaine sold for about $14,000 per kilogram on St. Croix and $24,000 per kilogram on Puerto Rico. During the course of the investigation, approximately $1.5 million, 300 kilograms of cocaine and several firearms were seized from the organization, Shappert said.
In 2016, the U.S. Attorney's Office secured an indictment charging 15 members of the organization with drug trafficking offenses. Six were convicted on guilty pleas, charges were dismissed against two defendants, and the remaining six members went to a trial in the spring of 2017. The original trial lasted eight weeks and ended in a hung jury due to suspected jury tampering. All six remaining defendants were convicted after a second trial in the spring and summer of 2018 that also lasted eight weeks.