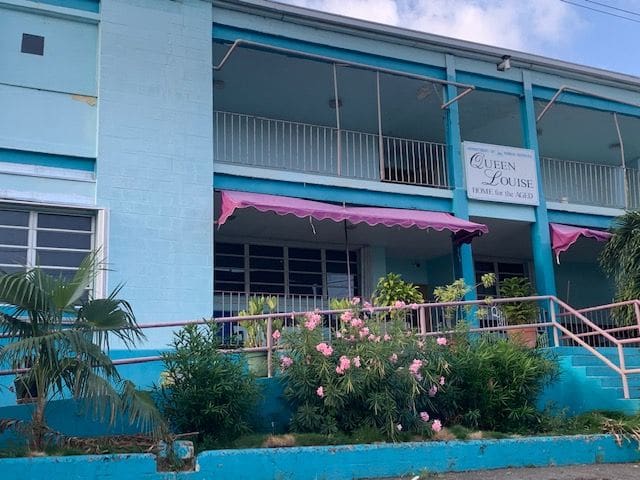 Four of the 17 residents of Queen Louise Home for the Aged have died of COVID-19 in just over a week, the Department of Human Services confirmed Wednesday. Eight days ago, they reported the passing of a 101-year-old resident, and Wednesday shared the news that three other residents have since passed away.
"While we are aware of the risks COVID-19 poses to our most vulnerable population, seniors, especially those with underlying health issues, the loss of four precious residents in such a short period of time is stunning and painful for the team at Queen Louise Home and for all of the DHS family," Human Services Commissioner Kimberley Causey-Gomez said in a statement on Wednesday.
The territory has now seen 14 COVID-19 deaths, according to the latest Health Department release.
The deceased from Queen Louise include a 72-year-old woman, a 101-year-old woman, a 92-year-old man and a 95-year-old man. At least three passed away at Schneider Regional Medical Center. The location of the fourth fatality was not confirmed as of Wednesday evening.
COVID-19 is substantially more lethal for patients over age 65 and its dangerousness increases with both age and underlying health conditions.
On Aug. 12, the Queen Louise Home, run by the Department of Human Services, reported that of 17 residents tested, 10 returned positive results and of 25 Queen Louise staff who were tested, six tested positive.
By Aug. 18, Schneider Regional Medical Center reported it was caring for 12 patients. But Human Services reported 11 residents were at the hospital. Human Services also reported the death of one Queen Louise resident, aged 101, but would not confirm whether it was a COVID-19 fatality.
Human Services Director of Strategic Operations and Planning Michelle Francis announced several days ago that the remaining patients had all returned to Queen Louise Home.
Five residents, who tested negative, were moved to a separate non-congregate facility, meaning a facility where residents do not have to be in close quarters with one another. Human Services officials would not say where that location is, citing privacy concerns. That residents are at the Queen Louise facility is, however, public knowledge.
According to the agency, retesting of the staff and residents confirmed five to still be negative and all nursing staff test results returned negative. Eight residents remain positive and are continuing to receive enhanced medical care and supervision at Queen Louise after being thoroughly examined at Schneider Regional Medical Center.
"The nature of this virus and its effects on seniors is harsh and demands that we keep a constant and vigilant watch on them. Some have gone from nearly asymptomatic to critically ill in a matter of hours. While our minds and hands are busied with the tasks of quality care and mitigation, the hearts of the staff, who have been like family to our residents, are grieving the sudden loss of four residents," Causey-Gomez said.
Thus far, other senior facilities have not reported any confirmed COVID-19 cases.
As of Aug. 25, the territory had seen 1,030 confirmed cases of COVID-19, amounting to slightly more than 1 percent of the entire population. As not everyone has been tested and there is community spread from person-to-person, without a known source, the real number of infected persons is larger. There have been 15,032 Virgin Islanders tested.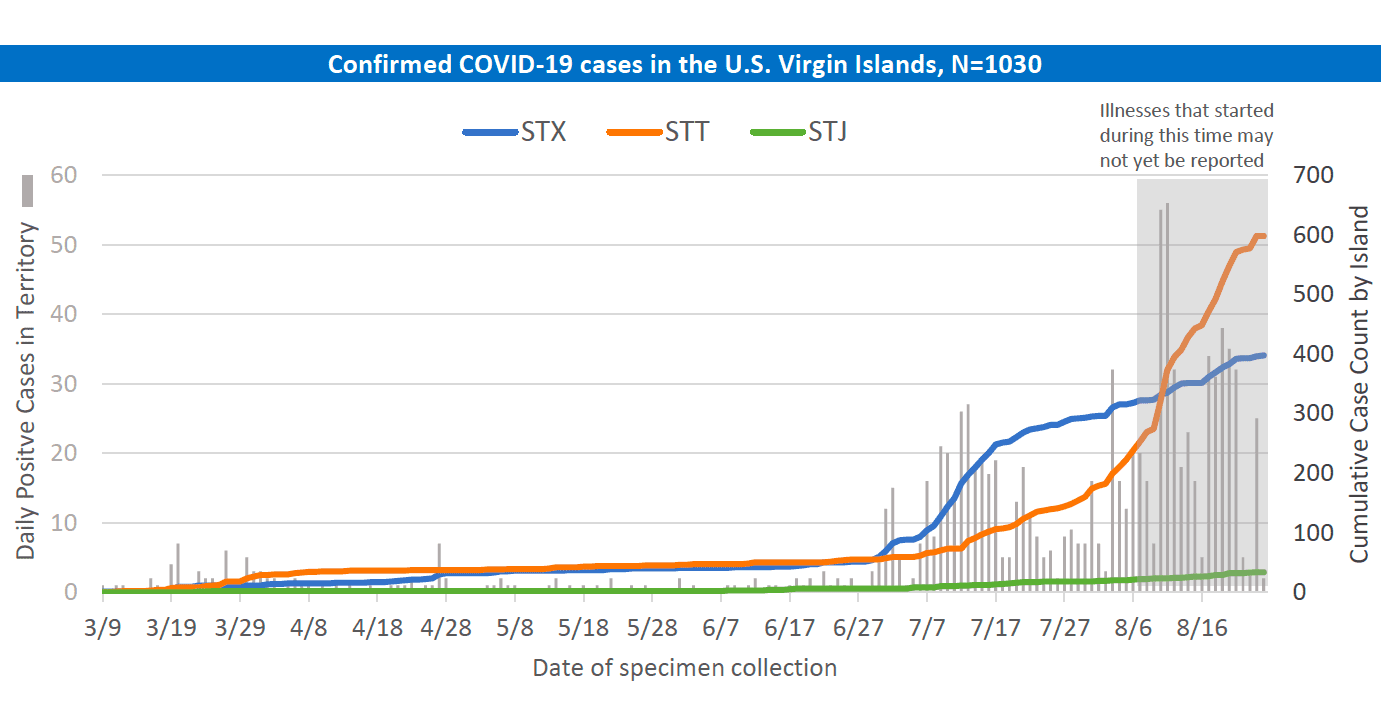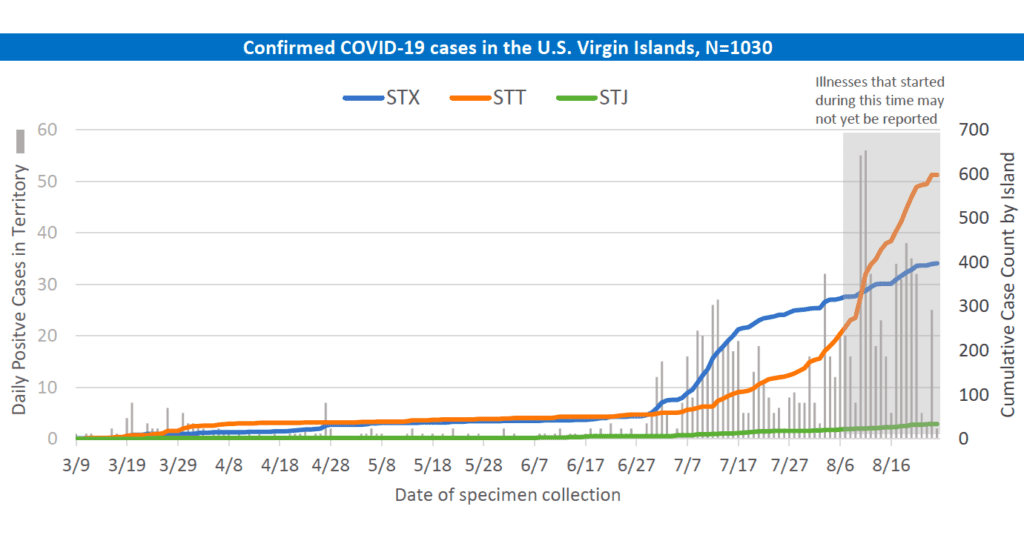 St. Thomas continues to see the most new cases, adding 26 from Monday to Tuesday, and seven from Sunday to Monday.
St. Croix added four cases from Monday to Tuesday and seven from Sunday to Monday.
St. Thomas has seen nine fatalities and St. Croix has had five.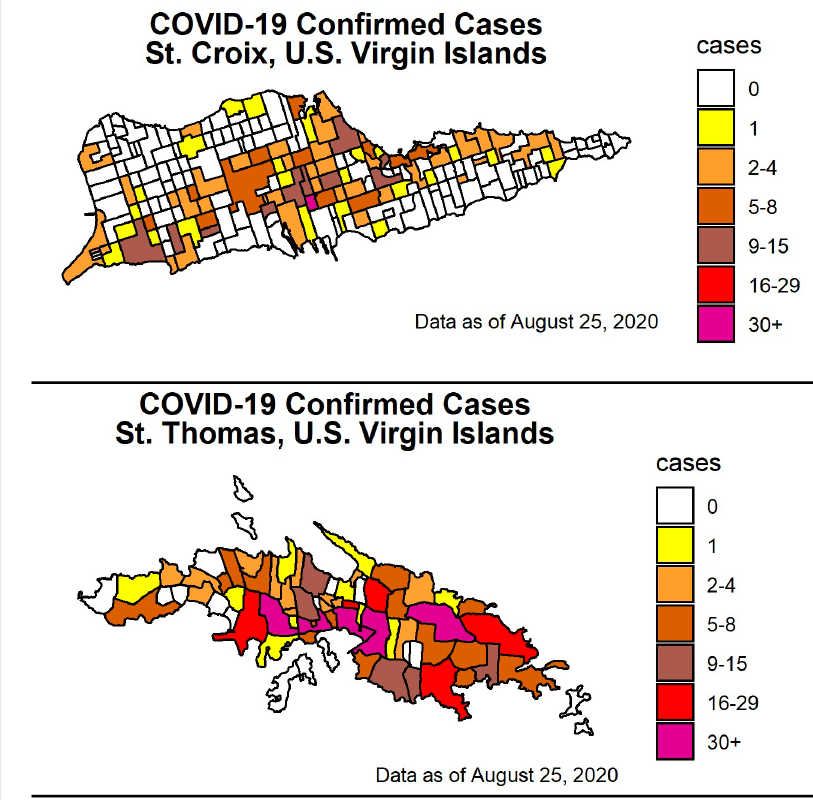 The rolling seven-day average of test results and the cumulative totals of cases seem to indicate the recent spike in cases may be beginning to level off, but whether that continues depends heavily on whether residents adhere to social distancing and mask-wearing protocols.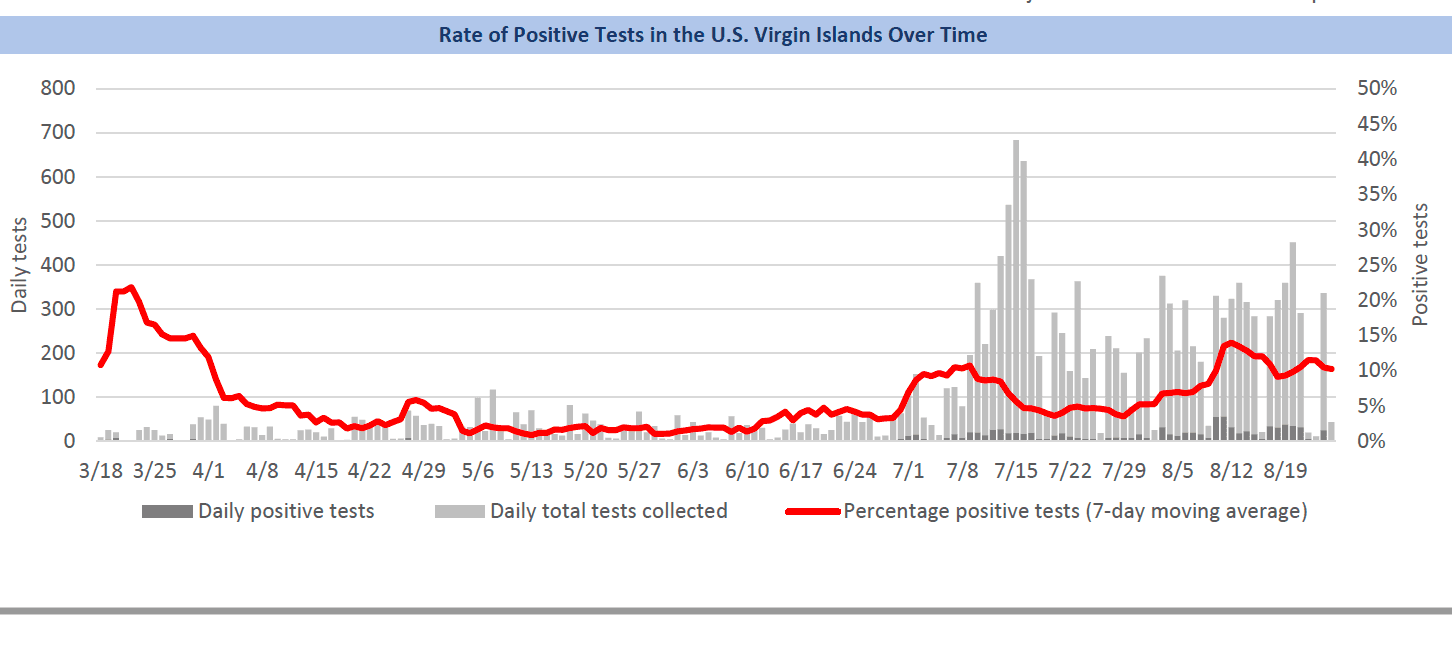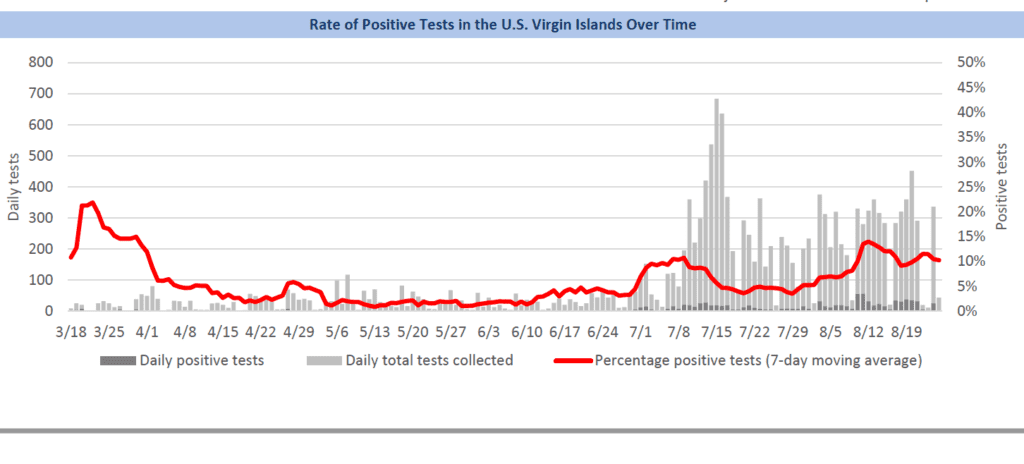 Editor's note: The Department of Licensing and Consumer Affairs has provided the following cellphone numbers where residents can report activity that is against the law, including violations of the governor's executive orders, that may put others at risk or in danger. Information, photos or videos can be texted to the following: The general number is 340-725-5129. The other two numbers are 340-727-7226 on St. Croix and 340-771-7226 on St. Thomas. You can also call 911 to report serious crimes.