Despite a new two-week lockdown Gov. Albert Bryan imposed a week ago and what looked like a leveling off in new cases, the number of Virgin Islanders who tested positive for COVID-19 saw a one-day spike of 61 cases. A full 50 of those were on St. Thomas, continuing and worsening the outbreak there. The other 11 were on St. Croix.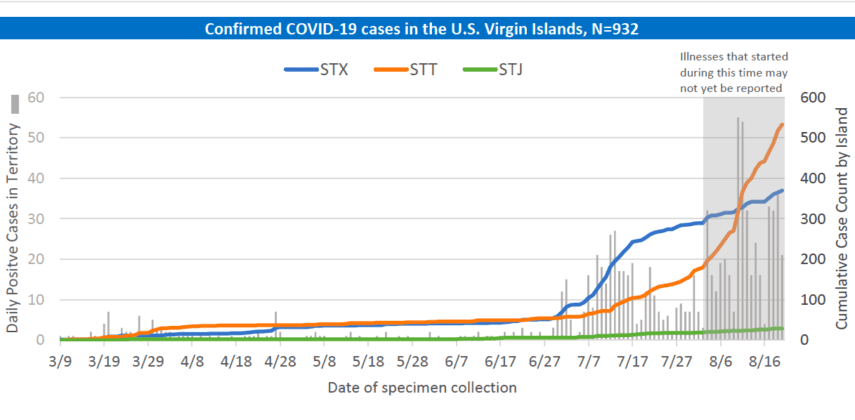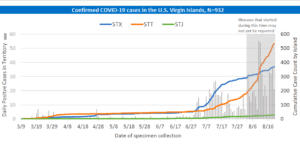 St. Thomas has seen more than 20 new cases every day this week, but the jump from Thursday to Friday is almost double the next highest count in the past seven days. St. Croix continues to see new cases but at a lower level, ranging from a high of 16 cases Thursday to a low of zero new cases on two days this past week.
This is the second-worst spike for both St. Thomas and the territory since the pandemic began. The only worse spike was from Aug. 10 to 11, when the territory saw 63 cases, of which 57 were on St. Thomas.
While the number of tests that came back Thursday was slightly higher than some days, it was not enough to explain the higher number of positive results.
The Department of Health breaks down ages into five groups: 0-17; 18-29; 30-49;50-64 and 65 and up. Those in the 30-49 age bracket continue to show by far the greatest number of positive test results, with around 350 so far of the territory's 932 confirmed cases as of Aug. 20. But those in the 18-29 bracket have had the highest rate of positive tests, with a cumulative rate greater than 10 percent to date.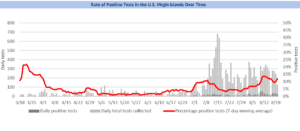 Editor's note: The Department of Licensing and Consumer Affairs has provided the following cell phone numbers where residents can report activity that is against the law, including violation of the governor's executive orders, that may put others at risk or in danger. Information, photos or videos can be texted to the following: The general number is 340-725-5129. The other two numbers are 340-727-7226 on St. Croix and 340-771-7226 on St. Thomas. You can also call 911 to report serious crimes.