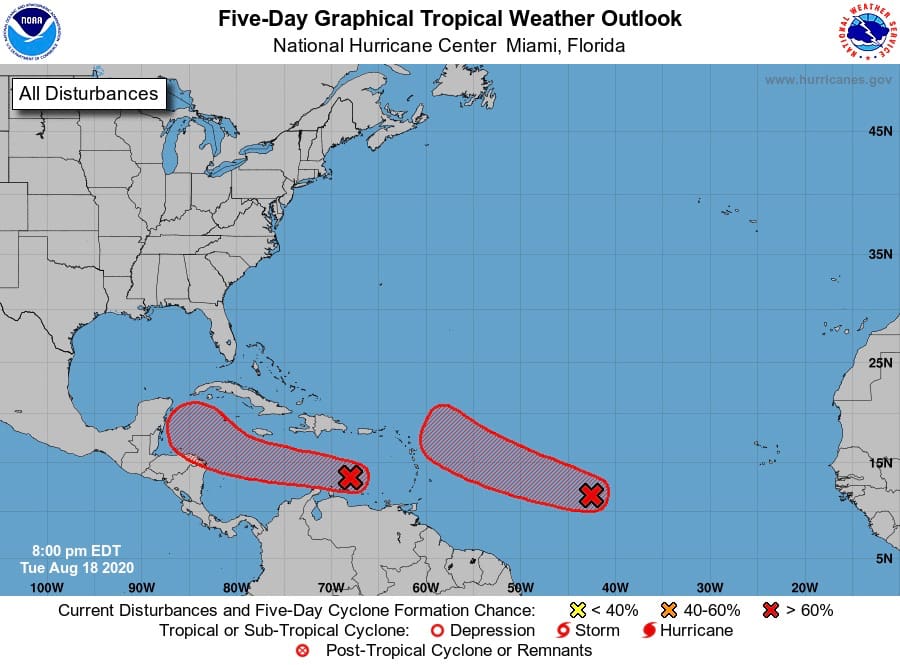 A broad area of low pressure about 1,000 miles west-southwest of the Cabo Verde Islands, which has been designated as Invest 98-L, is producing a concentrated area of showers and thundershowers, and environmental conditions are favorable for additional development, the National Hurricane Center reported in its 8 p.m. Tuesday update.
The system might become a tropical depression within the next day or two while it moves west or northwest at 15 to 20 miles per hour.
The NHC gave the system a 90 percent chance of tropical development within the next 48 hours. Rainfall and gusty winds from this system may impact the Leeward Islands, including Puerto Rico, the U.S. and British Virgin Islands, by Friday or over the weekend.
Meanwhile, a system of disorganized showers and thundershowers in association with a tropical wave over the eastern Caribbean Sea is moving westward at 20 miles per hour. This area of disturbed weather, Invest 97-L, is forecast to continue moving quickly westward over the eastern and central Caribbean Sea during the next few days, the NHC said.
The fast forward speed is limiting any significant development of Invest 97-L.
The system is expected to move more slowly westward across the western Caribbean, during which time upper-level winds could become more favorable for the development of a tropical depression later this week. Regardless of development, locally heavy rainfall and gusty winds are forecast across portions of the Windward and southern Leeward Islands Wednesday morning.
There is a 20 percent chance of formation through 48 hours and a 60 percent chance of development through five days as the system moves west towards the Yucatan Peninsula.