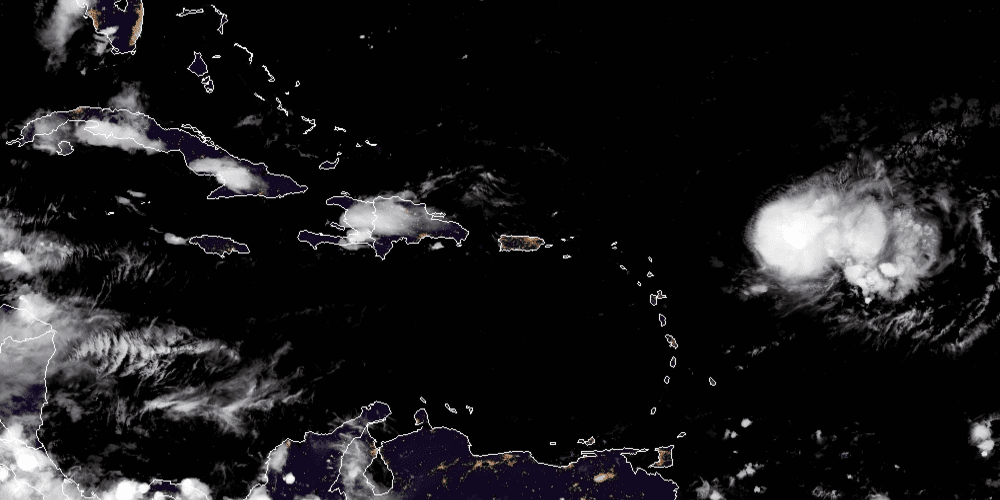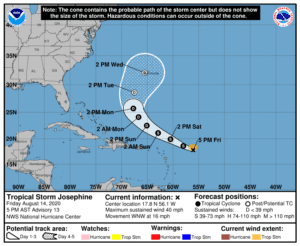 The National Hurricane Center on Friday said it expects a slightly weakened Tropical Storm Josephine to pass far enough to the northeast of the Leeward Islands over the weekend that there will be no major impacts. However, locally heavy rainfall is possible in the northern Leeward Islands, the Virgin Islands, and Puerto Rico as the storm passes by.
The NHC urged residents of the islands to monitor the progress of the storm.
On Friday, an Air Force Reserve Hurricane Hunter aircraft reported that the circulation of Josephine was still closed, and that the center was a little farther to the north than previously thought – possibly due to reformation close to a strong convective burst. The aircraft reported a minimum pressure of 1004 mb, and the combination of flight-level and Stepped-Frequency Microwave Radiometer (SFMR) winds support an initial intensity of 35 knots. Satellite imagery indicates that Josephine is encountering increasing westerly shear, with cirrus clouds west of the storm blowing into the cyclone.
Besides the nudge to the north, Josephine's initial motion is generally west-northwestward. Josephine should continue a west-northwestward motion as it approaches a weakness in the subtropical ridge in 48 to 60 hours, at which time the cyclone should gradually turn northward.
The increasing shear means that Josephine is just about out of time to intensify, the NHC said. The intensity forecast calls for a little strengthening Friday night in case a convective burst causes some spin up. After that, the cyclone should weaken, with the new forecast showing it becoming a depression in 48 hours and a remnant low by 96 hours.
On the current forecast track, the center of Josephine should pass approximately 176 miles northeast of St. John on Sunday morning as a minimal tropical storm with top winds of 40 to 45 miles per hour.