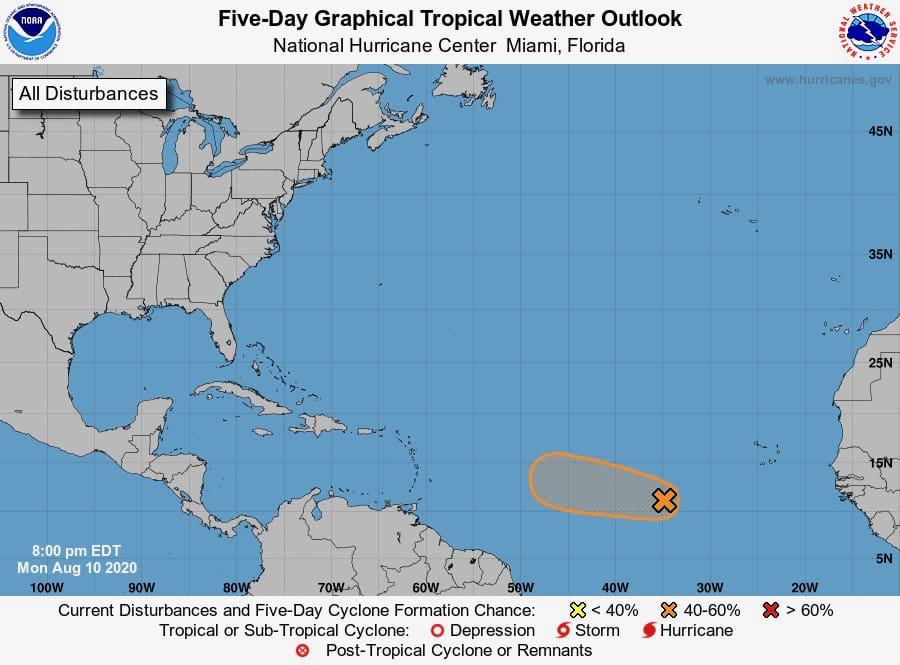 Invest 95-L, the low-pressure system moving across the Atlantic towards the Caribbean, could develop into a tropical depression by this weekend, and if it becomes Tropical Storm Josephine before Aug. 22 it will be the earliest "J" storm on record.
Shower and thunderstorm activity associated with the system, a broad area of low pressure about 700 miles west-southwest of the Cabo Verde Islands has changed little in organization since Sunday, according to the National Hurricane Center's 8 p.m. AST Monday update.
However, environmental conditions are expected to be somewhat conducive for development to occur, the NHC reported, and a tropical depression could form during the next couple of days, while the disturbance moves generally westward to west-northwestward at 10 to 15 mph across the tropical Atlantic. Conditions are forecast to become less conducive for development by the end of the week, the update said, as increasing wind shear and/or dry air could make conditions less favorable for tropical development. This system, or what's left of it, could be located near or north of the Lesser Antilles later this week.
The NHC gave the system a 60 percent chance of formation during the next five days.
If it does become the next tropical storm, it will be designated "Josephine." If Invest 95-L or another future system gains this name before Aug. 22, then the Atlantic would have its earliest-forming "J" storm on record, as noted by Phil Klotzbach, a tropical scientist at Colorado State University.