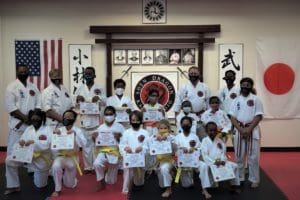 Grand Master Jerry Otto congratulates the Shen Dragon Dojo kids who have recently tested for and achieved their yellow and orange belts. In the yellow belts testing, Celine Kalpee scored the highest of the day with a 97.8 percent. She also received a stripe on her yellow belt for her excellence in performance. Alyjah Edwards was a top performer and also received a stripe on his yellow belt. Lyder Vallader, Aurysleha Norostrom-Morgan, Stella Butler, Rocket Sudiarski and Tanya Khemlani are all new Shen Dragon yellow belts.
New Shen Dragon orange belts are Kuunjal Kotak, Sanjiv Bachan, Martin Emanuel, Kiera Sammy and Melody Williams. Congratulations go to all of them for hard work, dedication and personal achievement in the martial arts.
Martial arts expert Jerry Otto, the owner of Shen Dragon Dojo, is very proud of the students. He is also grateful to the instructors who guide the children and develop in them a very positive belief system that will be with them all of their lives. He thanks Celine Otto, Bryan Otto, Wilston Wilito Wheatley and junior instructor Rashelle Machuca for all their hard work and dedication.