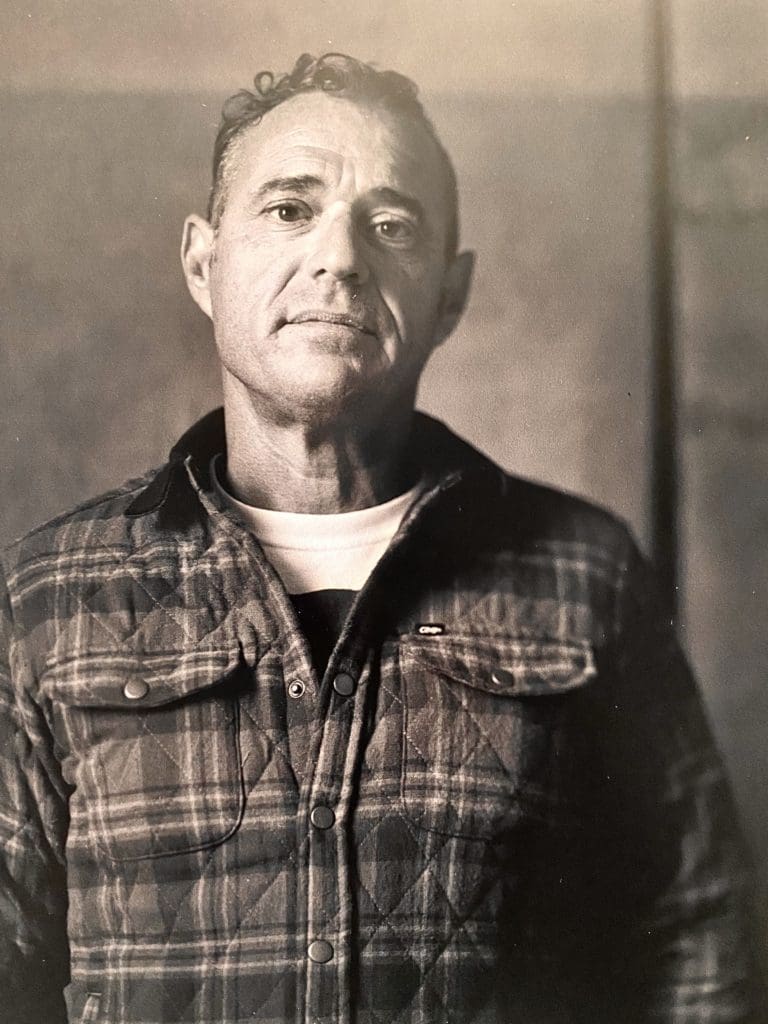 About 15 years ago, photographer and conceptual artist Clay Jones became unhappy with the way people would automatically smile and pose when he tried to take their picture.
Jones wasn't interested in portraying people as their most idealized selves. As someone who had spent time on the streets living rough, he was seeking something more authentic.
One day he asked a homeless person he had come to know if he could take his picture. "He gave me what I was looking for," Jones said. "In the process, I started seeing more than I ever saw before."
That encounter started Jones on a project that has resulted in thousands of photos of nearly 30 homeless people living on St. Thomas.
"I started to see the beauty of someone who lives outside, and outside the norms of society, and goes through hardship. There's a dignity that's hard to describe or talk about. These photographs are the best explanation I can put forth," Jones said.
Jones has displayed his photos at the artists' collective gallery known as sevenminusseven on St. Thomas. Starting this past April, the V.I. Source began publishing his photos on a weekly basis.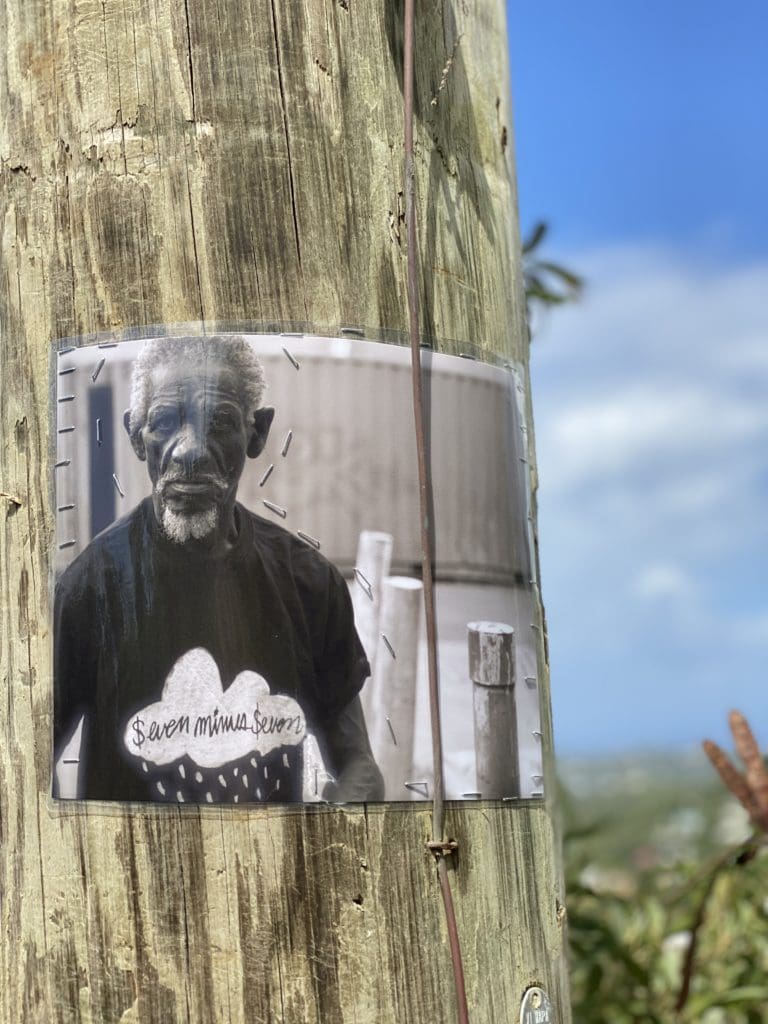 In an effort to bring his work back to the streets, Jones is laminating copies of his photos and tacking them to old phone poles. "I call them 'Portraits for the Street,'" Jones said.  The response has been mostly favorable, but not entirely.
While most people get what he's trying to say, Jones said, he has also received some negative emails. "They say, 'You're deifying people who s–t all over my steps, and I have to come out and wash it all off. You should come over and wash it off.' I said I'd be happy to do that. It wouldn't be a big deal at all."
Other artists, however, have connected with his photographs and used them to inspire their own work. One of these is portrait painter Chris Bennett who now lives in Los Angeles.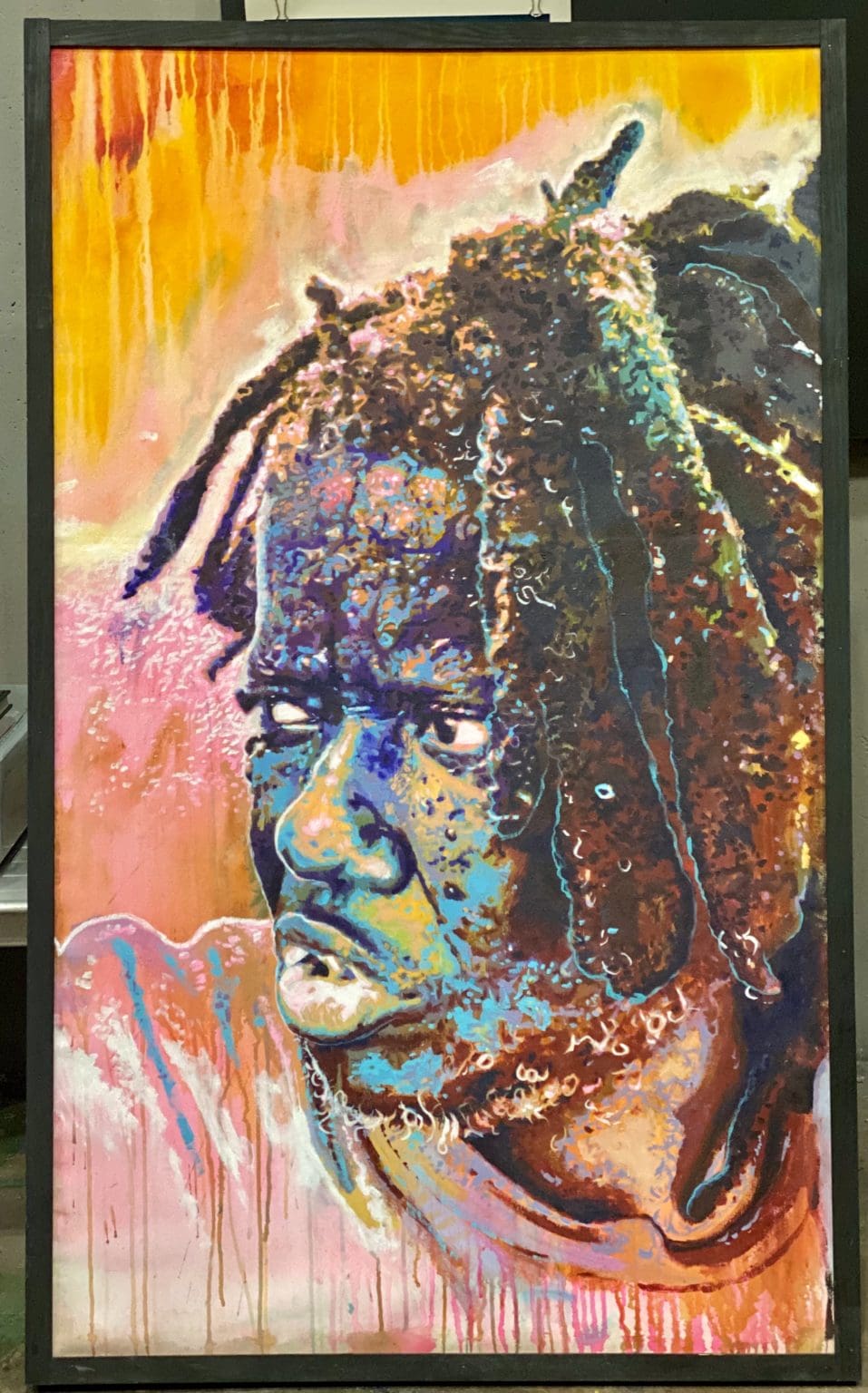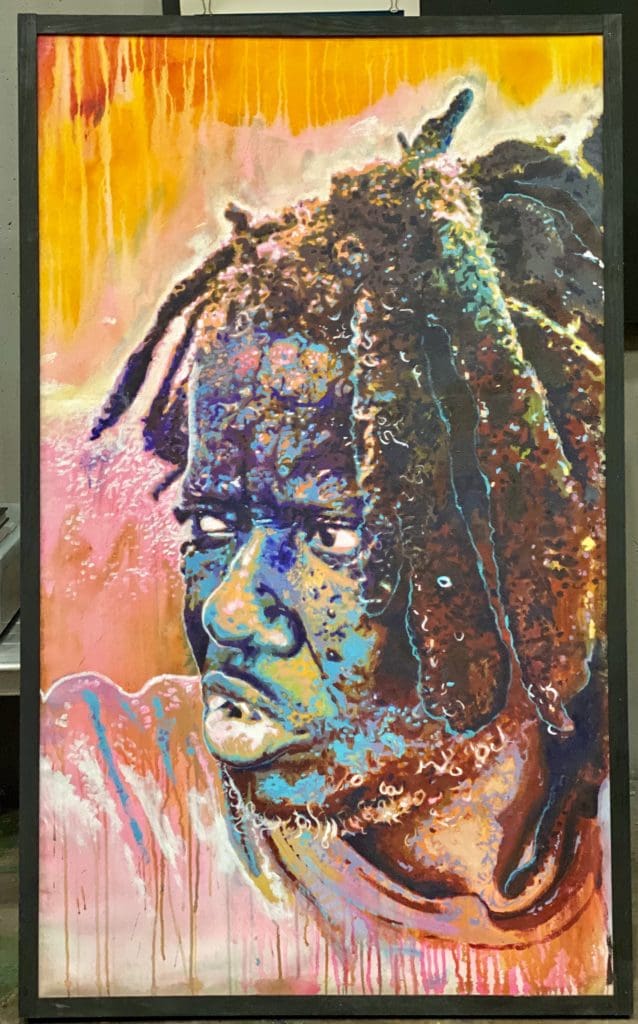 The two met in New York ten years ago and became close friends and collaborators. Bennett sketched Jones' black and white images on canvas and "built' the paintings by applying color with acrylic paint. The results were nine paintings, three feet by four feet, that were shown several years ago at sevinminusseven in a series called "Portraits of Humanity."
Bennett said he didn't have any trouble confronting what he saw in Jones' photos. "A person's face tells a story," said Bennett. "I think [the subjects of] Clay's photos show a lot of character for being ground down. They need help, but people just step over them; they become part of the landscape."
In spite of their somewhat painful subject matter, Bennett said his collaboration with Jones "was the most effortless art I've ever done. If you do a collaboration with another, it takes the ego out of it."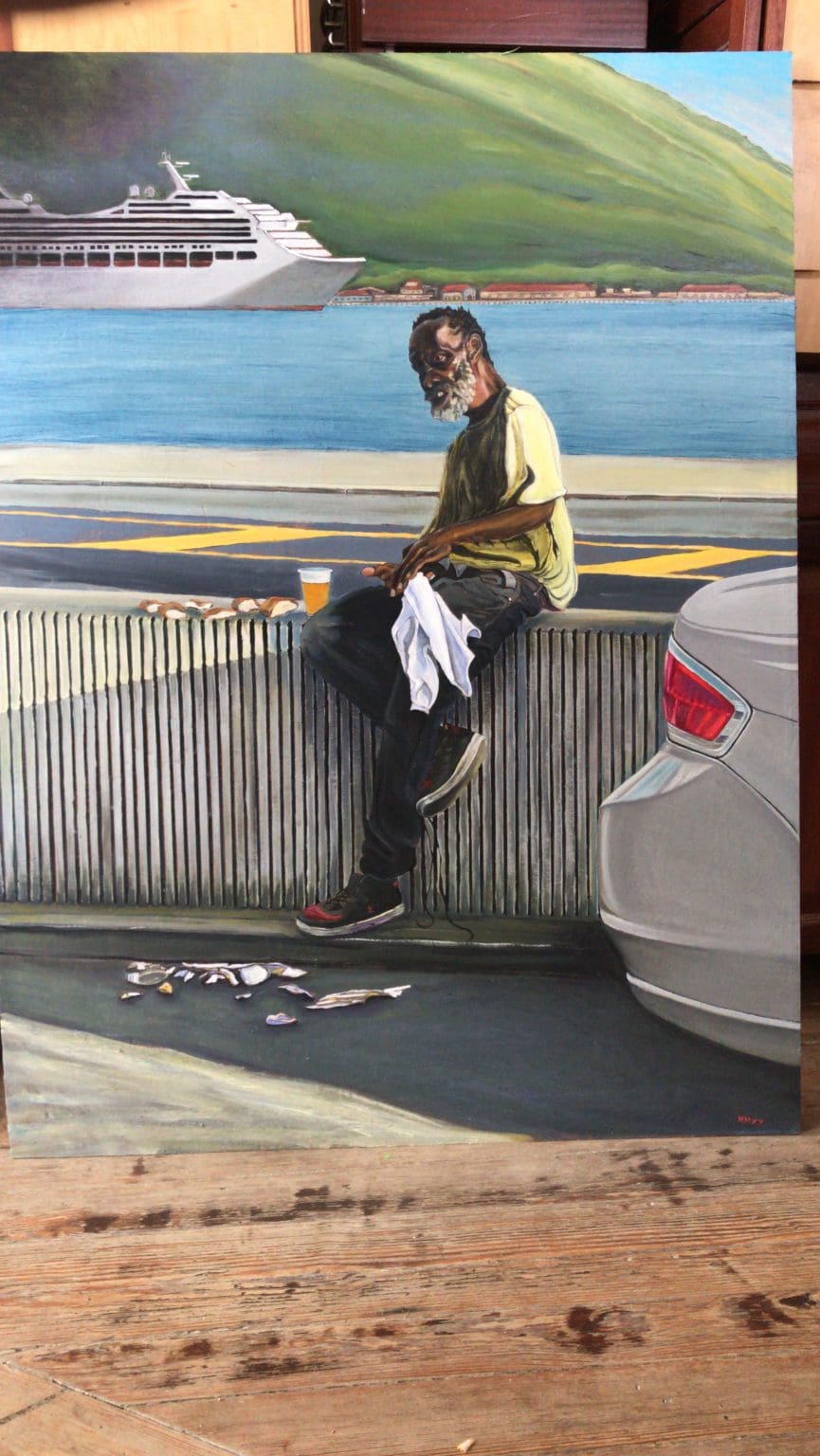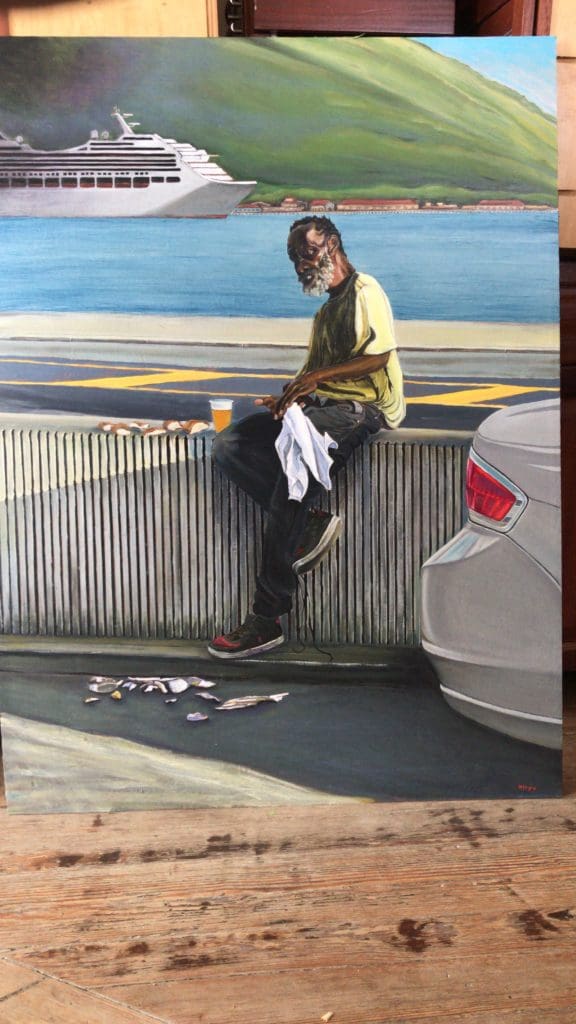 Another painter who has used Jones' photos as inspiration is Steve Counselman, whose realistic portrait of a homeless man contrasts nicely with Bennett's more expressionist work.
Three of Counselman's paintings, along with work by nearly 30 other artists, will be on display at seveinminusseven's next opening on Saturday, August 1, from 7 p.m.to midnight. (The show was originally scheduled to open this weekend but has been postponed because of possible foul weather from Tropical Storm Gonzalo.) Although most of the gallery's shows don't have a theme, this one does – artwork created during the pandemic.
Actually, the term "opening" is slightly misleading, as the gallery's shows are generally open to the public for one night only, or by appointment. Jones has a day job  – he's an arborist (or tree surgeon) – and the gallery does not function as a typical retail space where people can drop by any time and browse.
People who want to attend the opening have to find their way to the gallery's location among the warehouses near Crown Bay. There's no sign, but Google Maps shows its location. "We don't want a party scene. We want people who love art and really want to be there. It's kind of like an underground club," said Jones.
When the space is not being used to display art, it is being used for meetings by community groups, lectures, film screenings, and rehearsal space for musicians and theater productions.
"Whatever falls within the space is what the space becomes," said Jones. "The name, sevenminusseven, means nothing, but in retrospect it means a lot."
Jones and others founded the collective and opened the space 12 years ago. Over the years, they've been involved with educational art programs and have shared supplies and equipment. When they first started, the collective set out to fund the gallery by getting grants, but Jones said over time fundraising became a more-than-full-time job; it was easier for him just to pay for the space with his tree work and through sales.
The gallery is also a way for Jones to make amends and give back to the community. Jones arrived on St. Thomas with a serious drug problem; he had been sent to St. Thomas on a one-way ticket by his family who had pretty much given up hope on his rehabilitation.
Eventually he found help through The Village and Bethlehem House, and he also found renewed purpose through his art initiatives. Jones has worked in many mediums and describes himself as a conceptual artist. Although the collective includes artists with a wide range of visions, he says he's not really interested in the kind of pretty art that depicts perfection.
Instead, he's more interested in things that people typically discard or disregard. Jones has been known to pick up abandoned objects – a vending machine, cash register, obsolete telephone relay equipment – and put it in the back of his truck where people will see it as he drives around.
"People say, 'Why do you do that? You're crazy,'" Jones said with a laugh, "But I get to engage people. I've had some great conversations even though there wasn't an 'audience.'  Some people find it hilarious."
CLAY JONES HOMELESS PROJECT INSTALLMENTS
Ira Buchion
Danny Beauchert
Mozacko
Deborah Carlisle
Louis "Frenchy" Dudley
Dale Creque
Roosevelt Maynard
Jeffrey Quetel
First Name Basis Only