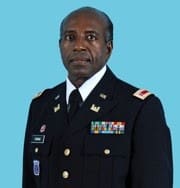 Chief Warrant Officer Four Byron A. Todman makes Virgin Islands National Guard (VING) history as the second warrant officer to pin on Chief Warrant Officer Five since 2007.
In a small ceremony held Saturday, July 18, at Ivanna Eudora Kean High School, Todman was joined by Adjutant General Kodjo Knox-Limbacker, his wife Julie Todman, family, friends and his former unit, the 631st Engineer Detachment.
"I thank Brig. Gen. Knox-Limbacker for allowing me to continue to serve as the CCWO for the Virgin Islands," said Todman. "And I also thank former Brig. Gen. Deborah Howell for the trust she placed in me when she asked me to serve in this position."
Todman, born and raised on St. Thomas to parents Jean George and the late Eric Todman Sr., started his military career in the VING in August 1991, where he enlisted as a private first class as a technical drafting specialist with the 631st EN Det.
Todman remained with the engineers until 1996 when he transferred to the 210th Regional Training Institute to become a part of the training team. After two years with RTI, he heard the calling and returned home to the engineers. In 1999, he attended the Warrant Officer Candidate School at Fort Rucker, Alabama. He completed his basic course at the Engineer School at Fort Leonard Wood, Missouri, in November 1999.
"As I stand here today, I can say that I've had a great career," said Todman. "I've done more than I expected to do, but I couldn't do it by myself. I am the one wearing the rank, but it truly belongs to all of you."
Todman deployed to Afghanistan from 2003-2004 with the 631st Engineer Detachment in support of Operation Enduring Freedom. In February 2005 through October 2017, he commanded the unit through missions in Germany, New Mexico, Arizona, Antigua and Puerto Rico.
His other professional military education includes his Engineer Warrant Officer Advance Course at Fort Leonard Wood, Action Officer Course, Military Personnel Officer Course, Military Finance Officer Course, Movement Officer Course, Hazardous Material Handling Course Master Resilience Trainer Course, Warrant Officer Staff Course, and Warrant Officer Senior Service Education Course at the Warrant Officer Career College at Fort Rucker.
Todman's military decorations and awards include the Army Commendation Medal, Army Achievement Medal, Global War on Terrorism Expeditionary Medal, Humanitarian Service Medal, National Defense Service Medal, Armed Forces Reserve Medal, Army Component Overseas Training Ribbon, Virgin Islands Meritorious Service Medal, Virgin Islands Commendation Medal, Virgin Islands Long and Faithful Service Medal and the Virgin Islands Emergency Service Ribbon.
He currently serves as the Command Chief Warrant Officer for the VING, is a licensed professional engineer and an active member of St. Andrew's Episcopal Church.
Todman is married to Julie Smith-Todman, and together they have three children: Byron Jr., Myles and Kalil.