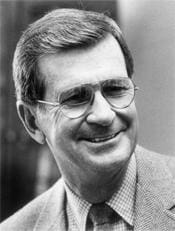 As the author of the pamphlet prepared for the dedication of the De Lugo Federal Building that was referenced in your fine obituary, I would like to add emphasis to the point you made about Ron's work on immigration reform.
The development of tourism in the Virgin Islands was reliant on the contributions of Eastern Caribbean immigrants in the service and construction sectors. While many entered legally via temporary work visas, their status was uncertain and subject to abuse. In addition, there was a large illegal population that suffered from periodic raids and deportation by law enforcement authorities. Many native Virgin Islanders resented their presence and used derogatory terms like "garrot" to express their dislike.
When Delegate De Lugo introduced legislation in Congress to regularize the status of Eastern Caribbean immigrants, it was hardly universally popular at home. Yet by successfully obtaining this reform, he provided a way to successfully integrate this important part of our community into the social and political life of the islands.
What would the V.I. look like if this had not occurred? Today, when the descendants of the original Eastern Caribbean immigrants play leading roles in all elements of island life, it is easy to forget that a very different outcome was easily possible.
While politicians are often denigrated, it is well to remember that progress often depends on the work of far-sighted and courageous public servants like Ron De Lugo. His monument is more than just a building on the St. Thomas waterfront. It is an enduring presence in the lives of many Virgin Islanders.
Paul Leary
Editor's note: Paul Leary, Ph.D., is a Professor Emeritus of Political Science, University of the Virgin Islands.