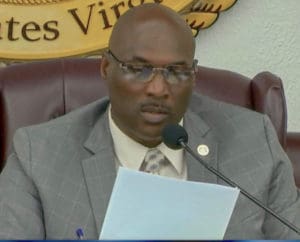 Senate President Novelle E. Francis Jr. announced Saturday that the 33rd Legislature has opted to allow the automatic extension of the state of emergency that Gov. Albert Bryan Jr. requested on July 5. The move is a work-around to the statutory process of getting legislative approval for extensions, effectively giving assent to the extension by not objecting to it.
Gov. Kenneth Mapp came under some criticism for repeatedly extending the state of emergency after the 2017 hurricanes without meeting the statutory requirement of presenting the data to the Legislature and requesting approval.
The Legislature last acted to extend the state of emergency at a May 6 legislative session.
In a news release issued Saturday, Francis said the Legislature's decision to allow the automatic extension is predicated by the statutory timeline and the Legislature's fiscal constraints.
"The timeline to act on the matter within five days was challenging, considering the Legislature had just convened on June 29 for a legislative session. It's not practical or prudent at this time to convene a session to approve something that is obviously needed," Francis said. "My colleagues and I are very aware of the circumstances surrounding the state of emergency, having previously received extensive testimony from the Virgin Islands Territorial Emergency Management Agency, the Virgin Islands Department of Health and the administration's financial team about COVID-19 and the stressors created by the pandemic. For these reasons, we are comfortable with the automatic extension."
Francis said he and his colleagues are considering moving legislation to modify the statute, which currently requires extensions of the state of the emergency to be ratified by the Legislature.