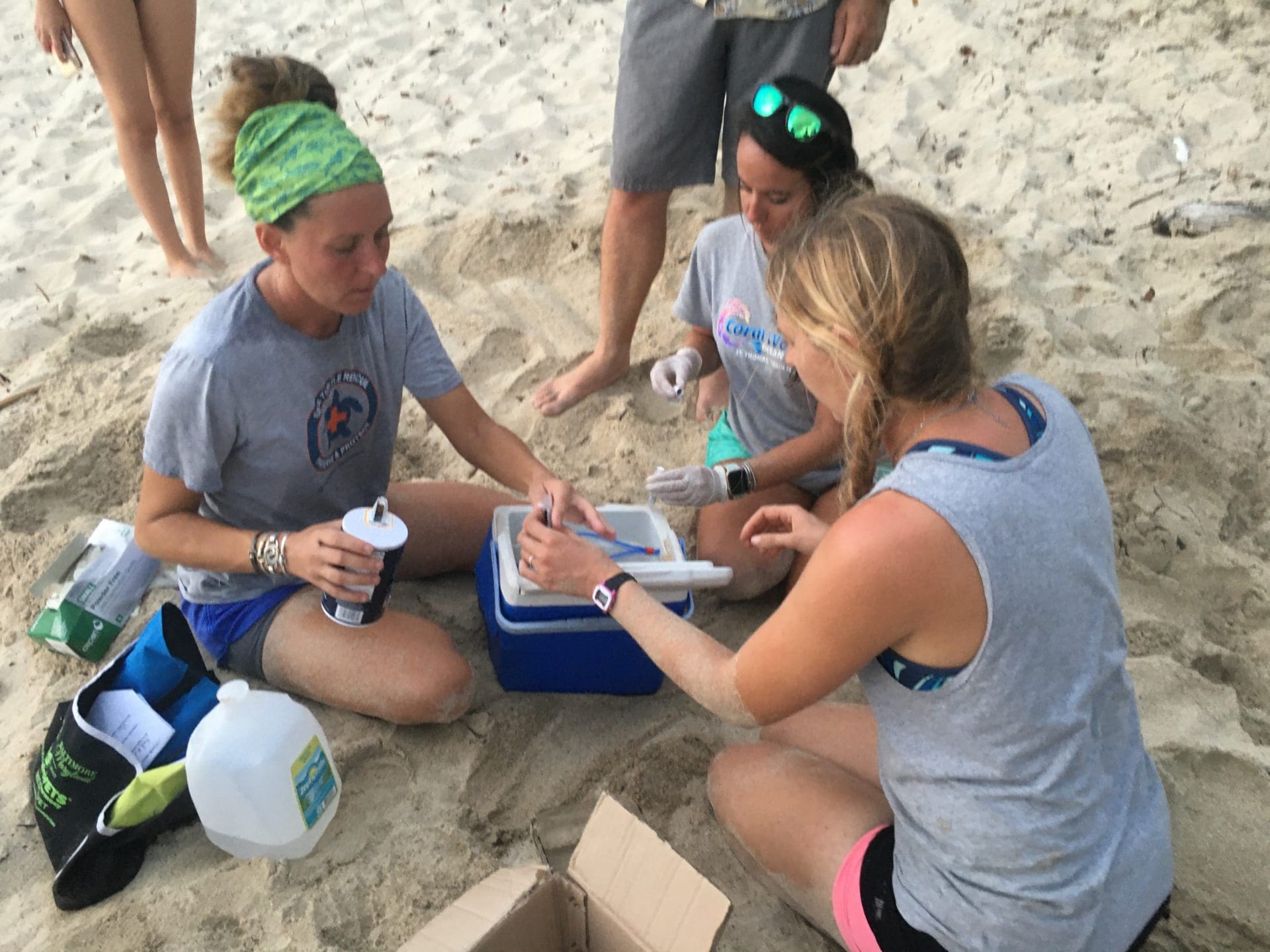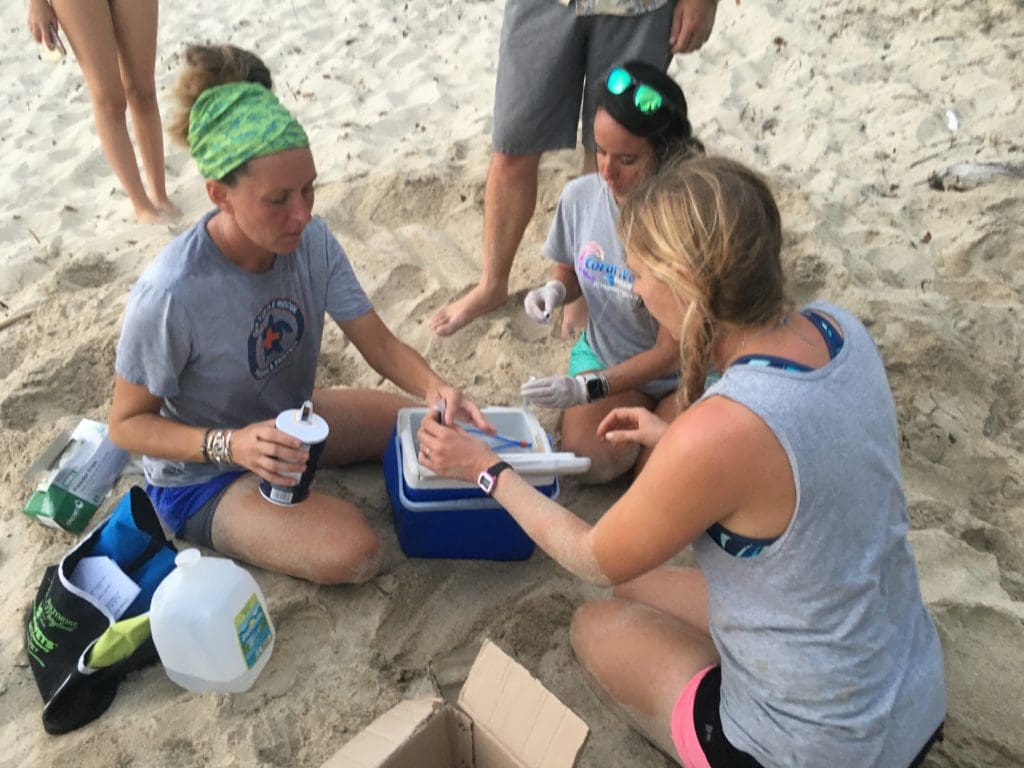 Some time on the night of May 2, a massive leatherback sea turtle hauled herself from the ocean onto Hull Bay beach to lay nearly six dozen eggs in what scientists say was a "very rare" event for St. Thomas.
The mother turtle likely weighed some 900 pounds, according to Paul Jobsis, director of Marine and Environmental Studies at the University of the Virgin Islands on St. Thomas. "When a leatherback comes up, it's very obvious," he said – and unusual for the island. Unlike St. Croix, which usually boasts a couple of hundred nests each year, "leatherbacks are very rare" on St. Thomas, said Jobsis. "There hasn't been one in at least a decade."
Now marine scientists are working to unlock the secrets of the turtle's origin through genetic testing of the babies that did not survive when the nest hatched on July 1.
Jobsis and Erica Palmer, a veterinary technician at Coral World Ocean Park and St. Thomas first responder with the nonprofit Sea Turtle Assistance and Rescue, excavated the nest on July 2 and recorded 50 live hatchlings, five stragglers and 16 that died in the egg, fully formed, said Jobsis. "That's actually very normal."
The genetic samples from the nest will be sent to NOAA Marine Turtle Genetics Group in La Jolla, California, which is the national repository for sea turtles.
"From the samples, we should be able to identify the mother turtle [and to see if it's one that we know from Sandy Point or Puerto Rico] and maybe the dad as well," said Kelly Stewart of the Ocean Foundation, via email. "We may even be able to tell if there was one father or two for the hatchlings in that nest. The leatherback turtles in the northern Caribbean are one genetic stock [one big happy family] so they do cross from island to island for nesting sometimes."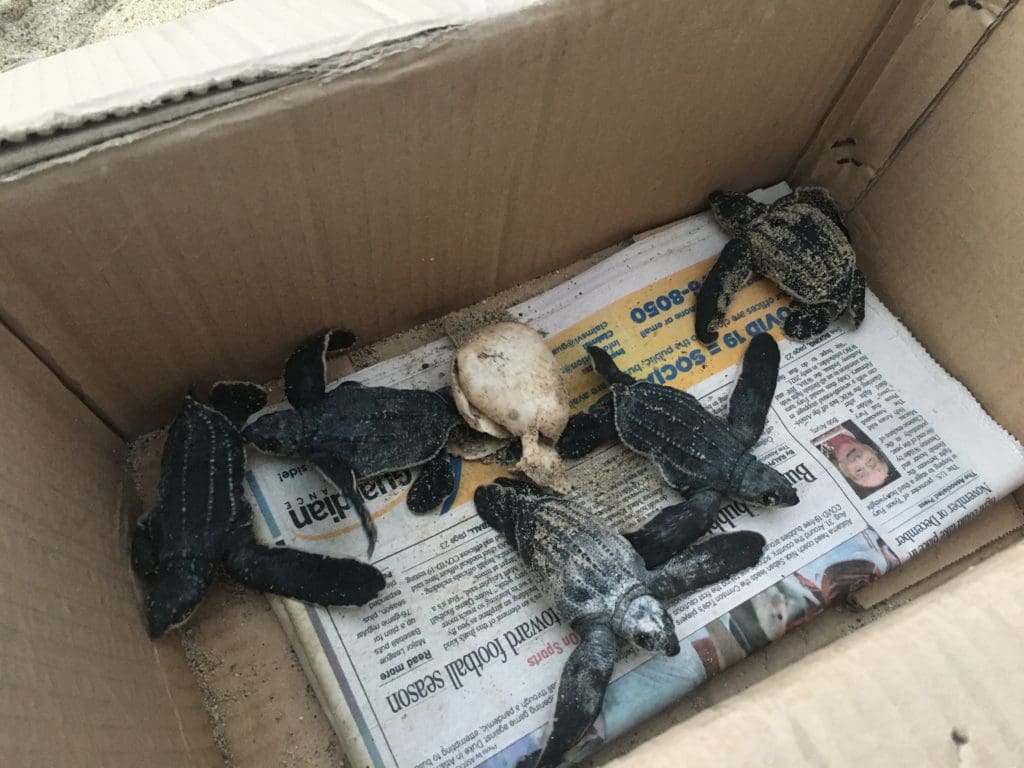 Stewart said that "it will take some time to find the answer from the samples that Erica took – I would say it might take up to a year or so, mostly due to COVID. Normally it could take a couple of months."
"It boosts science to know where the turtle comes from, where the girls are nesting and what we need to do to protect them," Palmer said of the species, which is listed as endangered under the Endangered Species Act and the U.S. Virgin Islands Endangered and Indigenous Species Act.
"It may be a turtle that normally nests in Puerto Rico, Culebra or St. Croix, or it could be it is her natal [birth] beach or natal island," said Palmer. "I was pretty surprised. They don't nest on St. Thomas very often. I thought, 'Wait a minute, did she get lost?'" she said with a laugh.
That the turtle chose Hull Bay is even more unusual, said Palmer. "They prefer deeper, sandy beaches like Magens or Neltjeberg. Hull Bay is rocky. They don't like to have a lot of rocks to climb over because of their soft shell."
Stewart concurred. "As long as there was enough sand there, for some reason the female turtle thought it was a good spot," she said.
Whether quieter-than-usual beaches in May due to coronavirus restrictions are to credit for the nest is difficult to say, said Jobsis, but that could be a factor. "It is possible that if there had been a lot of people on the beach, the turtle would not have come up."
To the delight of beachgoers, the stragglers from the excavation on July 2 were released at dusk to find their way through the sand to the ocean, guided by the light of the moon.
Making that short but arduous journey to the sea is critical to their start in life, Palmer noted. "They actually have magnetite in their brain and use the magnetic poles of the Earth for orientation," she said. "It's kind of like a GPS that gives them their starting point. … It gives them the ability to get back to where they came from."