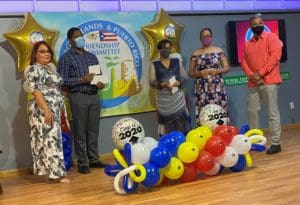 The Virgin Islands-Puerto Rico Friendship Committee made history Wednesday night as its membership presented its 2020 Scholarship Awards to two outstanding graduates of local high schools.
The recipients of this first-time scholarship award were Neisha Bennett and Shazim Ajani Brandy, who each received $1,000 from the committee. Netwave, through the generosity of Ana Foster and Luis Torres, also presented them each with an additional $250 and awarded scholarship semi-finalist Letisha Ayala with $500.
The committee announced that Joseph Olmeda has also donated a $50 gift card from Office Max for the additional applicants who were not selected as recipients of the scholarships.
Committee President Maria Colon-Clarke said the committee knows how hard students work and knows that parents sometimes struggle to make ends meet for their children. She said the scholarships are just a drop in the bucket, but they help.
"Our students have excelled greatly and have had a tremendously rough school year," she said. "As they continue with their higher education, we want to celebrate them and remind them that they must always keep pushing as they continue to strive for higher learning and greater opportunities."
Assistant Commissioner of Education Victor Somme III thanked the committee for its donation to the students, adding that he knows first-hand the struggles when students go off to college.
"We are always proud of our students when they excel. We thank the committee for doing this. It shows that you are vested and focused on the best interest of the community, which is our children," Somme said.
St. Croix Administrator Sammuel Sanes applauded the work of the committee and charged the graduates to do their best and come back to reinvest in their community.
"We are counting on you to make this a better place and thank you in advance for your return," he said. "This is a whole new world and time evolving in front of us, and I am confident you will excel and return to take up the mantle of leadership to guide us."
The presentation was held at Starlight Lounge in La Grande Princesse.