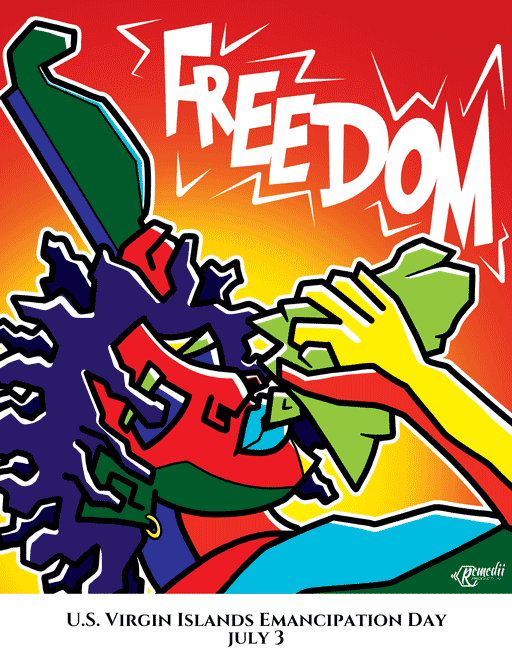 Emancipation Day commemorates a day in the U.S. Virgin Islands when the enslaved fought and won their freedom on July 3, 1848. Moses Gottlieb, better known as General Buddhoe, is a pivotal player in this fight and is depicted in an original art piece created by Kirk Rojas. The words "freedom" across this multi-colored and vibrant piece rings ever so powerfully as the territory reflects on all that has transpired in 2020. For Rojas, the creative director of Remedii Productions, this piece is a contribution to the current movement for social justice.
"I consider myself a digital artist," said Rojas, who began studying art while attending Good Hope School on St. Croix. While in school, Rojas displayed one of his art pieces and was offered money from an interested buyer. The joy he felt in creating something and getting paid was fulfilling, he said.
"After that point, I realized that there was something I can actually hold on to," Rojas said.  He then continued to develop and improve while studying at Barry University in Miami, Florida. "I began learning graphic design in college, and it has grown into digital art, video design, and animation."
The inspiration behind Rojas' freedom piece is a reflection on Emancipation Day. "It is a celebration of V.I. history and the people who were willing to stand up and fight for freedom, and it feels so relevant today," he said. "I find it so meaningful right now as so many social injustices are being brought to light, and the community is saying enough is enough."
Rojas' work has become extremely popular on social media. The people he has worked with include Pressure Busspipe, Tia, Rudy Live, several local senatorial campaigns, Wendy's USVI, the V.I. Consortium, and popular clothing brands like Apollo Legion.
Even more recently, Congresswoman Stacey Plaskett held a video competition in which contestants had to create a video explaining to tourists the importance of wearing masks and practicing social distancing while visiting the territory. Rojas entered the competition and won.
"I have been transitioning from a graphic designer to more of a multimedia designer to include more things like video production and animation," Rojas said. "When I saw that the congresswoman's office had posted a flyer on a social media video contest, I thought it was the perfect opportunity to create something that spoke to that." He then jumped on the phone with his collaborator Julio Petersen III, put together a script, created the animation, and it all came together.
"Being that I do not live at home anymore I feel like I try to find ways to stay connected," Rojas said.
Virgin Islands and Caribbean history most inspires Rojas. "I have some digital artwork that is inspired by the madras movement that has happened in recent years," he said. He is currently working on some projects that will feature well-known Virgin Islands and Caribbean stories passed on from generation to generation. He will transform these stories into an animation that generations to come can see and share.
"It is more fulfilling to pull from V.I. history and Caribbean history," Rojas said. "I find inspiration in a lot of my peers that are expressing their love for our culture through art, fashion, music, photography, and videography. We are at a great point in time where our artists and creators are embracing our past, sharing it with the world, and defining it for the next generation."
More of Rojas' work can be viewed and purchased here. Remeddii Productions is also on Facebook and on Instagram.