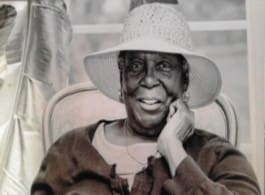 E. Elmira Smith Percell, affectionately known as "El," died on Sunday, May 24, at the age of 82 in Baltimore, Md.
Elmira Percell is survived by her sons: Karl, Rodney, Neal and Jerry Percell; adopted son, Lunford Williams; daughters: Sandra Percell and Diana Percell-Gumbs; brother, Milton Frett; sister, Cynthia Weathers; aunts: Constantia Gordon and Ann Smith; son-in-law, Lawrence "Abu Bakr" Gumbs; daughters-in-law: Carolyn Hermon-Percell and Thelma Percell; and grandchildren: Karl Raymond Percell II, Christian Percell, Christopher Cills, Tyler Percell, Amanda Percell, Latesha Percell, Naomi Percell, Alexa Percell and Carisa Douglas.
She is also survived by great-grandchildren: Kameryn Grace Percell, Kay-Den Percell and Layla Douglas; nieces: Denise Smith, Barbara Dennise, Beverly Baptiste, Eunice Fleming, Ann Wheatley and Edith Smith; nephews: Wayne, James, Danley, Cecil and Perinnet Smith; and friends: Edwin Lettsome, Alma Hermon, Edith "Shorty" Turnbull and Christ Church Methodist – Class No. 5. She is also survived by the Smith, Thomas, Fahie, Blyden, Lettsome and Venzen families and other relatives and friends too many to mention.
The viewing will take place at noon followed by a service at 1 p.m., Friday, June 19, at Turnbull's Funeral Home. The burial will take place at Western Cemetery No. 2.  The family is requesting that festival colors be worn.