COVID Creativity is a new Source arts feature highlighting the work of our creative readers as they respond to a time of global pandemic. All visual artists and creative writers are encouraged to share with us new works that have been created as a direct result of the COVID-19 pandemic.
Poetry and creative prose submissions are limited to 1,500 words and should include a brief bio of the writer.
Visual art submissions should include at least one high quality image or video and a very brief bio along with an artist's statement that speaks to the inspiration of the work. The statement should include the title if there is one, the medium used and what the work means to you.
Please send submissions and questions to visourceart@gmail.com.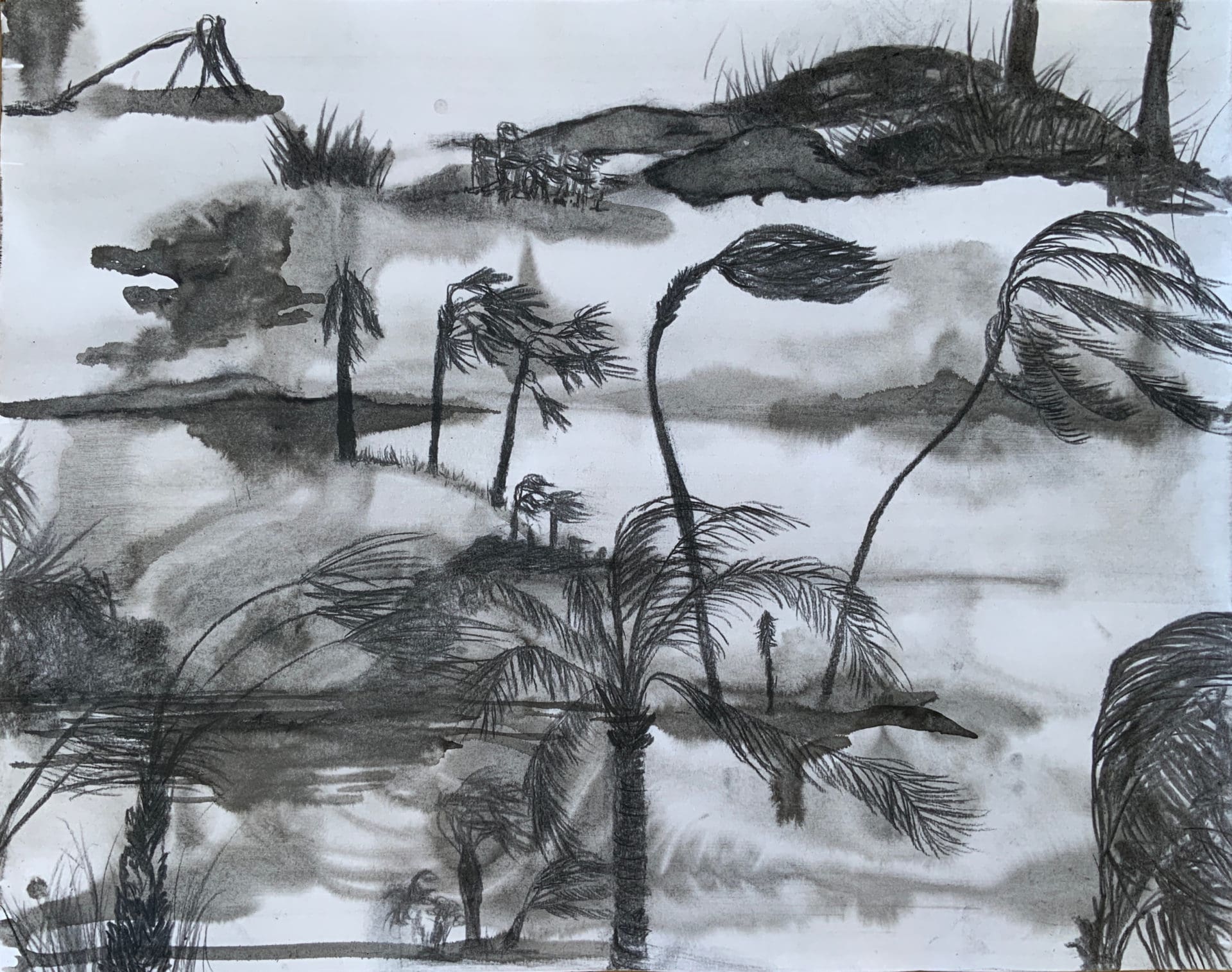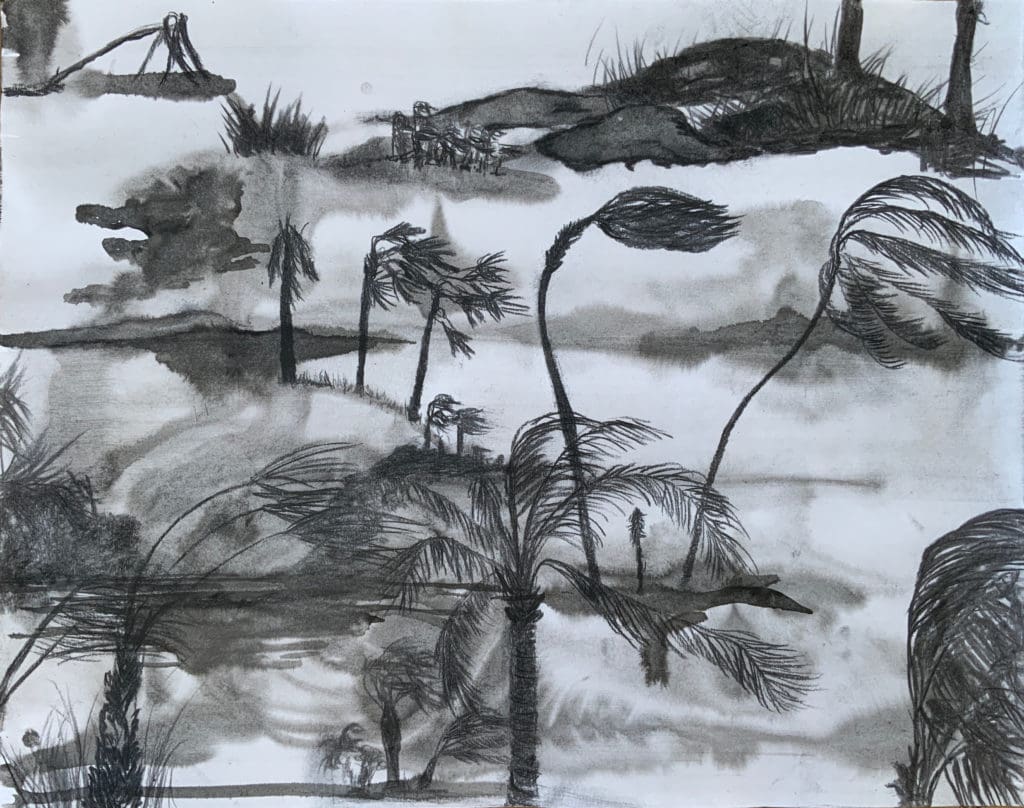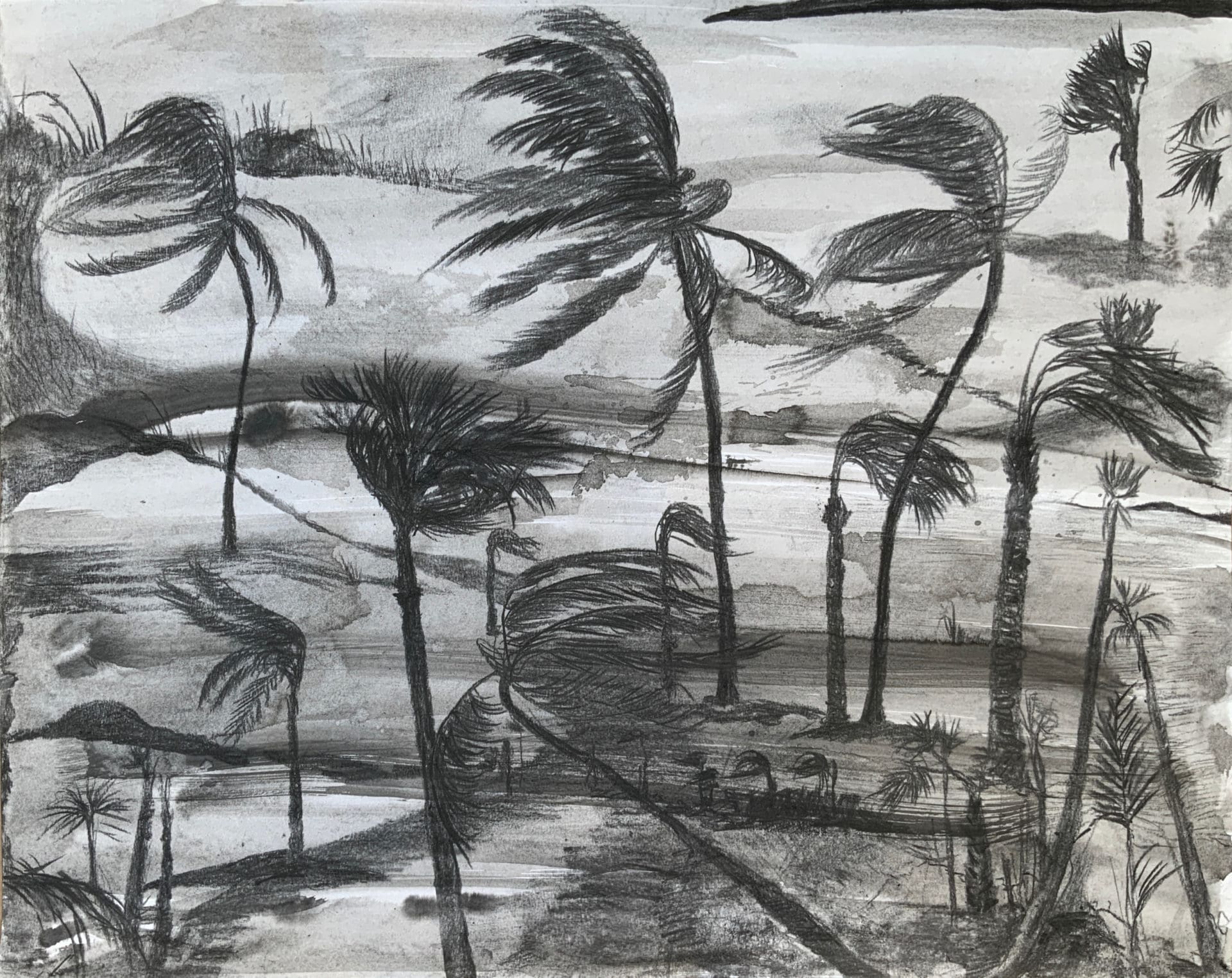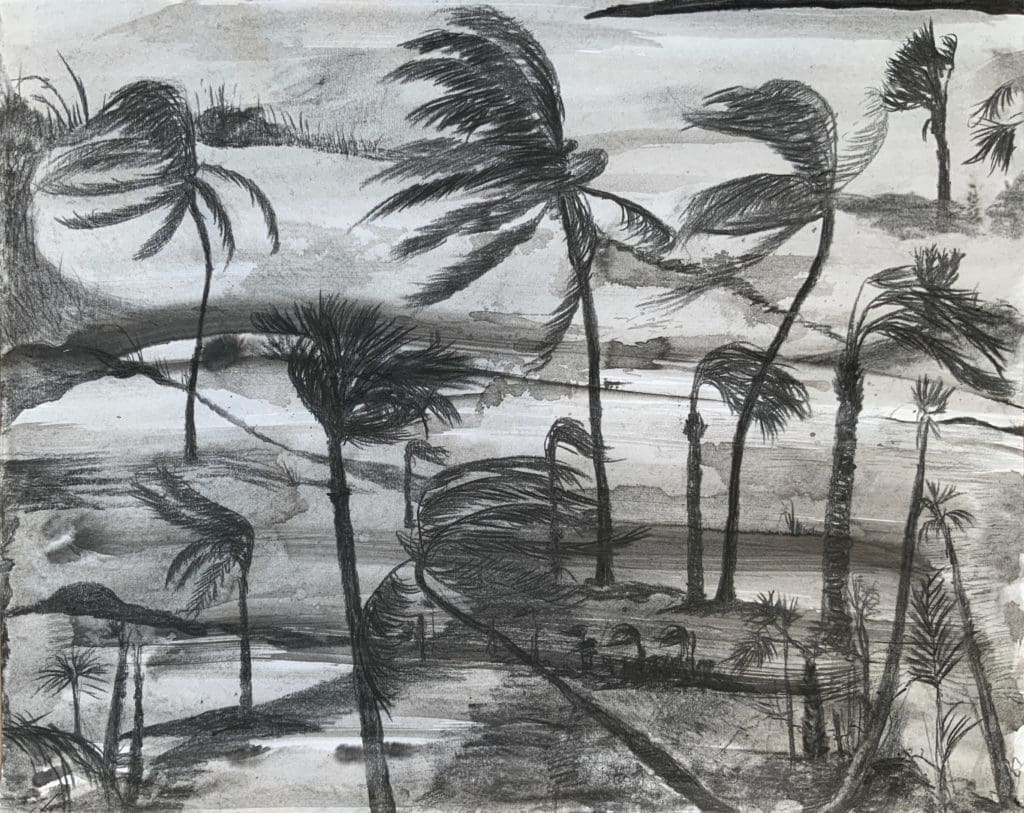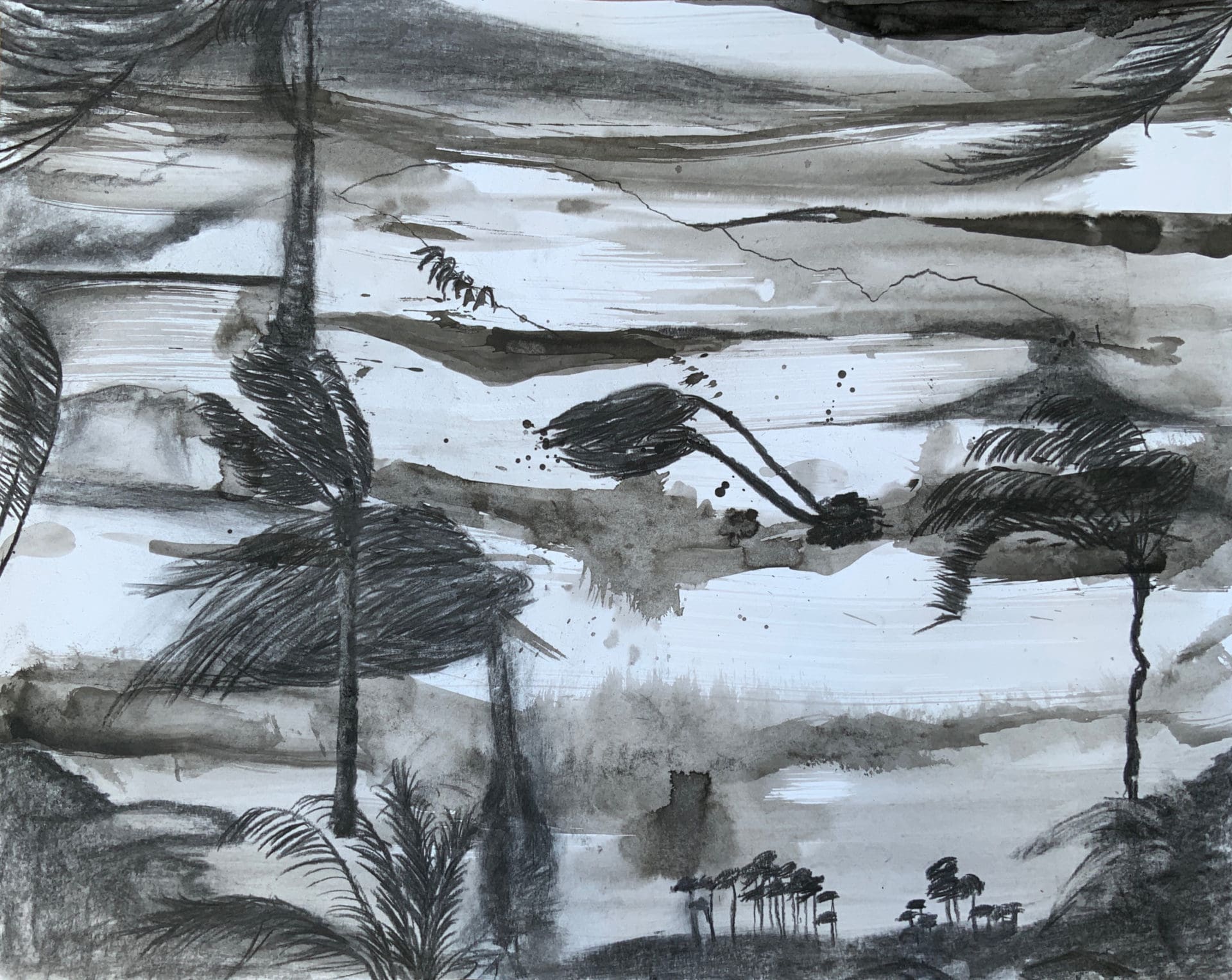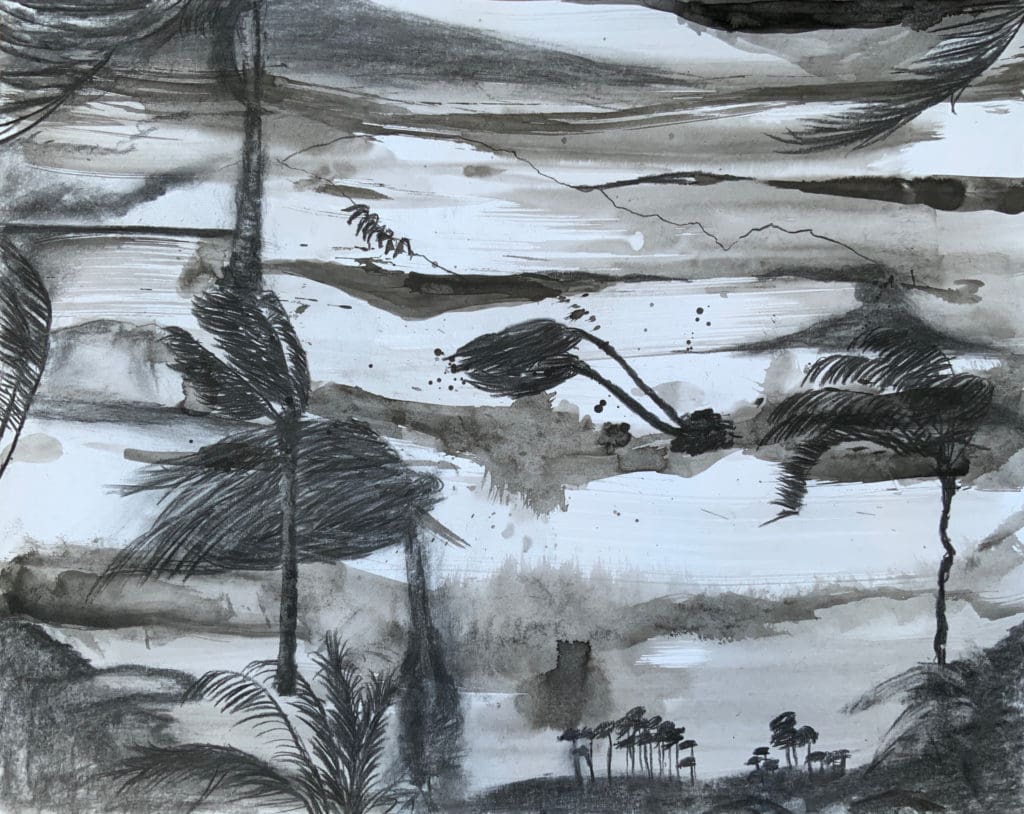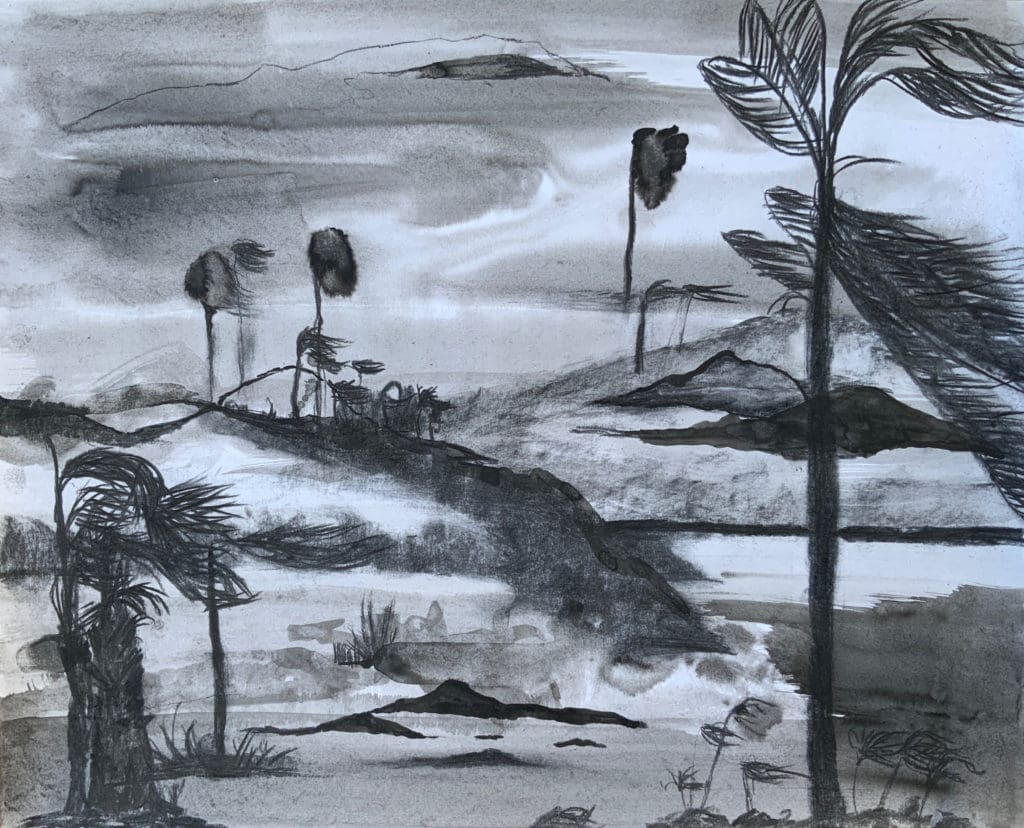 "I originally started this series in 2015 as a challenge to myself to work with this trite image of the Caribbean as a beautiful landscape with languid palm trees. I wanted to create a dissenting narrative, one that explored the tensions between the sublime and the violent colonial history. I also hoped to make work in the spirit of the unruly reclamations of our humanity in the face of that history. Entitled Storm (and other violent interruptions in the pintoresco), this first iteration took the form of graphic charcoal drawings on a white background depicting palm trees with arched trunks, flailing branches, but still standing in the midst of a storm. Then, in 2017, the work became prescient as the hurricanes Irma and Maria came and battered, calling forth our resilience again. Now in 2020, as we find ourselves amid a global pandemic, we watch from our screens as our societies begin to mortify, exposing injustices in every fissure and the work takes on new meanings, again.
Amidst our global moment of reckoning with the structures we have created and endured, longing for change, wondering if this may be the moment, there was the murder of George Floyd. There were other violent unjust deaths, like Ahmaud Abery and Breonna Taylor, but there was something about this particular death, the time, the nearly seven minutes of torture he endured before becoming unconscious, the pleading bystanders, the defiant apathy of the officers to their pleas and George Floyd's cries to his deceased mother. Set in motion was a spatial and temporal collapse, a muddling of decades and centuries, as cries, chants, bodies, movements melded and flowed out into the streets across cities and oceans. Remembering the words of writer Audre Lorde suppresses the pull towards disillusion: "revolution is not a one-time event".  And although we have been here before, this current rotation feels more hopeful than despondent. It feels tectonic, like the very ground is shifting.
I return to the Storm series to bear witness to the uncertainty of our time. I wanted a work that felt the weight of my mark, that was gestural and citational with an ability to call to mind multiple references. In some of the pieces the landscapes slide into one another dislocating any fixed horizon, in others they are vanishing into the storm and simultaneously reemerging like a mythical Atlantis, perhaps like a Black Atlantis in the Paul Gilroy designation- a space of transoceanic connections and hybridity. Or perhaps like the Black "Atlantis" that Derek Bell describes in his story from the Faces at Bottom of the Well. In this allegory there is an island that rises out of the ocean where upon discovery only black people can survive. After the impassioned debates of whether we should leave a land we helped build or retreat to a new one, there are those who finally decide to relocate there only to find on the journey that the island disappears back into the ocean. Instead of despair, there is a feeling of tremendous satisfaction and hope. The lesson was in the process of imagining a new future and the futility of divorcing ourselves from our past. What is required is a deep engagement with it all-pastpresentfuture-not as separate entities, but spaces of fluidity, ironically made possible because of the exact moment we are living right now."
– La Vaughn Belle
La Vaughn Belle is a visual artist working in a variety of disciplines that include video, performance, painting, installation and public art. She explores the material culture of coloniality and her art presents counter-visualities and narratives that challenge colonial hierarchies and invisibility. She has exhibited in the Caribbean, the USA and Europe. Her work has been featured in a wide range of media including the NY Times, Politiken, VICE, The Guardian, Caribbean Beat, the BBC and Le Monde. She is currently working on a book entitled, "Ledgers From a Lost Kingdom." Her studio is based in St. Croix.