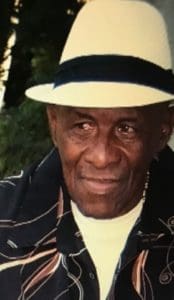 Eustace Eugene, also known as "Test" or "Lenny," of Estate Williams Delight died on Tuesday, May 23. He was 76 years old.
He was preceded in death by his parents: Vennie Eugene and Emmanuel Eugene; and sisters: Afela Charles and Magdalin Lilburn.
He is survived by his ​spouse, Simnia L. Eugene; ​sons​: Curtis Eugene, Cutbert Edward Eugene, James Eugene, Shamron Eugene, Chris Lloyd and Reynold Linus; ​grandchildren​: Morgan Siera Eugene, Shamron Mwanye Eugene, Makala Simnia Eugene, Jahky Zyan Eugene, Khamron Lovyn Eugene and Christopher Lloyd; ​sister, Claretha Eugene; ​brothers: ​Lennox Eugene and Gregory Faucher; and ​nieces: ​Victorine Eugene, Leah Eugene, Kim Eugene, Ember Brown, Joanna Charles, Pewlin Fontenard, Augusta Fontenard, Fecia Charles, Debbie Lilburn and Madona Lilburn. ​
He is also survived by nephews: ​Verlan Eugene (aka Leon), Authan Eugene, Nicholas Lilburn, Ray Lilburn and Curtis Charles; ​aunt, ​Aunty Aggie; ​daughters-in-law: ​Stephanie Eugene, Dyma Williams, Brenda Charles and Kiera Paul; ​brothers-in-law: ​Micael Robert, Clarence Robert and Randolph Augustin; ​sisters-in-law: ​Bertherlina Willie, Babita Meryl, Frances Matthew, Mary Deruses, Jean Richard and Veronica Eugene; ​and godchildren: ​Latoya Matthew, Victorine Eugene, Lee Lennox Plant Jr., Tius Nestor and Merlissa Nicholas.
Other survivors include ​special friends​: (Morris) Agustin St. Rose, Mr. Aintz, Mr. Laue, Mr. Roro, Mr. Patch, Mr. Josephat, Gilroy (aka Laporte-sell) and Juliane; ​cousins and other relatives​: Vennox Plant and family, Lewis Eugene, Isidore family, Egnes Eugene and family, Martha and Jocelyn Eugene, Peter Eugene and family, Hamilton Eugene and family, Evette Brown and family, Bryan Eugene and the Eugene family, Julian Nestor Eugene and family, Cousin Andrew and family (Fla.), Cuthbert Eugene and family, and Owen Eugene and Eugene family; as well as other relatives and friends too numerous to mention.
The funeral service will be held at 10 a.m., ​Thursday, ​​June 18,​ at ​St. Ann's Catholic Church​. Interment will follow at Kingshill Cemetery.
The family respectfully requests that attendees wear a face mask and adhere to the social distancing requirements.