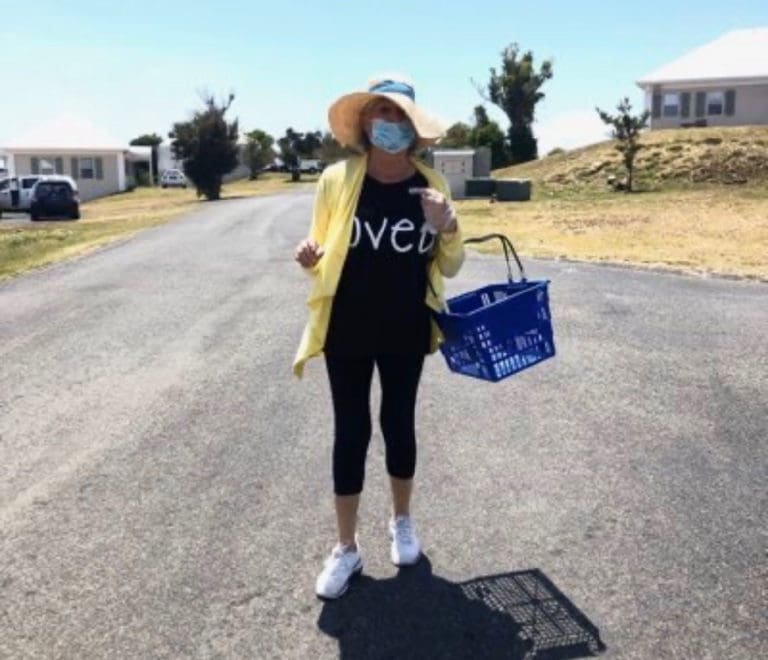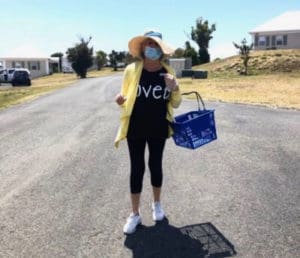 For several years, church groups on St. John have been providing meals for at-risk residents on St. John, but the threat of hunger resulting from the COVID-19 pandemic has individuals and community groups teaming up with local and national organizations to fight hunger.
Many of them have been going about their good works without any fanfare, aside from an occasional article, news clip, or uplifting message on social media, but an overview of their efforts shows what a community can do when it wants to solve a problem.
What follows is an overview of free meal programs on St. John, starting with the "pop-up" initiatives and moving on to the more established programs, which tackle the needs of vulnerable segments of the community.
My Brother's Workshop Expands Service to St. John
After 20 years, Mary Castle Bartolucci, the owner of Island Style Weddings, was starting to think about how she could use her organizational skills for the betterment of St. John. This led her to multiple conversations with Scott Bradley, the Founder of My Brother's Workshop. Since 2015, My Brother's Workshop has operated a café and bakery in downtown Charlotte Amalie, providing skill training and jobs for at-risk youth while keeping a steady stream of customers supplied with tasty food.
When the pandemic hit, My Brother's Workshop went into high gear, eventually teaming up with World Central Kitchen and local community groups to provide meals throughout the territory.
When Bradley reached out to Bartolucci to expand his program to St. John in late March, she gathered volunteers and began delivering 100 meals a day to residents of Bellevue Village, a low-to-moderate income housing development on Gifft Hill.
"We originally thought about distributing meals at four different locations, but we didn't want people to congregate" at the height of the outbreak, Bartolucci said.
In the first nine weeks of the program on St. John, 4,200 meals were prepared on St. Thomas, packed in coolers and sent over by ferry.
"People really appreciate it," Bartolucci said. "The food is very good quality – there's a meat option and a vegetarian option, and fresh vegetables every day."
Bartolucci said her team of volunteers have fun, despite walking to 72 homes in the heat of the midday sun.
Gifft Hill School Partners with Popular Restaurant and Community Organization
When Puerto Rico was beset with a series of earthquakes in January, Gifft Hill School chef Christina Arriola volunteered as part of a team that served 10,000 meals in three days through Jose Andres' World Central Kitchen.
When Gifft Hill School closed its doors in March and switched to online instruction in response to the COVID-19 pandemic, Arriola worried about students who might depend on meals provided during the school day.
Her experience in Puerto Rico showed her what to do.
Arriola reached out to contacts she had made during that long weekend in Puerto Rico to get funding from World Central Kitchen and then Love City Strong, a community organization that emerged as part of the recovery from hurricanes Irma and Maria, to figure out how to get meals to community members who are most in need.
Gifft Hill School has included farming and culinary arts as part of its curriculum for all students, so its kitchen was adequate for production of multiple meals, but it lacked the refrigeration capacity necessary to store bulk food safely.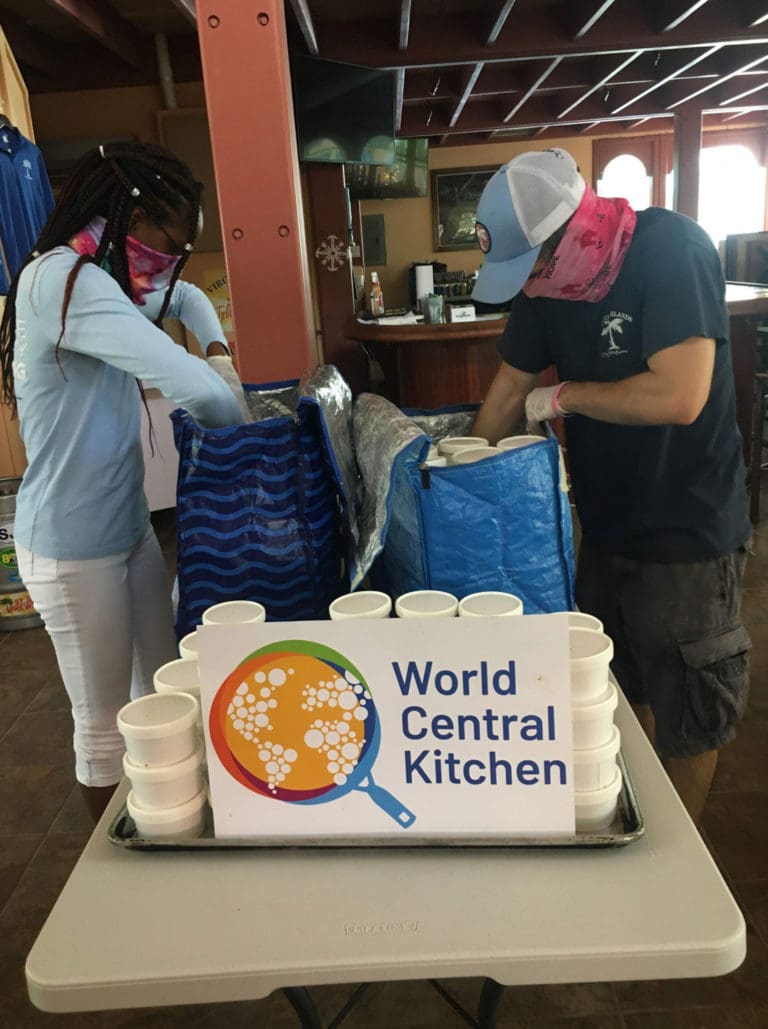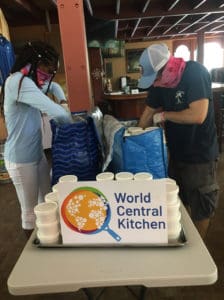 That problem was solved when Arriola went to pick up a pizza from St. John Brewer's Tap Room, a popular Cruz Bay eatery which was offering take-out service only at that time. Upon striking up a conversation with Arriola about her initiative, Tap Room manager Tim Hanley said, "How can we help?" He offered the use of the restaurant's walk-in refrigerator, unused dining space, and the assistance of chef Isaac Buchner.
One of the tenets of World Central Kitchen is that its assistance should help to strengthen the economy of the community it serves following a disaster. As part of that effort, it seeks to purchase food from local growers and distributors whenever possible.
The program has grown from providing snack packs for 25 school children to preparing 450 meals and 470 snack packs per week. Most of the food has been delivered for parents to pick up at Mongoose Junction, Gifft Hill School, and Pickles in Coral Bay; thanks to the input from Love City Strong, meals are also delivered directly to 113 of their clients.
"We knew of seniors, families, folks with disabilities who are homebound, and people without working vehicles," said Kenisha Small of Love City Strong. "We knew how to extend the program to our high-risk clients through our Emergency Services program following the 2017 storms."
With the territory reopening partially as of June 1, World Central Kitchen is phasing out its support and Gifft Hill School will end its participation at the end of June. Arriola sees a need for continuing free meals programs.
"There's an even greater need than we could provide," she said. "Some people are not coming forward; they're not necessarily legal in the U.S., but they're human beings. As much as St. John is a gorgeous place with fancy villas, there's disparity."
Small also believes there continues to be hunger on St. John.
"I've been working on the road for two years. There's a need for food, and there's a need for shelter," she said.
V.I. Staffing Solutions Seeks to Keep Restaurants Open and Assist Seniors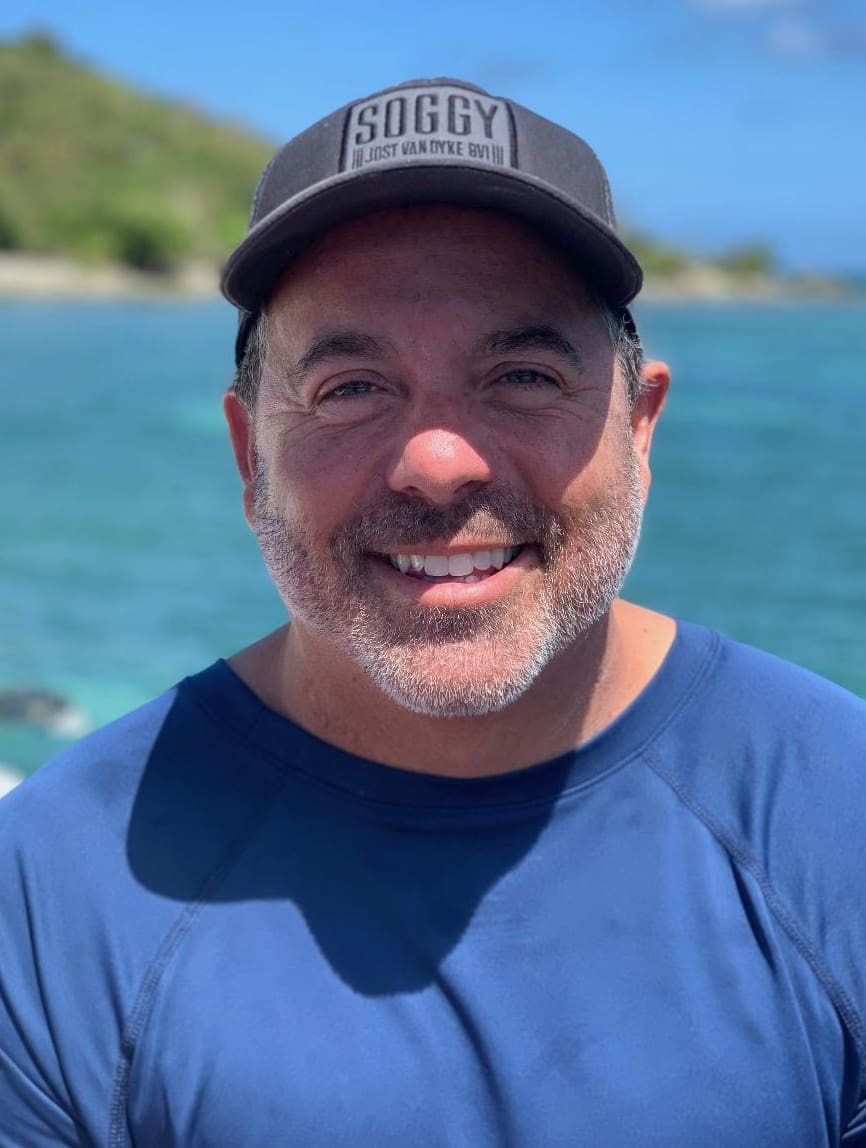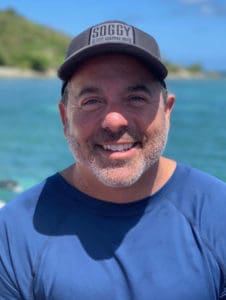 Brian Zehring, who moved to St. John two years ago, had just launched V.I. Staffing Solutions, a professional employment organization, when the COVID-19 pandemic hit. As a businessman who depends on small businesses to make his company successful, he was concerned that many restaurants might not make it through the lockdown.
Further, as a board member of the St. John Community Foundation's Long Term Recovery Team, Zehring was concerned that the most vulnerable members of the community might experience gaps in services as people were no longer meeting face-to-face.
Zehring decided to do something that would assist both businesses and individuals. Since early April, he's been buying between 50 and 60 meals Monday through Friday from local restaurants; these hot meals are then delivered to first responders, seniors, and clients of programs sponsored by the St. John Community Foundation.
The restaurants range from the long-running, dining-in establishments to food trucks – the idea being to spread the economic benefit as widely as possible. As of June 12, V.I. Staffing Solutions and Zehring's newest initiative, New Moon Charters, had funded 2,000 meals.
Zehring, who is seeking donations on his website, said he expects the program to continue until the first week of July.
"We'll evaluate the program at the end of the month," said Jon Eichner, interim executive director of the St. John Community Foundation. "We've never been here before; we don't know what to expect."
St. John Community Foundation Provides Groceries for Seniors
As Eichner has witnessed "the epidemic turning into a financial crisis," the St. John Community Foundation is expanding its programs to help seniors. In March it started a Groceries for Seniors program, which began with 30 clients and now has 160. The program was meant to help fill the gap left when senior centers closed because of the need to maintain social distancing.
Working with Myrtle Isaac of the Moravian Church to reach those in need throughout the island, the Community Foundation's Dial-A-Ride drivers deliver groceries to seniors once a week. Dial-A-Ride also assists in distributing Meals-on-Wheels prepared at St. Ursula's Episcopal Church in Cruz Bay.
As the pandemic hit, the St. John Community Foundation was in the process of activating grant programs to promote food sustainability through farming and tree planting. Among the programs was one that would give 75 breadfruit trees to seniors. Eichner said he's looking forward to "rebooting this program," among others.
St. John Churches Have Provided Meals for Years to the Most Vulnerable
When the Virgin Islands shut down and residents were told to shelter in place, some had no homes to go to. Some are people who have been living in the bush, on the beach, or in storm-damaged structures for years. Many also suffer from mental illness or substance abuse.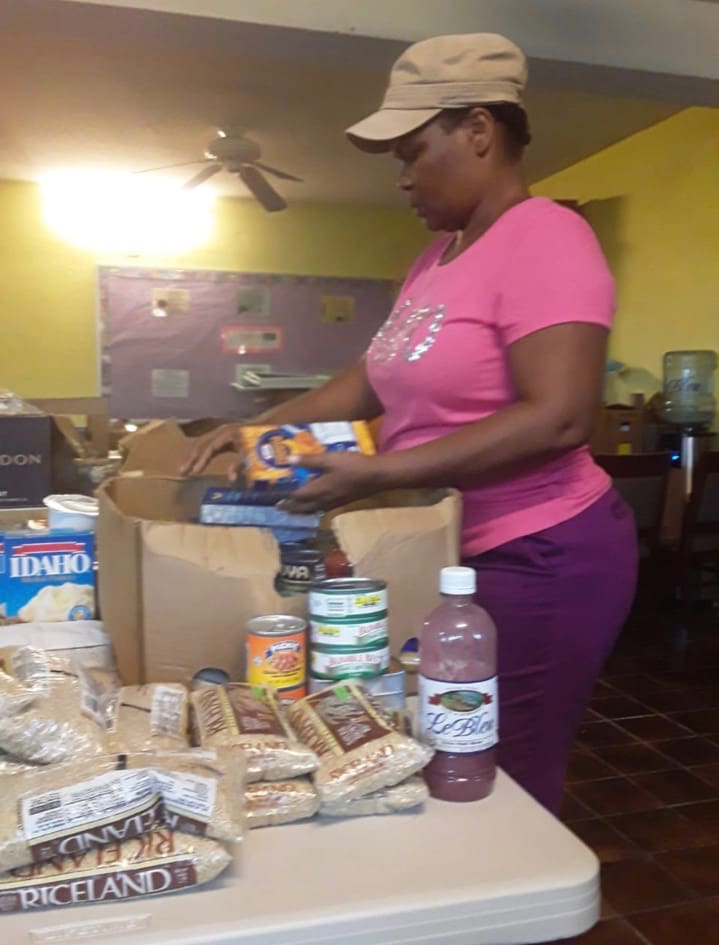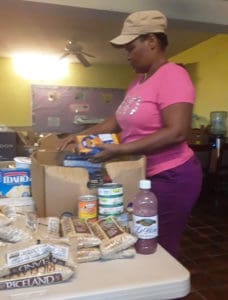 Restaurants who often hand out plates of food to the homeless closed their doors, but two St. John churches have continued to provide free meals to the needy throughout the pandemic, as they have for nearly 10 years.
Our Lady of Mount Carmel Catholic Church began cooking meals, with assistance from Nazareth Lutheran Church, in their parish halls. In 2011, Catholic Charities of the Virgin Islands started bringing over vans with hot meals on barges. After the parish hall at the Catholic church was expanded in 2017, Catholic Charities provided funding and assistance to prepare breakfast and lunch.
"We have not stopped," said Simonia Dagou, administrative assistant for the OLMC. Whereas the church typically served meals to 25 people a day in early 2017, it now serves between 70 to 100 Monday through Friday.
"We require that people line up and wear masks, and the servers wear masks and pass out hand sanitizer," she said.
On weekends, members of the Cruz Bay Seventh-day Adventist Church take to the road to distribute breakfast every Saturday and lunch every other Sunday to those in need throughout the community, as they have since 2011.
"We circle around Cruz Bay, to the people in shanties, on boats, and in homes without cooking facilities," said Annette Small, community services coordinator for the church.
Meals are prepared at the church parish hall by volunteers in the Community Services program, funded by donations throughout the years from the congregation, Starfish Market, St. John Community Foundation, Westin Resort, and others.
Church members also prepare boxes of food to deliver to community members, according to Small, who works as a counselor for at-risk youth.
"When I was working out of the clinic, staff would recommend clients. We try to give to the most needy. More and more have been coming," she said.
Department of Education Revamps Its Program for Students
The Virgin Islands Department of Education concluded its "No V.I. Child Goes Hungry" Feeding Initiative at the official close of the 2019-2020 school year on June 4, according to Cynthia Graham, director of public relations and communication for the V.I. Department of Education.
"Since its inception on March 26, a week following the closure of the territory's public school buildings due to COVID-19, thousands of breakfast and lunch meals have been served to Virgin Islands school-aged children, including those attending private and parochial schools," Graham said. On St. John breakfast and lunch were distributed each morning at seven sites.
On June 12, the Department of Human Services announced in a news release its plan to provide food to 15,000 students enrolled in public and private schools throughout the territory. The program, which is a partnership between the U.S. Department of Agriculture's Food and Nutrition Services, V.I. Department of Education, and V.I. Department of Human Services, will distribute funds in a similar manner to the SNAP ("food stamp") program.
Each student who is enrolled in the school lunch program is eligible to receive an electronic benefit card for $379 in July. The cards can be used to purchase food at all markets that accept SNAP benefits. Parents and guardians must apply for cards for all children within their households.
Further details will be available on the Department of Humans Services website, Facebook page, and through the media, according to the news release.