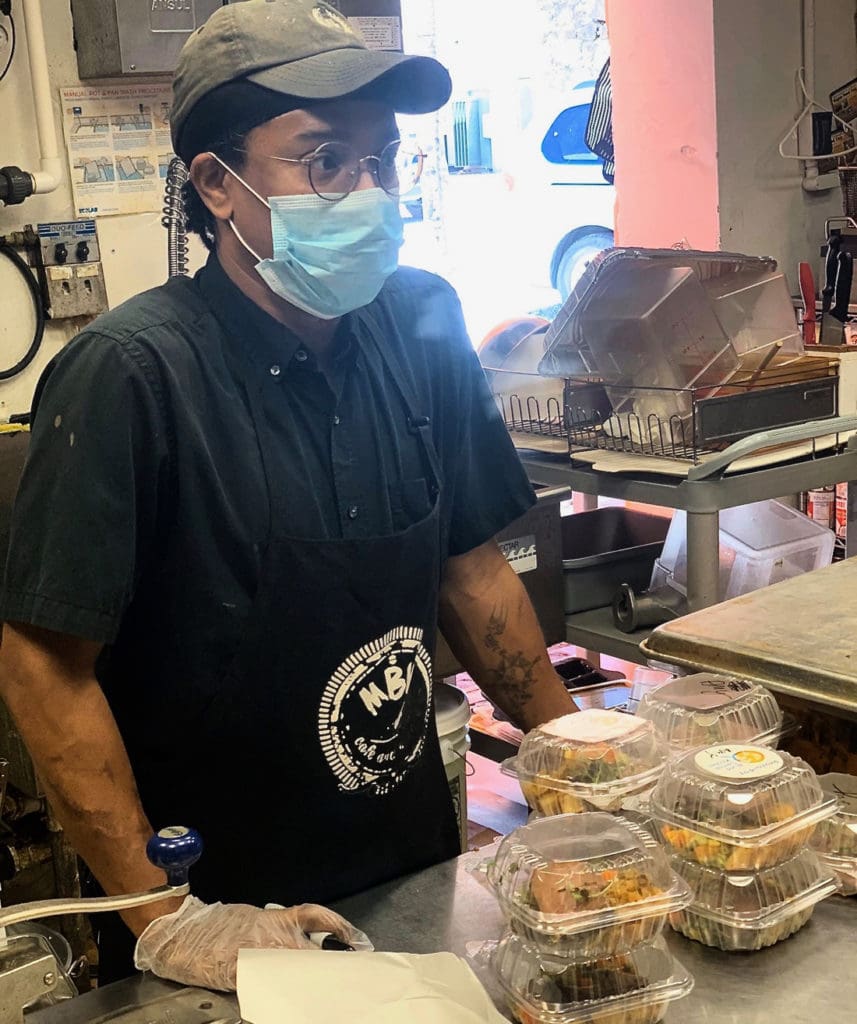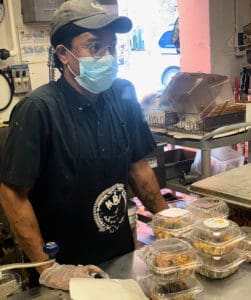 Chrystie Payne, of My Brother's Workshop, took a chance and reached out to the international World Central Kitchen for help feeding needy Virgin Islanders – casualties of the current pandemic and economic plunge. Almost immediately, the Washington, D.C. based charity agreed to help.
"They are already doing so much to help people all over the world," Payne said. "It was a leap of faith when we started. We hoped for a positive response from our supporters."
The leap of faith was an ambitious program to prepare and serve thousands of meals within three months "to impact more people." Payne said World Central Kitchen signed on, provided financial aid and collaborated with MBW and local chefs to create healthy menus.
"We send the menu to WCK to go over to make sure we were offering balanced meals," Payne said.
Josh Phelps, relief operations manager for World Central Kitchen, said the goal is to include six to eight ounces of protein and four to five ounces of vegetables and starch. They can put together vegan meals and are careful not to include food items prone to triggering allergies.
"We're not there to handhold or micromanage. We work with restaurants that are reputable," Phelps said.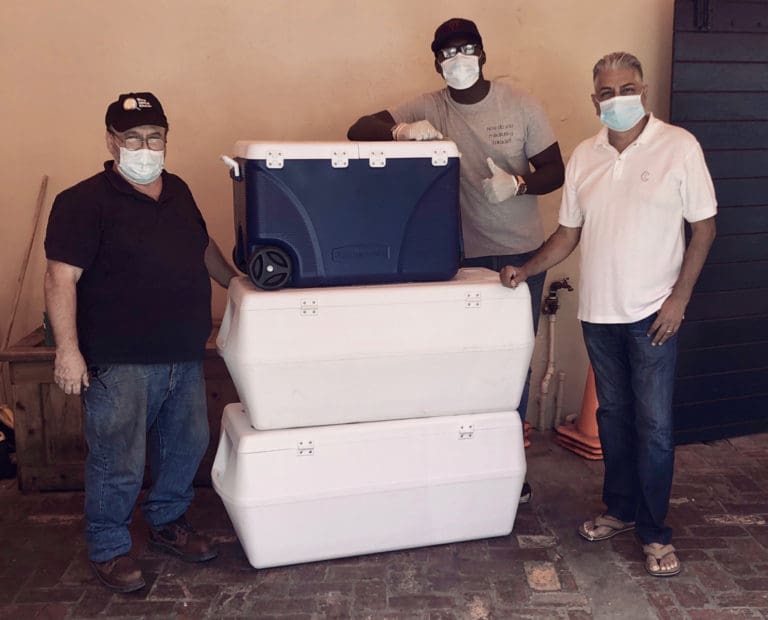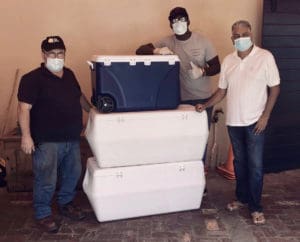 The program began the last week of March. Chefs Digby Stridiron, on St. Croix, and Julius Jackson, on St. Thomas, have been in charge of meal production, Stridiron in his restaurant, Ama, and then the Breakers Roar in downtown Christiansted and Jackson working out of My Brother's Workshop Cafe and Bakery.
The program has already delivered 2,500 lunches weekly on St. Thomas and St. John and about 600 on St. Croix. Flambouyant Gardens for the Elderly and Frederiksted Health Care on St. Croix and St. Thomas' Sugar Estates receive multiple lunches for distribution to clients. The majority of meals are delivered to individuals by volunteers.
As of this week, more than 22,000 hot meals have been consumed by Virgin Islanders. People can still apply for the MBW COVID Response program by submitting a community needs forms, found online at the My Brother's Workshop website.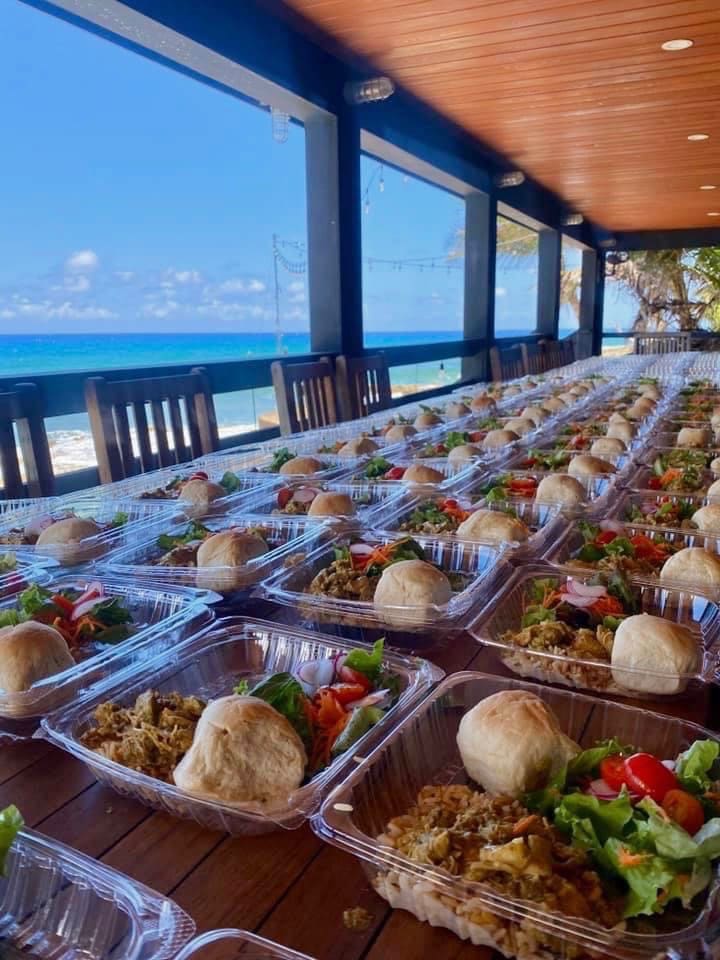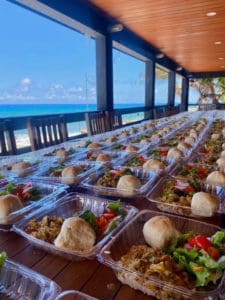 Payne said the program will continue to work with WCK until at least June 10 and more volunteers are needed in two categories. Deliveries take about two hours a day and a case manager works two to three hours a week. To help, either delivering meals or working in case management, volunteers can complete a form on the website.
Local sponsors have pitched in for the program, including Discover Fund Management, LLC, an EDC company on St. Thomas, which has a $10,000 matching grant ending May 31. More than 70 sponsors have donated in some capacity, Payne said.
World Central Kitchen was founded in 2010 by internationally respected Chef Jose Andres. It is a nonprofit, nongovernmental organization with the goal of providing meals in the wake of natural disasters. The program collaborates with local chefs to produce food.
Phelps said the organization partners with groups having similar missions. They had a "nice chat about their program" when Payne called and determined she was "pretty turnkey" and "someone we could trust."
"We noticed a clear need everywhere for assistance in the age of COVID," he said. "With Chrystie, it was a no-brainer."
Phelps said WCK has focused a lot of work in the Caribbean with a big response in the Bahamas after the devastating assault of Hurricane Dorian last September. And, he said Puerto Rico is "perhaps the biggest" program – they have "a constant presence in Puerto Rico since Maria."
"After a disaster strikes, we would come in and rent kitchen space or build our own and serve thousands of meals," he said.
But COVID has changed the way they operate, so they are now helping financially, rather than on the ground, person-to-person.
So far, they have helped serve more than nine million meals throughout the world.
Last week, presidential candidate Joe Biden and talk show host Stephen Colbert of The Late Show, commended Chef Andres and the good work of the agency.