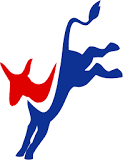 The Democratic Party of the Virgin Islands held its presidential preference and delegate selection caucus yesterday. Over the years, the party has been consistent in its support of the Democratic National Convention (DNC).
"The Democratic Party has been impacted by the global pandemic and the recent civil unrest across the nation.  This is truly a rebirth for human rights reform and Biden's call to action to save the soul of America. The V.I. Democratic Party remains steadfast in upholding the ideals of the DNC and embraces the opportunity to participate in this way.  We are grateful to everyone who's contributed in one way or the other towards a successful 2020 caucus," said State Chairman Cecil Benjamin.
Thursday and Friday were designated as "Early Voting," which was incorporated into the caucus where an increased voter participation was realized.
The coronavirus was the impetus for St. Thomas implementing "Drive-thru" voting, which was also extremely successful. All three precincts opened at 7 a.m. and closed at 7 p.m. Th exit polls reveal that on the average, participants were extremely satisfied with the process of Drive-thru voting.  Participants were engaging and celebrated Biden's accomplishing his goal at this historic moment.  The results of the elections proved that Virgin Islanders are deliberate about where their votes matter most. While they do not vote for the president of the United States, participation has increased in the caucus over time because it is significant, nonetheless.
A total of 505 democrats participated.  Joe Biden garnered 502 (91.26 percent) votes; Bernie Sanders received 28 (5.09 percent); and uncommitted received 20 votes.  On the delegate side, all seven delegates will go to Joe Biden, and they are St. Thomas-St. John District Edgar Baker Phillips, Roger Minkoff and Pamela C. Richards.  The delegates from the St. Croix District are Florine Audain Hassell, Sonia Boyce, Robert Rios and attorney Ronald Russell.  Together with an alternate and a page, they now join the six automatic delegates: Gov. Albert Bryan, Delegate to Congress Stacey Plaskett, State Chair Cecil Benjamin, Vice Chair Carla Joseph, National Committeewoman Carol Burke and National Committeeman Kevin Rodriquez, who will represent the Virgin Islands at the convention.
According to Carol Burke, National Committeewoman and caucus coordinator said, "We are very excited; we are seizing the moment and we know that we are in a good place.  This achievement is very personal for us as St. Croix is Joe Biden's sanctuary. While our caucus comes on the heels of Biden securing the presidential nominee, our role is pivotal.  We will serve as the anchor, yet we will help to set the compass of this historic moment. Every vote counts and we will play an integral part as we organize, galvanize and energize Caribbean American voters to support Joe Biden for president."