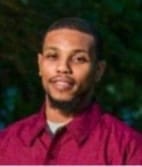 There will be a celebration of the life of Elon A. Frett on Thursday, June 4. The viewing will take place from 8:30 a.m. to 9:45 a.m. at Turnbull's Funeral Home. The service will be at 10 a.m. and burial will immediately follow. Due to COVID-19 the service will be limited to family members. Burial will be at Western Cemetery No. 1.
Please note that everyone is required to wear a mask and social distance should be practiced. Thank you for your continued love, support, thoughts and prayers.
He was survived by his mother, Wynn T. Canton; son, Eloni Kaylon Frett; sisters: Shanique Bonelli-Moore, Sommer Frett, Kamryn Frett and Jerriaha Frett-Jenkins; brothers: Jace Edwards, Francisco Bonelli, Kai Frett and Jamal Frett; and nieces and nephews: Albert Jenkins, Jahnomi Benjamin, Aliyah Ashley, Shelia Jenkins, Tyrell Frett, Keira Frett, Davia Franklin, Keyanna Edwards, Akil Edwards, Jace Edwards Jr., Cekijah Bonelli, Chase Bonelli, Samarra Bonelli, Sydney Moore, Maximus Moore and Chance Bonelli.
He is also survived by grandmothers: Bernice Parson-Canton and Enid Williams- Frett; grandfathers: Ira Canton and Jacob Frett Sr.; aunts: Grace Canton, Delrease Canton, Keiya Canton, Simone Canton, Sandra G., Barbara Canton-Jackson, Gretta Essanason, Lilalie Essanason, Lorna Frett-Middleton, Thelma Frett and Leatrice Frett; and uncles: Jacob Frett, Harry Frett, Leroy Frett, Mario Frett, Orvin "Pooky" Frett, Shermon Frett, Niels Canton, Wade Canton, Alfred Canton Sr., Earl Canton, Keito Canton, Albert Francis-Canton, Eddie Canton and Troy Canton.
Other survivors include special aunt, Delrease Parson-Roberts; special cousins: Jibri Roberts, Royel Christian, Yanique Roberts, Ariel Roberts, Jacob Frett, Jacoi Frett, Anwar Gregory, Aygei Gregory, Johnathan Huyghue and Joann-Crawford-Christian; partner, Kishnell George; special friends: Anwar Thomas and Amarri White; family friends: the Smith, Frett, Lebron, Roberts, Canton, Samuel, Christian and Bonelli families; as well as other family and friends too numerous to mention.