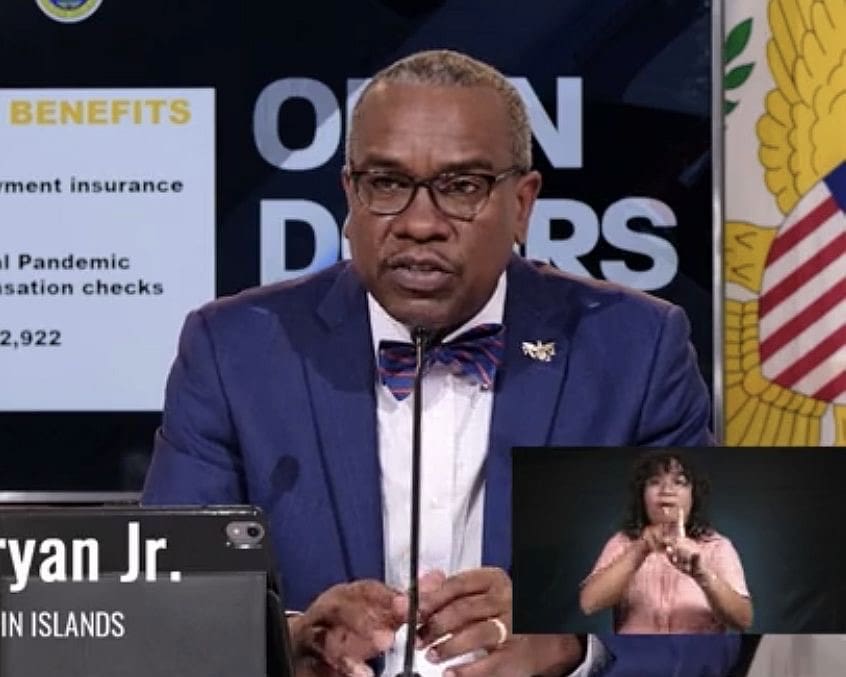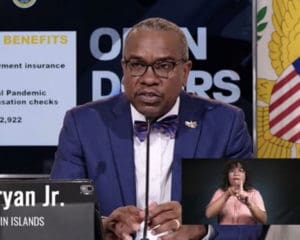 While thermal sensors are being installed at the territory's airports and seaports, they won't be able to detect visitors coming in with COVID-19 who are asymptomatic or don't know they've been affected, Gov. Albert Bryan Jr. said Monday. That's why, as the territory shifted to its new "open doors" phase of reopening, with hotels open and leisure travelers allowed in, the governor encouraged residents to be "diligent and vigilant" by wearing masks, not touching their face and washing their hands.
Bryan made the remarks Monday during his weekly news briefing updating the territory on the COVID-19 pandemic and other issues.
"It is inevitable that individuals who are positive with COVID-19 will enter the territory," he added. "Our decision to move to this phase is based on the diligent work of our health care workers and emergency response agencies, and the core operation of the V.I. public. We believe we are adequately prepared to provide the necessary medical treatment and to conduct contact tracing and that, most importantly, the members of this community know what they need to do to protect themselves."
The territory is tracking two active cases, including one that was announced Sunday, to bring the overall positive count to 70. Bryan said that the newest case was an example of what the government is able to do: The individual was "identified before they had the chance to mix with the general population and was isolated and quarantined per our procedures," he said.
"We have slowly trained and educated V.I. public as to how to live among people with the COVID-19 virus and embrace what could possibly be a continued future," Bryan added. "We are resilient, we are ready, and I am confident we are prepared to take on this newest challenge."
So far, 1,815 residents have been tested and of those, 1,741 tests have come back negative, 70 positive and four are pending. No patients are being treated at the Gov. Juan F. Luis Hospital on St. Croix, and there is currently one patient – a sailor who Bryan said is making limited progress while on a ventilator – at the Roy L. Schneider Regional Medical Center on St. Thomas.
In the midst of reopening, Bryan said the territory is actively preparing for the 2020 hurricane season, which kicked off Monday. Just like preparing for life with the virus, residents should start to get ready for an active season, he said.
"If we each do our little part, we are collectively prepared as a territory for any disaster, and that includes hurricanes," Bryan said.
In other news, the governor provided updates on continuing unemployment and federal stimulus dollars, saying to date:
– Almost 25,000 stimulus checks totaling $39.9 million have been issued,
– 33,737 residential customers received a $250 credit on their electric bill, along with 6,221 commercial ratepayers, who have received a $500 credit, and
– The Labor Department has issued 9,058 unemployment insurance checks, along with 4,380 Federal Pandemic Unemployment Compensation checks totaling $16,692,922.
Labor has also set up a call center for the public to answer questions about benefits and applying for them; for information, call 1-877-374-0356.