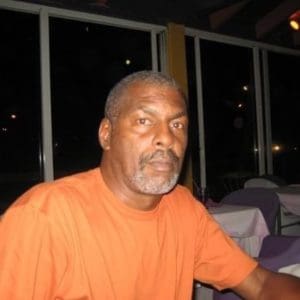 Kent L. Miller, also known as "Larry," died on May 21 at his home on St. Croix, USVI. He was born on the island of St. John, USVI, to Ivan and Cynthia Miller.
Kent was preceded in death by his father: Ivan A. Miller; sons: Dion A. Miller and Darien A Griffin; sisters: Sonia Miller-Battiste and Thyra Miller; and nephew, Kevin Wheatley.
He is survived by his mother, Cynthia S. Miller; wife, Roxanne Williams-Miller; daughters: Dahlia A. Petersen, Teshia L. Donaldson and Danica A. Miller; son, D'Sean A. Miller; adopted daughters: Zara C. Heskey and Jermaine Tavonier; grandchildren: Caresse Hansen, Maleeka Jarratt, Malik Jarratt, Lenic Charles, Dion Vega, Okolo Donaldson, Saurita Donaldson, Dariah Griffin, Jahkim Stevens and Deja Griffin; great-grandchildren: Paris James, Hassan James and D'Ovanni Griffin; and adopted grandchildren: Khalil James, Rakheeda Clarke, Eaton Heskey and Zaleya Heskey.
He is also survived by godchild, E'Dee O. Stoute; sisters: Glencia Steele, Erie Miller, Pearl Anita Miller and Marilyn Miller; brothers: Glen Miller, Dave Miller and Wayne Miller; nieces and nephews too numerous to mention; other family members: Matthias family (STT), Meyers family (STT), Hodge family (STT), Sprauve family (STT), Benjamin family (STT), Molloy family (STX), Huggins family (STX), Tobias family (N.Y.), Ferdinand family (Md.), Bates family (N.Y.), Colon family (Ga.), Santos family (STX), Jackson family (STT) and Blackwood family (STX and STT).
The viewing will take place at 10 a.m., followed by a funeral service at 10:30 a.m., Friday, June 5, at the Holy Cross Catholic Church. Interment will be at Kingshill Cemetery. The family respectfully requests that attendees wear a face mask and adhere to the social distancing requirements.
Thank you for your blessings and prayers during this time.