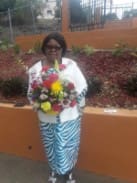 Floretta Luke better, known as "Cynthia," died on April 27 in Miami, Fla.
She is survived by her husband, Jacob " Revley" Luke; sons: Rev. Leroy Luke, Patrick Luke, Dean Luke, Barrymore "Gary" Luke, Bryan Luke and Dexter Luke; daughters: Carol Frederick, Jacqueline Luke, Camille McGann, Roslyn Luke and Maria Luke; step-daughters: Joan "Janice" Rawlins and Elese Andrew; brother, John Frederick; sister in-law, Doreen Frederick; 38  grandchildren; 30 great-grandchildren; as well as many other family and friends too numerous to mention.
Tributes will take place at 9:30 a.m. followed by a funeral service at 10 a.m., on Tuesday, May 26, at Shiloh Seventh-day Adventist Church. Interment will be at Eastern Cemetery in Smith Bay.