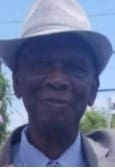 William Ryan died May 10.
The viewing will be held from 3-5 p.m., Tuesday, June 2, at Turnbull's Funeral Home.  Services will take place at 10 a.m., Wednesday, June 3, at City Seventh-day Adventist Church. Interment will be at Western Cemetery No. 3.
He is survived by his children: Linda Ryan-Sweeney, Arleen Ryan-Smith and Everett A. Ryan Ph.D.; brother, John Ryan; sister, Lucille Ryan; grandchildren: Lynesha Sweeney, Khadeeja Sweeney, Olivia Gordon, Jheromey Ryan, Stephon Smith and Khaleel Smith; and sons-in-law: David Sweeney and Perry Smith.
He is also survived by brothers-in-law: Leon Todman, Mario Todman, Gene Todman, Austin Todman, Melvin Todman and Neil Todman; nieces: Celeste Ryan, Janice Ryan-Parsons, Idesa Ryan, Sharon Ryan, Jessica Ryan, Lencia Ryan, Althea Ryan, Dawn Ryan and Nadia Ryan; nephews: Sylvester Ryan, Lenroy Ryan, Dwayne Ryan, Travice Ryan, Bernard Ryan and Dave Ryan; cousin, Samuel Ryan; and cousin-in-law, Lois Brathwaite.