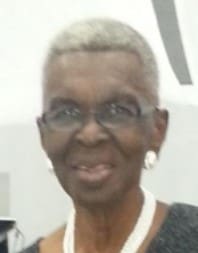 Gloria "Joyce" Lettsome died on May 7.
The viewing will be held from 8:30-9:30 a.m., Thursday, May 21, at Turnbull's Funeral Home. The funeral service will follow at 10:30 a.m. at Eastern Cemetery. Interment will be at Eastern Cemetery.
She is survived by her husband, Samuel Cephus Lettsome; daughters: Gwen "Baba" Lettsome-Gaskin, Cynthia P. Lettsome, Glenda Lettsome and Linda Lettsome; sons: Tilbert "Kembo" Lettsome, James "Jabu" Lettsome and Alpheus "Ibu"Lettsome; 34 grandchildren; 37 great-grandchildren; and sisters: Lola Farrington (Tortola), Rita Thompson (S.C.), Orah Alexander (St. Thomas), Sylvia Son (St. Thomas), Ina Chalwell (Tortola), Beverly Johnson (Tortola), Pricilla Maldonado (Atlanta), Alma Johnson (Fla.) and Dora Lettsome (St. Thomas).
She is also survived by adopted sister,  Henrietta Thomas (Tortola); brother, Josephus Wilkins; sisters-in-law: Verna Wilkins and Venie Wilkins; brothers-in-law: Pastor Wilfred Turnbull, Claudius Chalwell, Tadio Lettsome, Melvin Johnson and Neftally Maldonado; sons-in-law: Wendell Gaskin and Melvin Collins; daughter-in-law, Louise Thomas Lettsome; uncles: Eric Frett and Joseph Frett; aunt, Delita Baxter; as well as nieces, nephews and cousins too numerous to mention.