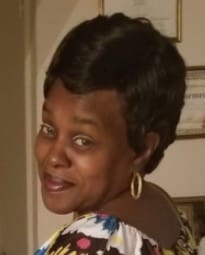 Daisy Todman died on April 21.
There will be a viewing held from 8-10 a.m., Friday, May 22, at New Vision Ministries Church in Contant. A funeral service will follow at 10 a.m. at the church. Interment will be at Western Cemetery No. 2.
She was preceded in death by her brothers: Israel Todman and Clinton Todman.
She is survived by her mother, Marie Ceta Todman; children: Alston Lambertis Jr., Avion Lambertis Sr., Ardinal Hughes and Joseph Piper Jr.; grandchildren: Kyresha Lambertis, De'Jah Lambertis, Kynesha Hughes, Avion Lambertis Jr., KyNijah Hughes, KyNia Hughes, K'Nique Lambertis and Ava Piper; great-grandchild, J'urnie Carelock; daughter-in-law, Ada Stout-Hughes; and brothers: Elroy "Big Dog" Todman, Sinclear Todman Sr.
She is also survived by sister-in-law: Claudia Joseph-Todman; uncles: Kirtney Thomas and Donald "Mack" Todman; aunts: Eugenia Hodge, Vancina Todman, Melva, Elva ("Ellie"), Delva ("Tiny") and Veronica ("Rosie") Thomas; nephews: Sinclear Jr. ("TeeJay"), Davon Clinton Jr., Shurad, Avery Todman, Travis Todman and Travis Todman Jr.; and nieces: TyRhonda, Sheryl, Ashia ("Ieesha") Todman, Michelle Todman, Tanisha Todman, Rachel Todman, Makayla Todman, Brianna Maxwell and Destiny Todman.
Other survivors include special cousins: Gary Thomas, Vincent Thomas Sr., Romeo Thomas, Brenda Thomas, Leayle King, Terrence ("TJ"), Berenice Hodge, Leroy Todman, Courtney ("Wadada") Briggs, Janet Pedro, Màrilyn Fredricks, Richard E.  Smith Sr., Tricia Thomas, Bishop and Pastor Melvin Herbert, Sister Beverly Brathwaite and Beverly Thomas-Benjamin; as well as close special family friends: Angelica Outlaw, Alexandria Barry and Lauren Romney.