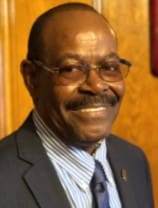 With deep sadness, the family of Austin A. Venzen announces his passing on May 15 in Nashville, Tenn.
It has been often said life is measured not by the number of years but rather by the love shared, the memories made, the joy given, the blessings received. During his lifetime, Austin A. Venzen served as a true mentor, life coach, outstanding musician, classroom teacher, humanitarian, organizer and lover of the Arts. He was a man of Savan, a true Virgin Islander and a diehard Yankees fan. However, the greatest balance in that crowded life was experienced at home for this husband, father, grandfather, father figure and a friend of many.
Professor Venzen, Mr. Austin A. Venzen, Mr. Venzen, Venzen or just V — this educator saw each student as one of many adopted children and maintained a relationship in their lives by following their career paths and providing support and encouragement. He was a disciplinarian and demanded much of his students.  From them he received outstanding performances, and undying appreciation and respect.
He was always a believer in exposing young people to the fine art of music where he was inspired by one of his own tutors, Mr. Charles Cox.  During his tenure in the public schools, he developed marching and concert bands that would perform concerts for various community events. He also worked and taught at the now defunct Toneskolen School of Music under Agatha Canfield.
On the collegiate level, his university band toured and cruised many islands in the Caribbean giving concerts on Tortola, British Virgin Islands, St. Kitts and Nevis, Anguilla, Barbados, St. Lucia, St. Maarten, Saba, Antigua and others.  This Ambassador of Music was able to spread the universal language of music; introduce and connect his students to their Caribbean neighbors; expose the Caribbean communities and students to a true musical ensemble which would in turn encourage them to look at music as an outlet and, more importantly, become involved in their own school's music program. These activities developed support for the efforts of the University of the Virgin Islands music education students. Concerts were held to raise funds to purchase instruments and recruit students and staff.
At the university level, he was adamant about exposing the community to the theatre through musicals like "Amahl and the Night Visitors," "The Sound of Music," "The King and I" and "Damn Yankees," just to name a few.  Additionally, he wanted to expose and encourage the young talent with productions like "An Evening on Broadway" and "Night on Lil' Broadway." He worked with the UVI Little Theater by serving as musical director on many of their projects.
He traveled to numerous public, private and parochial schools throughout the Caribbean conducting workshops as an individual and with his Esquire Woodwind Trio. He was a flute soloist on many programs and worked with various church choirs on St. Thomas, often incorporating their talents with his concert band.
Professor Venzen's pride and joy was the initiation of the Summer Band Camp (concert, jazz and ensembles) at the University of the Virgin Islands, [which] at one point expanded to a Band and Opera Camp with Prof. Elvira O. Green. This was an extensive training program for young musicians that drew students from the three Virgin Islands, various Caribbean Islands and the United States.  Concerts were held weekly in Emancipation Garden, at WICO Dock, in various churches [and with] an award-winning performance at the end of the camp.  Productions included "A Mid-Summer Night's Dream," "Hansel and Gretel" and "Barber of Serville."
Upon his retirement from the University of the Virgin Islands, this former associate professor of music relocated to Nashville, Tenn., with his wife Roxie.  His musical involvement was also relocated to Nashville where he instructed private students, taught at the W. O. Smith School of Music, participated in the Metropolitan Wind Ensemble, and became a member of the Music Ministry at his adopted church of Clark Memorial United Methodist.  At the same time, he continued to return to the Virgin Islands to run his summer band camp through 2018. Yes, he was retired.
Professor Venzen is a graduate of Charlotte Amalie High School, Class of 1970 and the Tennessee State University where he earned his bachelor's and master's [degrees in] music.  Upon his graduation, he returned home to begin his teaching career in 1976.  Initially, he was assigned as a band director at Bertha C. Boschulte Middle School and Ivanna Eudora Kean High School and then reassigned to Charlotte Amalie High School. In 1984, he began his tenure at the then College of the Virgin Islands and remained until his retirement from the University of the Virgin Islands in December of 2012.
Prof. Venzen was a lifelong member of Christ Church Methodist and his dear Class No. 1. He maintained memberships with Kappa Kappa Psi Honorary Band Fraternity, Alpha Phi Alpha Fraternity Inc. and Harmonic Lodge 356 on St. Thomas.
Although saddened by Austin's passing, our collective hearts are filled with happiness for the time he spent with us.  The time was short, but our Austin shared his love with so many students and colleagues, created wonderful memories and experiences for young and old, gave joy to numerous audiences and performers, and received blessings for his commitment and generosity. Austin lived a full life.
Left to mourn this Virgin Islands son are [his] wife, Roxie B. Venzen; sons: DeWayne T. Venzen (Desiree) and Derrick I. Venzen; granddaughter, Bianca Grace Venzen; brothers: Warren Brown, Valimore, Adul, Adullah, Valenteen, Pershing (Lorene) and Harold (Joan) Venzen; sisters: Ancelia (Joseph) Benjamin, Andrea Williams, Florence, June and Olive Venzen. Additionally, he leaves a dear cousin, Gwendolyn (Reynold) Barker; and a host of other family and friends.  He is preceded in death by his mother, Petronita Foy and father, Ebenezer Venzen.
Funeral arrangements are entrusted to Smith Funeral Directors Inc., 706 Monroe St. Nashville, TN. The service is set for Saturday, May 23, in Nashville, Tenn., and will be Facebook live-streamed through Smith Funeral Directors or its website at 11:50 a.m. (CST). A Memorial Celebration will be held on St. Thomas, U.S.V.I., at a date to be determined.