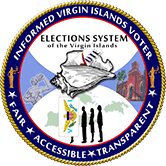 Due to the closure of the Elections System Offices to the public, the Board of Election members will facilitate the registration of voters during this period, according to Supervisor of Elections Caroline F. Fawkes. The members will be conducting off-site voters' registration in accordance with the social distancing protocols. This plan has been suspended. Supervisor Fawkes apologizes for any inconvenience and will update the public of the reopening of voter registration.
Any citizen interested in registering, should contact the following board members to schedule an appointment:
STT Board Member Lydia Hendricks – 514-2485
STJ Board Member Alecia Wells- 1-(508) 963-2641
Board Administrative Assistant Angel Bolques – 776-6535
STX Board Member Epiphane Joseph – 1 (239) 823-7857
Board Administrative Assistant Terrell Alexandre – 773-1021
If there are questions, contact Supervisor Caroline Fawkes at 713-1934 or 227-8827.