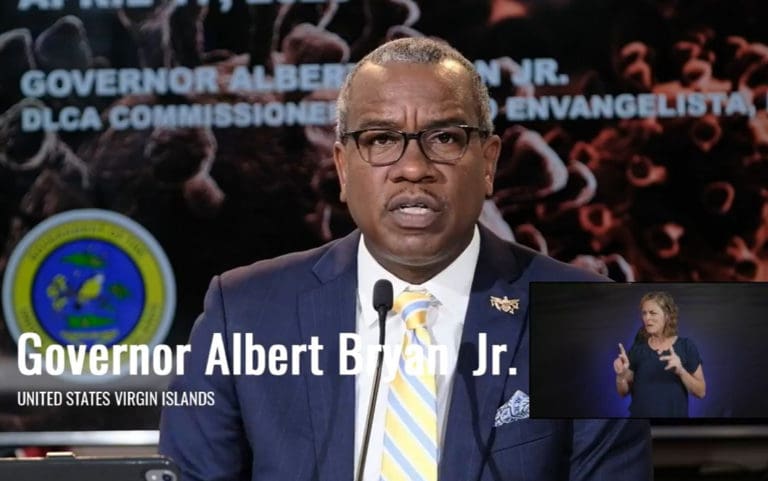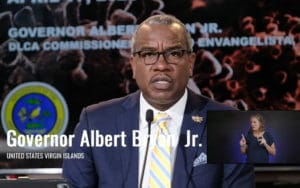 Gov. Albert Bryan Jr. said local public beaches will re-open Monday, but residents will swim at their own risk since  water quality testing is ongoing and water quality results won't be released by Planning and Natural Resources until late in the week.
During his news conference Friday updating the territory on progress against the coronavirus, Bryan said the labs DPNR typically sends its water-quality tests have reduced their workers in response to social distancing guidelines, which means it might take until Thursday to find out what beaches are safe. Until then, there are concerns about E. coli concentrations introduced by stormwater runoff or by the potential illegal dumping of waste from boats in the harbor, Bryan said.
"Come Monday, if you have to go in the water, try to do so in bays that do not have new boats docked there or moored in the harbor," the governor added. "We are very cautious about those boats, we have been monitoring them, but we can't guarantee that everyone has been compliant and we would like to have the tests done before we open the beaches, or go into the water."
Restaurants and bars on the beaches will still be closed, and there will be no alcohol allowed in an effort to cut down on large gatherings. Beach goers should still stay separated and come with only their immediate family for safety, Bryan said.
"If you know you can't help yourself, though, stay off the beach," he added. "If people are not cooperating, staying off the beaches, maintaining their social distancing, we are just going to have to close them again."
Meanwhile, Bryan said the government has been in talks on how to begin reopening internally and "easing down" on restrictions as the territory approaches the initial April 30 deadline set for sheltering in place. The governor cautioned again, however, that a total reopening of the economy is "still a while away," especially as the availability of testing supplies begins to slow down nationwide.
In particular, the territory needs the re-agent, the compound that's mixed with the virus samples in order to obtain a negative or positive result, he explained.
"One of the things you need in order to open up your economy is the ability to conduct mass testing," the governor said, adding that he would continue to work with the White House and Federal Emergency Management Agency in order to get the necessary supplies.
On the other hand, the territory is working on building its own cache of personal protective equipment in case an expected resurgence of the virus comes to pass this winter, Bryan said.
At this point, the territory has tested 458 individuals, 373 of whom were negative and 51 positive. While 46 of the positive cases have recovered, leaving three active cases, Bryan said one of the patients hospitalized at Schneider Regional Medical Center died Thursday, bringing the number of COVID-19 related deaths to two. The patient was a 72 year-old female with underlying health issues who contracted the virus through community spread. Her condition worsened over time, Bryan said while extending condolences to the family.
On Friday, a third death from the disease was announced by the V.I. Department of Health.
In trying to do what it can to protect the territory's more vulnerable populations, including the elderly and undocumented, the government will work with Human Services to make food available to non-profits and churches for distribution while also putting in place a grocery shopping and delivery system as more federal funds become available. Details will be announced, and Bryan said the process of putting in place a subsidy for residents to pay their light bills is also moving forward.
Putting the pressure on gas stations and food vendors to lower prices for consumers is also a top priority, Licensing and Consumer Affairs Commissioner Richard Evangelista said during the press briefing. Evangelista said that gas stations have already begun to respond, with Ziggy's Island Market on St. Croix, Racetrack on St. John and Petrus Gas on St. Thomas recording the lowest prices on regular gas within the territory.
Evangelista said that while the ongoing price freeze on products is primarily for items such as cleaning wipes that help prevent the spread of COVID-19, residents can still call the department with any other reports of suspected price gouging. "Scam lines" have been set up in both districts, and residents can call (340) 727-7226 on St. Croix or (340) 771-7226 in the St. Thomas-St. John district.
Residents should also be also be wary of two scams: a mailing on Finance Department letterhead asking for donations for a COVID-19 research and cure program, and a text message warning cell phone owners that they might have come in contact with someone who tested positive for the virus. In both cases, residents should not respond, but rather file a report with DLCA, Evangelista said.
Bryan also spoke about the ongoing spate of crime on St. Thomas, which started two weeks ago with three homicides in Hospital Ground and continued this week with homicides in Estates Tutu and Bovoni. He encouraged residents to help the police by reporting anything they know or see.
"Because it will keep going with the feuding, back and forth with the violence, and we don't need it, especially during this time," Bryan said. "We want you to help us bring these people to justice."
Anyone with any information can call the anonymous tip service, Crime Stoppers USVI, at 1-800-222-8477 (1-800-222-TIPS).