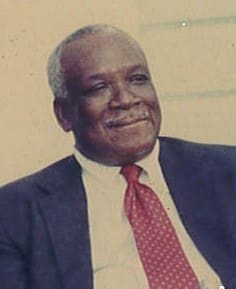 Calvin Delano Burke Sr. died on March 28 on St. Croix, U.S. Virgin Islands. He was 85 years old.
He was preceded in death by his mother, Florence Utendahl-Burke; father, Frank Burke; sons: Attorney Calvin D. Burke Jr., Alvin D. Burke Sr. and Kevin D. Burke; former spouse, Gwendolyn Chase-Burke; grandson, Allen D. Burke; sister, Gloria Burke; niece, Lurene Messer; and aunt and uncle: Isabella and Lionel Burke.
He is survived by his daughters: Carol Burke, Carolyn Burke, Maureen Burke-Ventura, Denise Jackson-Christian and Crystal Burke; sons: Dr. Glenwood Charles and Robert Burke; companion, Agnes Vidal; and grandchildren: Ronel, Ronae, Ronique and Andre Burke Sr., Shamar Johnson, Noelani Charles-Brannon, Glenwood Charles Jr., Darnley Petersen III, Shane I.M. Hodge, Angel Ventura III, Shamiyah Burke, Sherraine Burke-Henry, Nyisha Richards, Alvin Jr., A'Jada, Rishaun, Risheema, Callende and Caleb Burke, Dwaine and Damon Mc Clean, Dulani and Dilila Christian, and Jazon Burke.
He is also survived by daughter-in-law, Marsha Charles; special great-granddaughter, D'Naizjah Petersen; great-granddaughters: Mykayla, Olivia Johnson, A'Naizjah Dennis, Ky'Junae Brewster, J'Nyia Finch, J'Nae Finch and Ariya Davis; great-grandsons: Kyrone, Kyrell, Kyraun, Kylanie and Ziedane Burke, Kyon Gonsales, Kyneil Anderson, Devante and Darnley Petersen, Silas I.M. Hodge, Saire Joseph Hodge, Ky'Nai Christian, Zayden McFarlane, Amir Burke, Andre Burke Jr., Amari Lockhart, Caleb Christian,  Omani and Bomani Christian; and niece, Corinne Messer-Milligan.
Other survivors include nephews: Almeric and Christian Messer; special cousin/brother, Leroy Woodrup Sr.; cousins: Emily Westby and Wilfred Brown; special family friend, Jesus Rivera; families and friends: Woodrup family, Williams family, Petersen family, Donovan family, Hodge family, Motta family, DeChabert family, Acosta family, Water Gut and Anna's Hope families, Wanda Centeno, Jenell Sheriff, Desiree James and the VA management and staff, Director Patrick Farrell and the Office of Veterans Affairs, Claude Carr and VITRAN Plus staff and drivers, Carl Thomas, Ronald Charles, Paul Golden, Amanda Weber and Randy Germain; as well as other relatives and friends too numerous to mention.
The family appreciates your support and condolences; however, due to the current situation and mandates, a memorial service will be held at a later date. Your understanding is greatly appreciated.