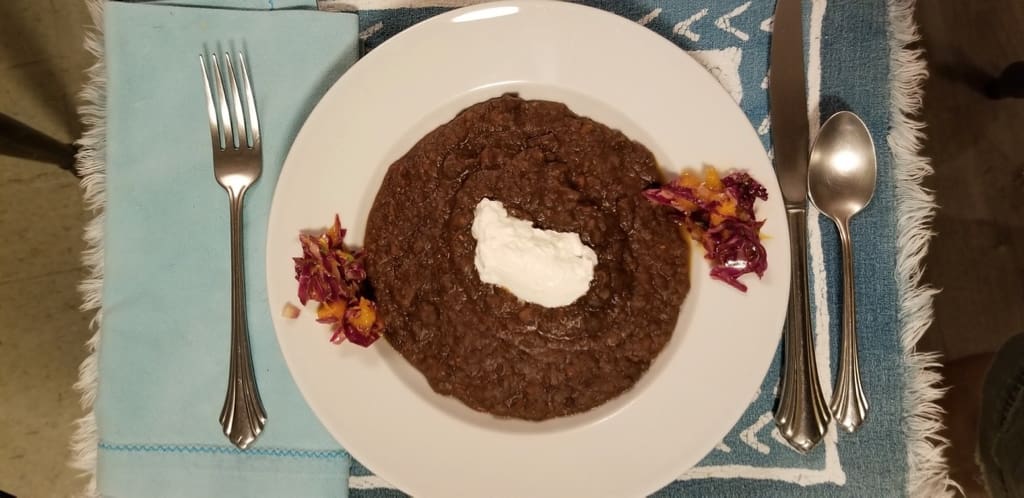 This is the third in an ongoing series on cooking healthy meals while home sheltering during the novel coronavirus outbreak.
With restaurants shut down and people home sheltering, there has never been a better time to cook. The other consideration is that good health is the best defense at any time, but particularly with the news continuing to report that in general, the most severe cases of COVID-19 are visited upon the already ill and sadly, the elderly. With all this in mind, I offer my tried and true healthy recipes with which to transform what could be endless idle hours into your own delicious defense mechanism.
The original recipe for this is for slow cookers. Thankfully, I have one thanks to a generous Christmas gift from my brother. But not everyone has a generous brother or a slow cooker so I have revised it for a stove and soup pot.
At the end of the recipe I will add how to adjust for slow cookers.
Ingredients:
– 2 tablespoons of olive oil
– 4 cans of black beans
– 1 onion, diced
– 5 cloves of garlic, minced
– 3 carrots
– 1 stalk of celery, diced
– 1 jalapeno, seeded and diced
– 1 tablespoon chili powder
– 1 tablespoon cumin
– 1/8 teaspoon smoked paprika, or non-smoked if you don't have smoked
– 15 oz can of diced tomatoes, or fire roasted if you like more spice
– 4 cups vegetable broth
– 1 teaspoon sea salt to taste
– 2 cups corn kernels (corn and black beans combined create complete protein)
I substitute organic corn chips or a pan fry corn tortilla strips instead of corn kernels and put on top.
Directions:
Saute onion, carrots, celery in olive oil until they are soft. Add garlic and saute for with chili powder, cumin, paprika and a pinch of salt for a minute or so to be sure the garlic doesn't burn.
Add corn, broth, and canned tomatoes. Bring to a boil and reduce to medium heat for 20 minutes.
For slow cookers, omit oil and use 1 pound of dried black beans if desired. Put all ingredients except corn and cook on high for 4 hours – add corn, and then on low for 2 hours. If you use canned beans, cook on low for 6 hours.
This soup lends itself to partial blending. Take two cups and blend and put back into pot. Or allow soup to cool and use an immersion blender to blend part of it and reheat.
Toppings that can be added: diced avocado, red onion diced, cilantro, yogurt , cherry tomatoes halved. As long as the people sharing it stay six feet apart at all times.