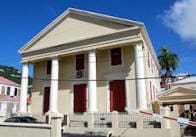 The St. Thomas Reformed Church consistory met Wednesday night in a virtual meeting.  Deacon David Haddow led devotions and reminded all to trust God at every moment.  As always, the meeting began and ended with prayer.  Many of those prayers included the word coronavirus, a new and unwelcomed word in our daily vocabulary.
Pastor Jeff said the decisions the group made were not made lightly, but those present pray the result of these decisions will help the church continue to effectively minister to its congregation and carry out its mission to be a beacon of light and hope in the community.  The following is a list of decisions and actions taken as a result of that meeting:
St. Thomas Reformed Church facilities will be closed effective immediately except for staff working in isolation.  All group meetings, rehearsals and services are postponed until further notice.
Sunday morning worship will be broadcast only online via Facebook live.  The sanctuary will be closed to the public.  Please stay home and worship with the church online, and share this time with friends and church family via technology (see below for instructions on how to connect online).
The bulletin will be emailed out Friday of each week and posted on the church's website and APP.  The church is presently working on acquiring hardware and software for a better livestream experience and hopew to improve both video and audio quality as the weeks progress.
Follow the St. Thomas Reformed Church on Facebook for up-to- date information and watch for occasional live updates from Pastor Jeff.
Congregational care groups are being created through the Instant Church Directory.  Consistory and care coordinators hope to have regular contact with every Reformed Church member and attender to assess individual needs and to make sure nobody is left feeling isolated.
For best results, please download the Instant Church Directory and update contact information (see below for details). People may also use the directory to contact other church members and friends.
St. Thomas Reformed Church has made an initial donation of $10,000 to support My Brother's Workshop's (MBW's) emerging meal distribution program, and it will be partnering with MBW to help meet the needs in the church and community (as it is able) with a focus on royal seniors, homeless and individuals with special needs.
The LPCC after-school program is closed following the public-school calendar.  STRC director Lucy Sutton will continue with regular hours and keep up with LPCC kids virtually.
Meetings and Bible studies can happen virtually.  Updates and invitations to join Zoom virtual meetings will be sent out to participants.  If anyone wishes to have access to any of these virtual meetings, please download the software at: https://zoom.us/download. Pastor Jeff will make an attempt to meet this way with the Inquirers Class, Confirmation students, XYG and other groups, so please take time to download Zoom.us!
If anyone has specific prayer requests or needs, please send them via email, through the STRC APP or by text to Pastor Jeff.  He will make every attempt to respond or to pass the message/prayer request along.  Please do not call the church office as it will be closed indefinitely.
Again, the most important and effective thing people can do to protect themselves and those around them is to pray and then follow the personal hygiene guidelines provided by the CDC: https://www.cdc.gov/coronavirus/2019-ncov/protect/prevent.html
"Morning by morning new mercies I see
All I have needed Thy hand hath provided
Great is Thy Faithfulness, Lord unto me!"
Stay Connected
Website: www.strchurch.org
Email: mail@stthomasreformedchurch.org
Like us on Facebook: https://www.facebook.com/stthomasreformedchurch/
APP: Search St. Thomas Reformed Church on iTunes or Google Play
STRC Directory:  Download the Instant Church Directory app onto a phone or computer using this address:
https://www.instantchurchdirectory.com/. Then log in using the email address. If the email address isn't recognized, then email officeadmin@stthomasreformedchurch.org, so Dawn can correct it.