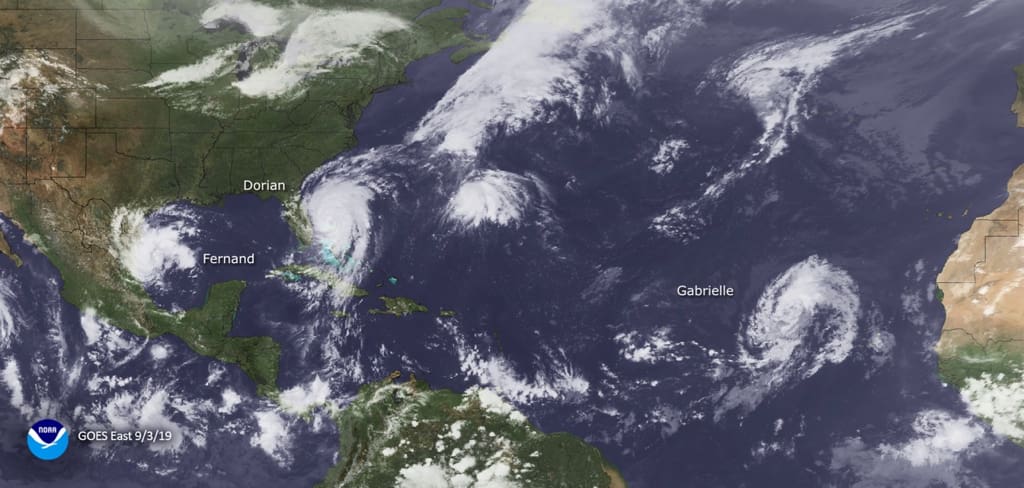 In the early assessment of the 2020 Atlantic hurricane season, which will begin on June 1, forecasters from the National Hurricane Center and other agencies are suggesting an above average hurricane season due to a combination of neutral La Nina conditions, an active Western African Monsoon, above average ocean temperatures and the possibility of lower than average wind shear conditions.
At least 15 named storms are forecast, eight of which are expected to become hurricanes. Three of those hurricanes are expected to become major hurricanes – storms that become Category 3 or higher on the Saffir-Simpson scale.
– Sea Surface Temperatures
Sea surface temperatures across the western Atlantic and Caribbean are warmer than average. Across the central and eastern tropical Atlantic, sea surface temperatures are below average. The exception is right along the west coast of Africa, where ocean water temperatures are above average.
– Atlantic Main Development Region
One of the indicators in determining how active the hurricane season will be is how much the deep tropics (south of 25 degrees north) warms up during April, May and June. It should be noted that at this time in 2017, 2018 and 2019, the Atlantic main development region ran a little below average in sea surface temperatures, but this pattern reversed during the hurricane season leading to a much more active season.
The deep tropics will likely see above average ocean water temperatures like the last three hurricane seasons, during the months of July, August and September. In addition, it appears that the Western African Monsoon will be active this year, leading to the development of some strong tropical waves moving off the western coast of Africa.
– Wind Shear
Many of the forecast models point to below average wind shear from the Lesser Antilles through the Caribbean during much of the upcoming hurricane season. The models are also forecasting the development of below average wind shear during August, September and October across the Gulf of Mexico and along the east coast of the United States. This is a different look for the Caribbean than recent years.
– Landfall Threat Forecast
The Caribbean and Gulf of Mexico could be very active this hurricane season. A persistent western Atlantic ridge of high pressure looks to remain in place through this summer into the fall. This, in combination, with an active Western African Monsoon, could lead to systems being guided first into and through the Caribbean and then into the Gulf of Mexico. Unlike previous years, there is a reasonable potential for the Caribbean to "wake up" and be active in terms of tropical storm/hurricane development.
– Forward looking
Given early expectations of an active season in the Caribbean and the potential for an active Western African Monsoon, both the Leeward Islands and the Windward Islands must be watched closely for a potential tropical storm or hurricane impact.
– 2020 Atlantic Tropical Cyclone Names
Arthur, Bertha, Cristobal, Dolly, Edouard, Fay, Gonzalo, Hanna, Isaias, Josephine, Kyle, Laura, Marco, Nana, Omar, Paulette, Rene, Sally, Teddy, Vicky and Wilfred.