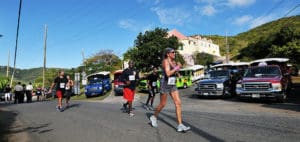 I had the most wonderful experience this morning on my daily walk on the East End hills, and it wasn't what most people would consider a "big deal." My muscles had stopped hurting from Saturday's race, I had some fine company walking with me, and the beauty around me could not be improved upon.
But when my close-by neighbor, Lorrel, drove by and stopped to connect with me, I realized just how important the 8 Tuff Miles road race is to our island of St. John.
The 8 Tuff is a St. John institution started and organized for the past 24 years by St. John resident, Peter Alter. I believe it has always been a celebration of grit and determination, a massive example of generosity and volunteerism, and a Herculean task of coordination.
I'm sure I'm not even close to capturing how really hard the 8 Tuff is to pull off. But it works because of great effort by tons of people, the least of whom are the participants. More than anything, 8 Tuff is a prime example of sustainable tourism. It's as good for the hosts as it is for the visitors.
It brings a diversity of people together from near and far, and it brings lots of nice people together. It brings the best kind of guests—the kind of tourists that we enjoy sharing our island with.  My son and daughter hosted a family and friends from St. Croix. It was an opportunity to show off St. John in a really good way. Even the baby among them was an 8 Tuff participant via stroller, and I can pretty much guarantee that 6-month-old Noah will be one of the incredible young finishers in a few years' time. Stateside participation brings tourists who need accommodations and meals.
Inter-island participation helps our territory reconnect on a social level. Parents help children, children help parents, friends encourage friends, strangers become friends. Spectators along the route are so encouraging they are part of the party. Police keep us safe and St. John Rescue gives racers confidence. It takes tons of coordination and the time and effort of countless volunteers to create such a successful event.
But the best part about the 8 Tuff is how it shows we care about each other. When Lorrel congratulated me, I felt a real surge of pride.  Not because I finished the race, but because someone had taken the time to tell Lorrel about my participation, and she, in turn, had taken the time to acknowledge something important to me. It told me that people in our community take an interest in others and they share it.
They care about each other. I felt the connection with our special community. It was a really big deal to me. And 8 Tuff was the catalyst. Thank you, Peter, for creating and maintaining such a fantastic opportunity for community pride and an identity for St. John that aligns with our desire for sustainable tourism, healthy lifestyle choices, and respectful activity for people of all colors, ages and abilities.
It brings out the best in all of us as hosts, as the providers of food, lodging, transportation, entertainment and comfort.
8 Tuff affords us the chance to be gracious hosts, the way we want to be. And that is because it brings the best kind of guests—the kind of tourists that we enjoy sharing our island with.
Kathleen Vargo, St. John resident