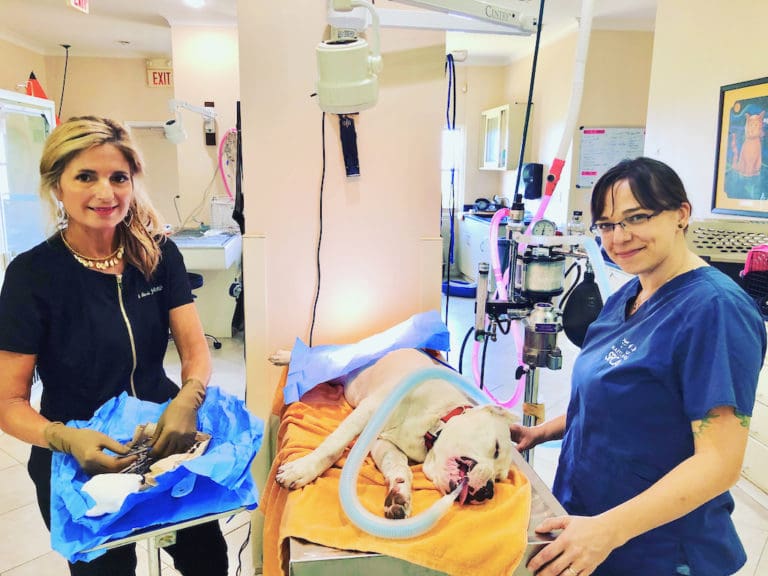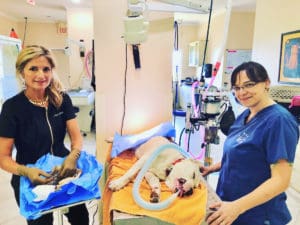 There are 19 fewer cats and dogs that will multiply on St. Croix thanks to the Sunshine Foundation's World Spay Day free clinic on Tuesday.
The nonprofit organization started its program on Spay Day USA in 2009 and has celebrated the now global event each year with a special high volume, low-cost or free clinic day.
This year marks the foundation's 12th annual Spay Day clinic. The 2020 event provided free spay and neuter services to community members who made appointments in advance. Original Sunshine Foundation co-founder, Anna Loizeaux Beall, traveled back to St. Croix to help with the surgery day and donate surgical supplies, according to a release from the Sunshine Foundation.
The release says Beall left St. Croix in 2011 after five years on the island working in the animal welfare field at the Animal Welfare Center with Dr. Stacia Jung and then in private practice as head veterinary technician at Sugar Mill Veterinary Center. She served as head technician with the Sunshine Foundation coordinating community events and weekly high volume, low-cost clinics. Today, she works as the Shelter Medicine Manager at the Maryland Society for the Prevention of Cruelty to Animals.
Sunshine Foundation co-founder Dr. Jung worked as the shelter veterinarian at the St. Croix Animal Welfare Center before shifting to private practice in 2009 when Sugar Mill Veterinary Center opened. While at the Welfare Center, Jung and Beall established the first public high volume, low-cost spay and neuter clinic on St. Croix and created a feral cat program. In their time working together they sterilized thousands of cats and dogs. When they left, there was no one at the Welfare Center to continue their programs. Not wanting to see their hard work go to waste, the nonprofit Sunshine Foundation was formed to continue their mission of ending pet overpopulation on St. Croix.
"I was motivated living on an island with closed borders. At that time, and today, I believed that with a committed, focused and consistent effort, St. Croix could be a model for all of the Caribbean in relation to ending pet overpopulation and pet homelessness," Jung said.
Jung volunteers her services each week to make spaying and neutering possible for the entire St. Croix community. And she has volunteered at high volume spay and neuter clinics on Samoa and in the Galapagos Islands through the Animal Balance organization.
When asked what motivated Beall to return to St. Croix for the 2020 World Spay Day celebration, she shared the progress she witnessed at the Maryland SPCA where she began her career in 2004. After time on the islands and Arkansas, she returned to work at Maryland SPCA in 2017.
"In the time I had been gone working on St. Croix and Arkansas in the animal welfare field, the city of Baltimore went from regularly performing mass euthanasia to being listed as a 'no kill city.' In that short 12-year timeframe, it was evidence that what we were doing at Sunshine Foundation and on St. Croix can work. Seeing Sunshine Foundation celebrate 10 years of service on the island, I knew it was time to return to share what I had learned. Spay and neuter works," Beall said.
Since February of 2009 the Sunshine Foundation has provided low-cost spay and neuter services to the community's cats and dogs. In 2018, they started offering low-cost gelding (horse neutering) services to partner organization Cruzan Cowgirls Horse Rescue. Over the years, the foundation has "fixed" about 2,500 cats, dogs and horses.
More information can be obtained or appointments booked, or donations made at the Sunshine Foundation's website.