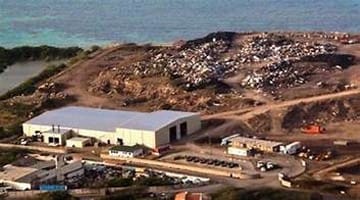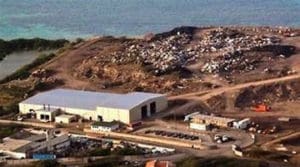 When Adrian Taylor, the interim director of the Waste Management Authority, appeared in federal court on Tuesday, he reported progress taking place at the territory's two landfills. District Court Judge Curtis Gomez called the efforts impressive.
But in his next comments to Taylor and the attorneys seeking compliance with a federal consent decree, Gomez returned to a topic raised before in court, asking if there could be some benefit from appointing a receiver to speed the pace of compliance.
Gomez said a pattern has appeared among some V.I. agencies subject to consent decrees that led the court to doubt their ability to complete their mandates.
"Is Waste Management at a point where someone else or some other mechanism should be appointed to get something to happen that should have happened?" the judge asked.
Those comments came at the end of Taylor's testimony. He was the only witness during Tuesday's evidentiary hearing. The WMA interim director pointed to the amounts of scrap metal and used tires removed from the Bovoni Landfill on St. Thomas and the Anguilla Landfill on St. Croix.
Thirteen trailer loads of used tires have been moved from Bovoni; another eight trailer loads from Anguilla.
Efforts to improve staffing at WMA included hiring a public relations officer to wage a public campaign. There was also an aggressive push to hire more engineers, the director said.
Taylor also updated efforts to eradicate scavenger birds from Anguilla, where the Federal Aviation Administration is seeking closure of the nearby Henry Rohlsen Airport unless the St. Croix landfill is moved. The hazard posed by birds to aircraft taking off and landing at Rohlsen is prominent among the FAA's concerns.
Then came the topic of landfill expansion. Discussion of the topic appeared to prompt Gomez to raise the question of receivership.
Land acquisition was one of the major developments Taylor pointed to in testimony. After speaking with Gov. Albert Bryan, the director said a parcel of land east of Bovoni Landfill and sought by WMA has become available. He also reported progress on identifying 115 acres of property near Limetree as suitable for landfill relocation.
The previous property being considered was 18 feet below sea level, Taylor said. A lot of time was wasted by government officials negotiating that deal, he told the court.
Attorney Mark Gallagher, with the U.S. Department of Justice Environmental Division, said if new space were acquired for expansion at Bovoni or to move Anguilla to a new spot, "that would be a very promising development."
The judge pressed his inquiry further. When did these land acquisition talks occur? Discussions over a new location on St. Croix took place within the last month, Taylor said. The move to acquire land near Bovoni took place last week.
At which point, Gomez voiced some doubt. The pattern of government officials subject to consent decrees coming to court for scheduled hearings and reporting a recent development of that kind was frequent, he said. It occurred to the court these statements were meant to appease but not to solve problems.
After six years of waiting, he said, it was time for WMA to act. While thousand of tons of scrap metal and hundreds of thousands of used tires have been baled up and hauled away, the goal of fully removing those materials has never been met.
Further progress on land acquisition and other factors causing concern at Anguilla might be more quickly solved if federal partners sat in on those talks, Gomez said, but trust had eroded.
"The FAA has not changed its position; that for Rohlsen Airport to have the cloud removed from its head, Anguilla Landfill must be closed," he said.
And although the WMA director's status report showed impressive progress, there seemed to be a level of effort, after which the agency seemed to achieve sustainable, but never complete results.
"I certainly ask you to think about this, because I think it's time to do things instead of talk about aspirational things," the judge said. "I'm going to ask the parties to brief whether there should be a receiver to get done those things that have been elusive for years."