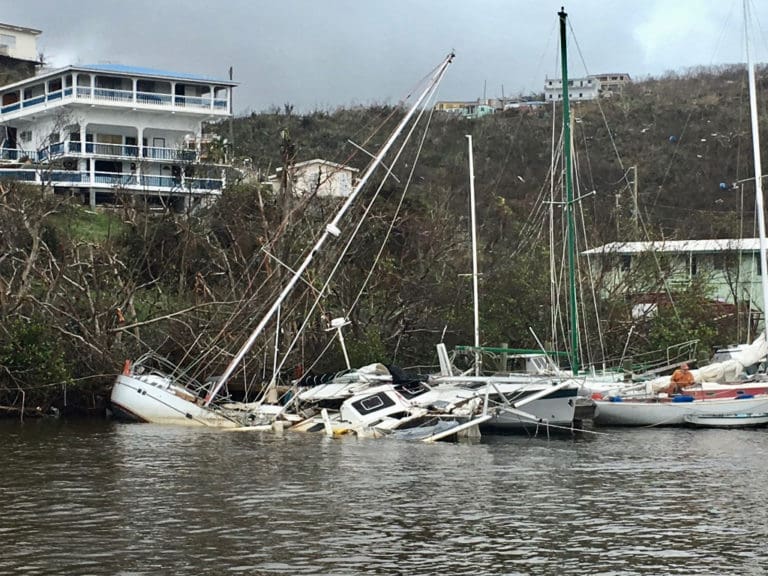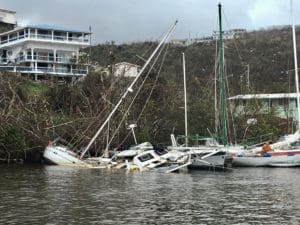 Ongoing efforts to remove debris and sunken vessels along the USVI coastline involve a partnership of federal agencies, the Department of Planning and Natural Resources and community organizations.
Kristina Edwards, the education and outreach coordinator for Coastal Zone Management, a division of DPNR, is spearheading territorial projects.
"DPNR received a $4.2 million grant from the NOAA Marine Debris Program," Edwards said. "With this grant I'm really trying to get as much debris off our coasts as possible. That means working with small businesses, nonprofits and larger salvage companies to take advantage of these funds and get rid of the debris."
Size is not problem, she added.
"The NOAA grant provides funding for everything from cigarette butts to derelict vessels," Edwards said. "After the hurricanes, I was asked what I would do if I had more money. I wanted more buckets. NOAA said, 'Think bigger.'"
Within a month after hurricanes Irma and Maria in 2017, DPNR, U.S. Coast Guard, Environmental Protection Agency, NOAA and the Army Corps of Engineers established the ESF-10 Incident Command Post at Yacht Haven Grande on St. Thomas.
"The objectives of the team was to identify and protect environmentally sensitive areas, species and historically sensitive sites, and to identify, assess and remove vessels and other containers displaced by the 2017 hurricanes to mitigate the release of oil, fuel and other hazardous substances into the marine environment," according to a Coast Guard press release.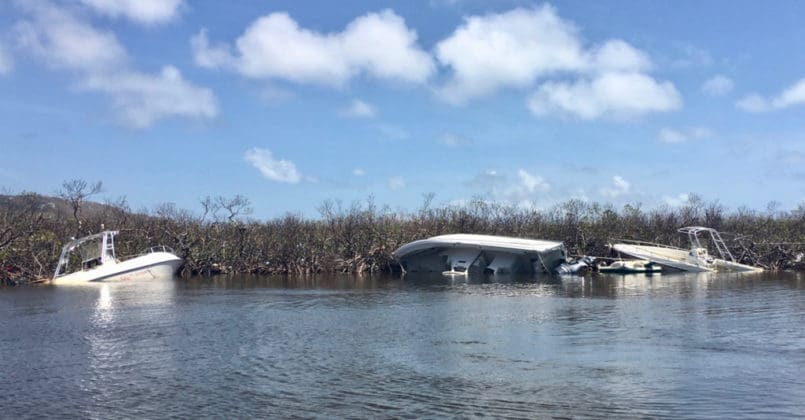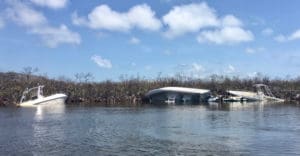 Immediately after the hurricanes, the harbors and shoreline of the territory were littered with yachts, commercial vessels and dinghies.
"The official and correct count was 479 vessels; 354 were mitigated by the Emergency Support Function [ESF-10] task force," said Howard Forbes Sr., director of DPNR Enforcement. "The total removed by owner or other was 107. The remaining vessels are those pending insurance resolution or pre-storm vessels, totaling eighteen."
In February 2018, the USCG said it had "completed maritime pollution mitigation and vessel removal operations in the U.S. Virgin Islands per the FEMA Emergency Support Function-10." But Edwards said, "These were major vessels, and many dinghies and even sections of roofs stuck on the shoreline were not removed."
On St. John, the Coral Bay Community Council is organizing a volunteer debris removal event on Sunday.
"Coral Bay is a great example because they are using the funds to remove large debris from the important habitats," Edwards said. "They are also helping to identify additional vessels that still need to be removed so that I can come in with more money from the grant to get those removed."
The Community Council began operations 15 years ago as a nonprofit organization. According to its website, the group is focused on land and water use planning, infrastructure, development and environmental issues. It is funded by dues from 450 members, donations, grants and volunteer efforts.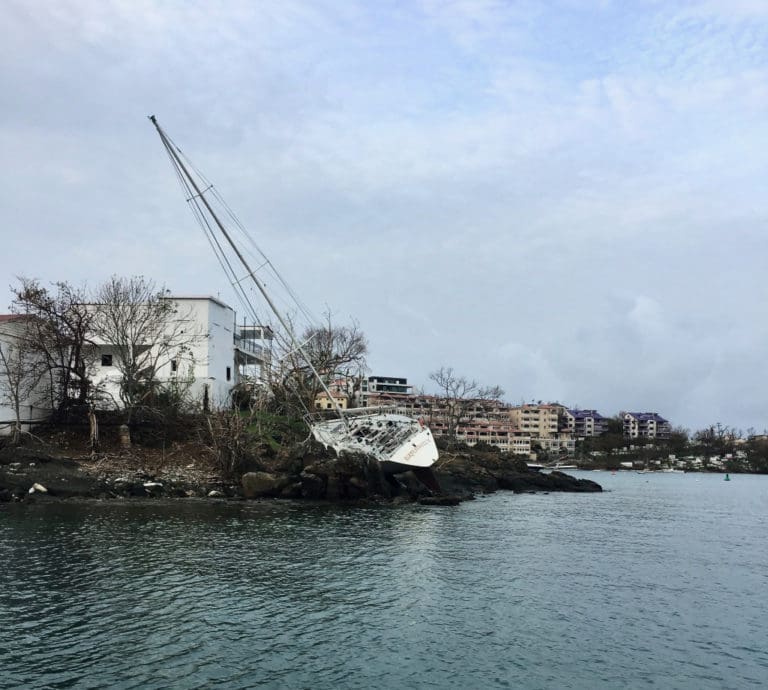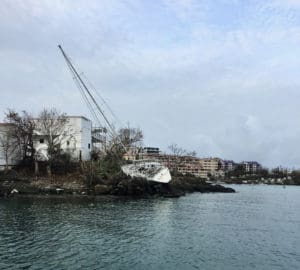 Community Council Executive Director Sharon Coldren said they are using grants totaling $90,000 from DPNR and the Community Foundation of the Virgin Islands to pay for three debris removal events. Last November, 30 volunteers collected enough debris to fill six large containers.
Coral Bay volunteers formed a bucket brigade into the mangrove and "filled one container, 20 cubic yards of debris in just two hours. Many of these volunteers are over 50 years old," Coldren said.
Although the hurricanes of 2017 scattered roofs and major appliances along the coastline, Edwards said they are also finding 50-year-old plastic tangled in the ecologically sensitive mangroves.
"When you pick big pieces up, it can dissolve into micro-plastic pollution.
"Many people thought the mangroves were dead after the hurricanes," Edwards recounted. "They were damaged, but the roots were alive. There are now good signs of green shoots coming up in the middle. We also need to redress other stress factors on the mangrove, which comes from runoff, construction and pollution."
This week, an assessment is being made of "the 15 derelict boats in Coral Bay that need to be removed," according to Coldren. Then, representatives from the Community Council will meet with DPNR to plan the best course of action. The Coral Bay project pays professional stipends to salvage divers and boat owners, who bring expertise to dangerous work.
In 2019 Hurricane Dorian added a few more major vessels and debris littering shorelines.
When storms or accidents create derelict vessels, "notification of the owner is the first step," Forbes said. "However, in many instances the owner may have abandoned the vessel, and there may be no means for contact. The burden of removal falls on the department to prevent the vessel from being either a navigational or environmental hazard. The USGC Recreational Boating Safety grant provides for joint responsibilities concerning law enforcement, accident investigation, search and rescue, marine events and recreational boating safety and educational programs."
Edwards mentioned two other organizations that have made long-term contributions to marine debris removal.
"Virgin Islands Marine Advisory Service is a community leader in coastal cleanups. They use a lot of student volunteers and stress environmental education," she said. "Coki Beach Dive Center has been a great partner for 15 years; they removed a bunch of sunken hurricane debris. Coastal Zone Management works with the community to clean up, and we are looking for more partners."
For the Sunday, Feb. 2, Coral Bay Shoreline Cleanup, which is also being organized by the Coral Bay Yacht Club, volunteers are asked to meet at the Coral Bay dinghy dock at 9 a.m. (See flyer below.)