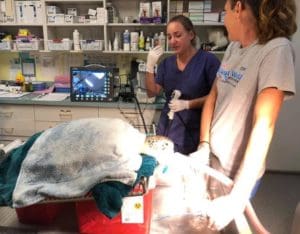 On Friday, Dec. 6, divers found a juvenile green sea turtle struggling with fishing line wrapped around her shell and flippers in the waters by Christiansted. V.I. and U.S. Fish & Wildlife representatives responded to the call. They brought the turtle, nicknamed Josephine, to Dr. Michelle Mehalick at the St. Croix Animal Welfare Center for medical assistance.
During the weekend, some fishing line and a hook that was embedded in her left shoulder were removed. Dr. Mehalick said, "We noticed a line in her mouth and down her throat. Radiographs did not reveal any internal hooks, but we could not pull the line out because it was too far down the turtle's digestive tract. We needed to visualize what was going on in the turtle's digestive tract."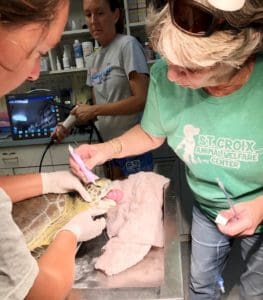 A Virgin Islands Fish and Wildlife representative and Dr. Mehalick contacted Coral World about using their endoscope to provide an image of the fishing line and possibly remove it. According to Erica Palmer, Coral World's veterinary technician, "Endoscopy is a nonsurgical procedure used to examine the digestive tract. Using an endoscope, a flexible tube with a light and camera attached to it, the vet can view pictures of the digestive tract on a TV monitor." Coral World paid for Palmer's flight to St. Croix, with endoscope and accessories in hand, on the morning of Monday, Dec. 9.
Palmer said, "The endoscope is a $50,000 piece of equipment Coral World purchased for the dolphins' preventive healthcare monitoring program." According to Lee Kellar, general curator, "Coral World has invested in cutting edge medical equipment to support the welfare of its dolphins and other park animals. We welcome the opportunity to share such lifesaving equipment for animal rescues and rehabilitation in the U.S. Virgin Islands."
Using the endoscope, Dr. Mehalick investigated the turtle's esophagus and stomach but did not find any balled-up string. She noted, "I cut as much of the line as possible in hopes that the turtle will naturally pass the remaining line pieces."
Josephine will remain under observation at the St. Croix Animal Welfare Center and will be fed regularly to encourage digestion and bowel movement.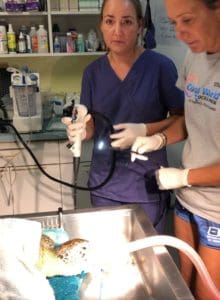 Sea Turtle Assistance and Rescue (STAR) is a non-profit organization whose mission is "To promote sea turtle-friendly practices and a conservation ethic on land and at sea in the U.S. Virgin Islands, and respond to incidents of injured, disoriented or imperiled sea turtles through rescue and rehabilitation." Please report any entrapped, disoriented, sick, injured, or dead sea turtle by calling the rescue hotline at 690-0474. You can find out more about STAR at STAR-Sea Turtle Assistance and Rescue."
Coral World Ocean Park is a marine park in St. Thomas, U.S. Virgin Islands and is accredited by the Alliance of Marine Mammal Parks and Aquariums (AMMPA). Dedicated to providing the highest quality of care for marine mammals and contributing to conservation efforts through scientific research, Coral World offers programming to educate visitors about conservation and how they can make a positive impact on maintaining the integrity of the marine ecosystem.