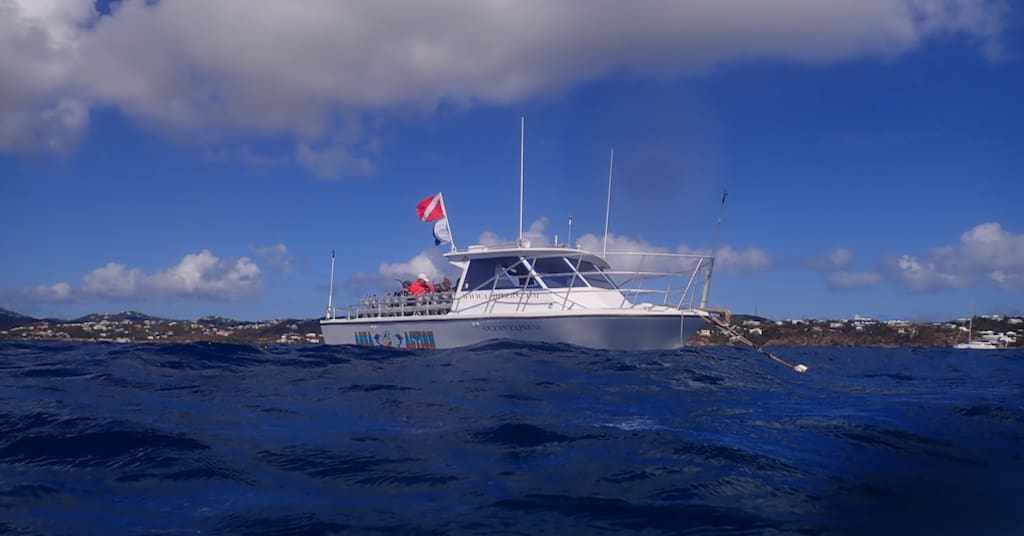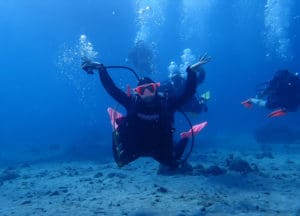 Scuba diving around the U.S. Virgin Islands offers visitors and locals an opportunity to explore some of the most diverse ecosystems on Earth.
Since the invention of a safe and reliable Self-Contained Underwater Breathing Apparatus, which gave the world the acronym "scuba," the Virgin Islands have been a chosen destination because of the clear tropical seas, safe dive sites and beautiful coral reefs.
The V.I. Economic Development Authority boasts that scuba diving in the U.S. Virgin Islands "is easy and accessible, and offers an array of experiences for everyone."
Over a dozen established companies, spread over the major islands of St. Thomas, St. John and St. Croix, provide locals and visitors with everything from training, equipment and boats, to professional dive masters and guides. Experienced divers can see rock walls and deep wrecks, all covered with an array of coral and fish. First time scuba divers, after just a few hours of training, can swim weightlessly through the colorful life found on the reefs.
Some of the best dive sites in the U.S. Virgin Islands surround two small uninhabited islands, both named Buck Island. There is Buck Island Reef National Monument, located less than two miles north of St. Croix. There is also Buck Island south of St. Thomas, which has a National Wildlife Refuge. Both islands are short boat rides from the major islands, and are serviced by multiple snorkel and scuba tour companies on St. Croix, St. John and St. Thomas.
"And because the U.S. Virgin Islands is a territory of the United States, you'll enjoy the added safety of diving within U.S. waters. This means that all dive boats are inspected by the U.S. Coast Guard and captains are USCG-certified," highlights the VIEDA website.
Most Virgin Island scuba shops recognize the international scuba certifications by PADI, SSI and NAUI, and offer a full range of instruction. Some of the local beaches, such as Coki Beach and Secret Harbor, are so calm that underwater instruction can be done in the sea instead of a swimming pool. PADI offers scuba certifications for divers as young as 10 years old, and "Discover Scuba Diving," which teaches the skills needed by an uncertified diver to safely go down to depths of 40 feet with a dive master.
Most local shops offer a full range of certifications, from junior divers to advanced, and visitors can do the book work online before they arrive. After some classroom reviews, they can begin open water instruction with scuba equipment as soon as they arrive.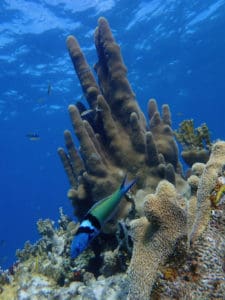 "I love the fact that unlike all the other dive spots on Earth, in the Virgin Islands, even on the stormiest days, we can tuck in behind some of the smaller islands and find great diving," said Courtnie Robenolt, head instructor at Aqua Action Dive Center on St. Thomas. "I worked in the Florida Keys and in Baja Mexico and we lost many days to bad weather."
Aqua Action operates two boats from Secret Harbor. They also offer instruction and guided dives directly from the beach.
Another established shop on the islands is St. Croix Ultimate Blue Water Adventures. When asked if they offer boats to scuba dive nearby Buck Island, shop owner Molly Buckley said, "Yes, we do this in conjunction with Caribbean Sea Adventures, who operates a fleet of snorkel boats to Buck Island. We utilize their boat and captain and our dive crew and gear. We have two custom dive boats and [we] dive all of the moored dive sites along St. Croix's north and west shores."
On St. John, scuba divers have access to great beach diving, as well as local shops offering boat trips. Low Key Watersports offers PADI certified instruction, and boat dives to over a dozen great scuba spots around St. John, Little St. James and Buck Islands.
All of the local dive boats utilize mooring balls placed around the most beautiful reefs to prevent anchors from damaging coral. This network of floats and lines are maintained by volunteer scuba divers, often professionals who work for competing businesses. After the hurricanes of 2017, the local shops coordinated repairs to damaged and lost moorings. Calf and Cow Rock, one of the most popular sites south of St. Thomas, now has all five mooring balls back in place. Busy days will see multiple boats launching divers into what Robenolt describes as "the dive site Walt Disney would have designed."
The history of scuba diving in the U.S. Virgin Islands begins soon after Emile Gagnan and Jacques-Yves Cousteau perfected a device that was safe, reliable and easy to use. The Aqua-lung was first sold in France in 1946, and in 1947 the U.S. Navy began an Underwater Demolition Team training program housed at Submarine Base at Crown Bay on St. Thomas.
"The calm and clear waters as well as the absence of strong currents made the St. Thomas base an ideal training facility. New techniques and new equipment were tested and proven," according to Mark Wenner of Caribbean Discourse.
In the early 1960s, before NASA built huge swimming pools to train astronauts, the original Mercury Seven were trained scuba diving in Shipwreck Cove, Buck Island and St. Thomas. The U.S. Navy placed the Tektite habitat in Great Lameshur Bay, St. John in 1969. That year, four aquanauts spent a record 58 days living underwater, studying various aspects of the ecology of coral reef fishes.
An important remnant of the early NASA and Navy scuba diving programs was a hyperbaric chamber brought to St. John, allowing divers at risk of decompression sickness, or the bends, to be treated safely. In 1984, Schneider Regional Medical Center on St. Thomas refurbished the discarded chamber and put it back into service.
So far in 2019, "our year has been pretty average. We have treated seven cases of the bends so far. It has really helped those in need," said Steve Prosterman, UVI Dive Safety Officer, who has also been working with the chamber since 1985. "We have very few customers who have been tourists divers."
Prosterman credits good training of recreational scuba divers for keeping those numbers low, as a majority of cases come from commercial divers.
A critical new development for local scuba businesses is Stony Coral Tissue Loss Disease, first spotted at the west end of St. Thomas in December 2018, after ravishing the reefs off Florida since 2014. The disease is killing beautiful coral, including so-called brain and pillar corals. According to Robenolt, the disease is a problem.
"Packet Rock, Armando's Paradise, Navy Barges and everything west end has it bad! It's really sad," Robenolt said. "It has not yet hit Buck Island nor our east end, Cow/Calf etc. … Thank goodness, but I went to a meeting about it recently and got some interesting info as to how to keep it from spreading."
UVI is taking the lead combating the disease with a $200,000 grant from the National Science Foundation. Scientists think simple practices such as rinsing equipment with fresh water and letting it dry, especially when traveling to new destinations, can help prevent the disease from spreading farther.
For now, the diverse and healthy ecosystems found in the U.S. Virgin Islands continue to attract great numbers of scuba divers. Many local dive sites have self-descriptive names: the Ledges of Little St. James, the Wall of St. Croix, Wreck Cove, Champagne Cork and Dive Flag Rock. The tropical seas and volcanic geology have created coral reefs that impress well-traveled divers as well as beginners. Scuba diving in these waters blends a rich history, an industry founded on safety and education and conditions that invite scuba divers year round.
As the PADI travel website says, diving here "features incredible walls, wrecks and reefs. All islands feature soft, white sand beaches and warm turquoise water. The diversity of the U.S. Virgin Islands means that divers are sure to find the island that fits their vacation dreams and diving desires."