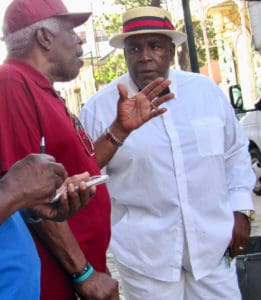 Virgin Islands Carnival Committee Chairman Kenneth Blake is being remembered as a dedicated public servant, a veteran stage artist and a champion of culture. Blake died Friday, Nov. 1, in Florida. He is believed to have been 74 at the time.
Those who admired the man – also known as the one-time Calypso King of the World Lord Blakie – also have memories of someone who was sometimes a target of criticism and who could freely lob pointed words at those who opposed him. His skillful use of spoken language, some said, were honed on stage from the days of his youth.
Glen Mason was one who recalled how a young Blake sang on stage at a club called House of Palm.
"He had a partner called the Mighty Sausage – a tall fellow," Mason said.
Broadcaster Addie Ottley shared that memory, as did calypsonian and educator Kwabena Davis. Former Sen. Shawn-Michael Malone said his father played in the house band for calypso shows where Blake sang.
"He was such a calypsonian. That was his passion, not Carnival," Malone said.
Democratic Party District Chairman Edgar Baker Philips disagreed. On Friday, when one of Blake's relatives called to tell of his death, Baker recalled a recent conversation.
Every time they spoke on the phone, the topic turned to Carnival.
"Carnival was his baby," Baker said.
Even then, the love of music and performance was ever near. Davis recalled how in the 1970s he and Blake would spar in extemporaneous contests, where the songster would have to make up lyrics on the spot.
There were also the preview shows, where hundreds of fans would come early and stay late to enjoy lyrics, antics and social commentary.
"Blake and I had been very active in organizing the local calypso tents, and when I started the Sanctum of Wisdom and Fun, he was one of my backbone singers," Davis said.
In 1979, Blake won an international competition featuring top calypsonians from the region and was named Calypso King of the World.
But some who knew his life as part of the Virgin Islands Police Department said Corporal Blake was one of the longest serving members of the force. Malone remembered the encouragement he received through the Police Athletic League, where Blake served as program director. Years later came the Cop Show – Community Oriented Policing.
"I remember it was an evening show where Blakie would do that. That's when we would give up the time for the department of police," Ottley said.
On the lighter side of the broadcast spectrum, Blake made time for "Calypso Past and Present," a popular Sunday show, featuring calypso artists from across the Caribbean.
Along the career track came promotions to head of the Crime Prevention Bureau and later on, special advisor to the commissioner.
But every year, when January rolled around, Blake returned to his role as chairman of the Carnival Committee. The work began with choice of an annual theme, village and food fair honorees and parade grand marshals. With help from the committee's executive director Caswill Calendar, they orchestrated a month's worth of events, starting with live shows and pageants at Lionel Roberts Stadium; ending with J'ouvert, parades, horse racing and fireworks.
During that time, he saw Nick Friday and the Jam Band win 19 road march titles; the move of the food fair from Rothschild Francis Market Square to Emancipation Garden. He worked with police to quell outbursts of violence at the J'ouvert and appealed to the public to support the Children's Day Parade with their presence.
Blake presided over the 50th anniversary celebration of Carnival in 2002 and dealt with tragedy after the untimely death of 2009 Carnival Queen Karence DeCosta.
"No one had to ask how hard we all worked to develop Carnival into a money maker for the community," Callendar said.
Their critics might differ. At times, Malone was one of them. During his time as lawmaker and later Senate president, he, Blake and Callendar took issue with the management of Carnival and with one another.
"We had some serious disagreements. One was the transparency over the affairs of the Carnival Committee. The other was resisting putting Carnival under Tourism," Malone said.
"And then he sang a calypso on me. He called me a majorette."
From the age of four Malone was a baton twirler in a perennial Carnival troupe, Sebastian's Majorettes. Although he did not attend the show that night, the former lawmaker said friends called him from the stadium, expressing outrage.
But Malone said he was not upset. As a public figure, he said, you have to expect those things from time to time.
"I didn't take it very, very personally. It was him taking disagreement with a policy position."
In the next breath, Malone offered some perspective – as prickly as the debate might get, when it was done Blake would go back to a civil exchange. The next encounter after a verbal joust would find the Carnival chairman greeting his opponent with politeness and respect.
It was, Malone said, a rare quality.
And he was not the only one. Former Sen. Adlah Donastorg also clashed with Caswill and Blakie, also over management of the committee. That led to a request for an audit by Inspector General Steven Van Beverhoudt.
The committee leaders protested but the process went forward.
In a summary of the audit report, investigators said the committee had "good internal controls over revenues and disbursements," but had poor control over revenue from stadium ticket sales, failed to handle purchase orders properly, didn't void checks when needed and fell short of some accounting procedures.
Still, it took another 15 years before lawmakers succeeded in putting new leadership in place. In early January, then-Gov. Kenneth Mapp signed into law a bill moving carnivals and festivals under Tourism. The shift is scheduled to occur in 2020.
Blake left this life before he lost his chairmanship. Those who remembered his said he gave his all.
"I think he did a stellar job as a citizen, as an entertainer, as a culture bearer and as a role model," Malone said.
Ottley – himself a former Carnival Committee chairman – said of Blake, "He contributed a hell of a lot to Carnival. He came during Freddie Lockhart's time. He worked hard to get the bands together and get them up on the stage. He was a good guy."