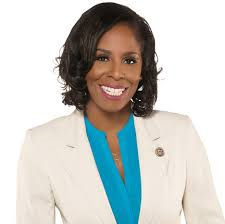 Congresswoman Stacey E. Plaskett (USVI) released the following statement regarding a $1,000,000 investment award for the Virgin Islands Economic Development Authority:
"Today the Virgin Islands Economic Development Authority was granted an investment award of $1,276,001 from the Economic Development Administration. This EDA investment [will] fund development of the 2040 Visioning Post-Disaster Resiliency and Preparedness Plan to help rebuild communities devastated by natural disasters in the United States Virgin Islands, to include several designated opportunity zones.
"The investment will help hire managing directors, provide for industry analysis, and facilitate public meetings to gather ideas for the plan, which will lay the groundwork for the next 20 years of development in the territory. Once completed, the project will increase job opportunities, attract foreign direct investment and promote economic resilience after future natural disasters.
"This investment award will benefit the Virgin Islands tremendously, with our ongoing rebuilding efforts making the Virgin Islands whole again after experiencing two devastating hurricanes. The United States government and the international community has an obligation to help in the reestablishment of our islands. The investment award is a vital component of that concern."